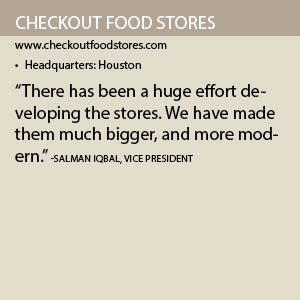 That 20-year period has been very good for Checkout. The Houston area has grown substantially, owing to expansion in the oil and gas industries. The Houston area has also seen the growth of master-planned residential communities, a key component of Checkout's plans for expansion.
There are 14 Checkout stores located throughout the Houston area and one in Logansport, La. The company plans to open three new stores in the Houston area in 2017 and another two in 2018.
Bigger and Better
The addition of new stores has been impressive, but the real trick for Checkout has been its ability to set itself apart in a crowded field. The company started as a dealer for Shell, a fuel company with a major presence in Houston. Though Shell has since exited the convenience store business as owners of stores, Checkout still prefers working with Shell, though it does affiliate with other fuel brands as well.
Regardless of the fuel partner, Checkout has focused on branding and expanding over the last five years to distinguish the stores. "There has been a huge effort developing the stores," Salman notes. "We have made them much bigger, and more modern to cater to customer needs."
In doing so, Checkout has taken the convenience store business to a whole new level. They offer fresh products, and the most important addition: a restaurant concept known as The Taco Company that serves fresh-made breakfast and lunch tacos.
"It's our own program that we started three years ago," Iqbal explains. "We focus purely on fresh made authentic street-style tacos. They are all made at the store using the freshest ingredients, and we have one chef that handles all of the recipes. We have tried this in five of our locations so far, and we are adding this to all our upcoming stores."
Know Your ABCs
Salman's inspiration for expanding the options available for customers as well as pursuing larger, cleaner stores comes from a number of influences he has gained with his 20-plus years of experience. His experience as a store manager has helped understand the importance of these basics, such as keeping a store clean and the restrooms well maintained.
It does go deeper than that, however. "It's the ABCs of merchandising," Iqbal explains. "Customers prefer going to stores that are larger and extremely well kept up." Iqbal has used this merchandising tactic to develop the Checkout brand and stores, staying focused on keeping his stores larger than most, while also making sure that every store is well maintained.
All About Location
What Checkout has managed to do is build on that simple concept and offer it to a more residential clientele. While that sounds simple, it can be a challenge to execute. "Basically, the biggest challenge in developing successful stores is finding the right location," Salman explains. "And the key to success in this business really is the location."
To find suitable locations, Checkout targets areas where average households have higher disposable income. Ideally, the store should be at the entrance or an exit of a large residential community to ensure consistent traffic going to work or back home.
Salman notes that many convenience stores were built in the 1980s and '90s, and consumer tastes have simply evolved since then. "Now consumers want nicer, bigger and cleaner facilities to shop," Salman notes. "I never thought a gas station would sell a variety that people would traditionally see at a big box grocery store."
Simultaneously with its expansion, Checkout has also been closing down underperforming stores. When making these decisions, Checkout looks at factors such as revenue and the growth potential of the area.
In its branding efforts, Checkout has focused on giving the stores a consistent look. "We have reimaged and modernized our fountain beverage offerings," Salman notes. "Our goal is to give the stores the same look, regardless of the size of the facility."
Houston and Beyond
Salman notes that other urban areas in Texas, such as Dallas and San Antonio, also have fared well economically, and could be strong candidates for expansion. The plan right now, however, is to grow steadily. "We want to do it right and not rush," Salman notes. "We want to make sure we have the Houston market covered, and then move on to the next city."
Checkout plans to add no more than two to three stores a year, as they are focused on the quality of the stores and not the quantity. Salman notes that great time and care is devoted to hiring the ideal personnel to support that growth, and to train those employees to be long-term members of the company.
Checkout's reputation precedes it because word has gotten out how well the company treats its employees. "When I interview a candidate, and I ask them, 'why do you want to work for checkout?'" Iqbal says. "And I often hear them say, 'I have heard a lot about your company, and would love to come work for you.'"