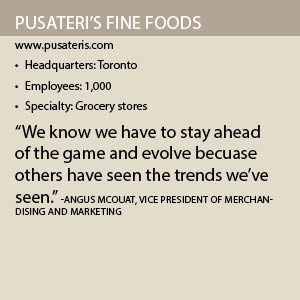 Experiential Shopping
Pusateri's started as a small produce market in 1963, eventually evolving into Toronto's go-to store for international and gourmet food products. Today, the company operates six stores in the greater Toronto area, including two food halls that are in partnership with Saks Fifth Avenue.
The food halls follow the experiential model popularized by Harrods in Europe. Instead of rows of grocery store shelves stacked with products, the food halls feature tasting stations and small restaurants that invite customers to sit down for a pizza or sushi meal, or comb the store with a glass of fine wine in hand. "We actually get a lot of tourists at both locations because people see it as an outing to taste food," McOuat says. "It's meant to be a different type of weekly grocery shop where it's much more experiential."
High-end, open market-style grocery stores have a reputation for being expensive alternatives to the traditional shelves-and-aisle model. However, McOuat says Pusateri's attracts many middle-class customers that see food shopping as an affordable indulgence, a place in their lives where they are willing to invest a bit more to receive a better experience.
All six stores are equipped with a full kitchen staffed by professional chefs capable of making restaurant-quality ready-to-heat and ready-to-eat dishes. Food stations offer globally sourced, authentic items such as wheels of three-year aged Parmesan cheese and DOP olive oil. McOuat regularly travels the world meeting suppliers and attending trade shows to find those products that set Pusateri's apart in the market.
"We're very active in sourcing and trying to find these unique items," he says. "We have these people who have truly keen eyes and pallets."
Because it is a family-owned company, McOuat says Pusateri's can afford to take a longer-term view on its investments. When the Pusateri's Fine Foods concept was introduced, the company needed time to teach the benefits to its customers and explain the advantages over a traditional grocery store. McOuat says the company's family-structure gave it the time and patience to see that transition through. Further, customers have become more interested in supporting locally owned businesses that can offer artisanal foods. Pusateri's features its namesake family and owners in its marketing materials as a way of distinguishing the brand from corporate-owned competitors, as well as to make a stronger connection to consumers.
"They want to shop at a store that has local roots, authentic roots," McOuat explains.
Outrunning Competition
The success of Pusateri's has inspired imitators. Other grocers in the Greater Toronto Area have adopted fresh food counters and sourced some of the same specialty products that Pusateri's offers. "Where we used to be the only game in town, now we're getting competition from all sides," McOuat says.
Competitors are still playing catch up, but their improvements risk eroding Pusateri's advantage in the market. The company has responded by investing more into sourcing trips so it can find exciting new products and by hosting evaluation panels where vendors pitch their products in a "Shark Tank" environment.
The focus on sourcing and discovering new foods has made Pusateri's the most exciting place to launch a product in Toronto, McOuat says. "We know we have to stay ahead of the game and evolve because others have seen the trends we've seen," he adds.
Once it introduces an exciting product, Pusateri's needs a means to measure its success. In 2016, the company added a new ERP system that more accurately tracks sales and allows it to better scale product availability according to demand. "We can make much better assortment-type decisions," McOuat says. "We can really drill down on areas that are underperforming and over-performing. From a merchandising perspective, it's really changed the game."
With the new ERP system, McOuat says Pusateri's now has the infrastructure in place to make better decisions and explore further growth.
"We've taken something that worked in one store – which was really a neighborhood-type store that was built around a community – and have been able to maintain who we are and expand it to new markets. We've been able to prove we can still deliver that guest experience, that elevated product and that elevated design."