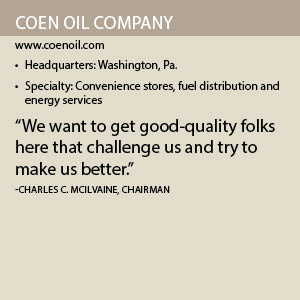 Coen also has Coen Markets, a convenience retail chain with 30 locations in Pennsylvania, Ohio and West Virginia. "We've doubled the business since 2012," McIlvaine says, noting that the company plans for similar growth over the next five years. "Andy deserves a lot of credit for transforming the business from the time we became the owners until our expansion began to scale. As Andy is fond of saying, our grandfather remains our hero and inspiration for taking the company to the next level."
Focus on Food
Coen aims for its stores to become better known for selling food than gas, McIlvaine says. "We've created two prototype models," he says, noting that these include its café model and its full foodservice model.
The full foodservice stores, he notes, feature hero menu items that include its famous crispy chicken, made to order sandwiches and jojos, "which are whole potatoes quartered, seasoned with our own recipe, and cooked and sold to our customers on site," he says. The locations also feature coffee and popular breakfast programs.
Some of the stores operate under the Coen banner, and others are Ruff Creek Markets. "We are transitioning our chain to operate under the same banner with a base offer," he says, explaining that all will be Coen locations. "Ideally, that's something that will happen in 10 to 12 months."
Engines for Change
Coen has been focused on people, process and technology. The company has modified its team leadership, adding experienced, knowledgeable members. And it has refined its processes – both operational and administrative to result in consistent actions that support the business. Technology plays an important part in Coen's operations, McIlvaine says. The company recently implemented an ERP system from PDI, which serves as "our main technology engine," he says.
Coen is trying to leverage all aspects of the platform, including automation. "This includes finance and accounting tasks, as well as inventory management," McIlvaine says. "That said, we are in the early innings yet have derived strong value up to this point."
So far, the company found ways to better manage its transactions with the system. For example, "It allows us to greater pinpoint accuracy around margins," he says, noting that it also helps the company understand how to effectively price and merchandise its products.
PDI's system also helps Coen lower its inventory. "Today, we try to use our handheld device in conjunction with PDI for inventory management – ordering, order receiving, inventory counting, spoiling/wasting, etc.," he says. "Capturing daily tasks digitally is a monster reason to have technology – we have far too many transactions per day and need our PDI platform to optimize our effectiveness."
Key Input
Coen's ownership has nurtured a family culture, McIlvaine says. "We definitely are very minded towards our team," he says. "We care about what they do.
"We try to have cohesion among them through communication and collaboration," he continues. "[We think] that better decisions are made with key team member input versus those done in a functional or operational vacuum."
But it is important to recruit the right team members. Coen uses headhunters, "but our HR group has become quite good at direct sourcing," McIlvaine says. The company also encourages people to apply in its stores and uses social media and other apps to find associates.
"We want to get good quality folks here that challenge us and try to make us better," he says. "We should all strive to hire and mentor people who will be our replacements some day."
Neat Opportunities
McIlvaine is proud of how Coen has evolved over the years. "We've transformed many aspects of our business," he says. "We've turned over nearly every stone in the business with some more yet to do."
Coen is at the advent of replicating its store prototypes and foodservice offering to scale its business, McIlvaine says. "That's where we are in our lifecycle," he says, adding it also plans to further improve its technology management and recruiting. "We have exciting opportunities in front of us."
McIlvaine will be telling others about his experience this fall at the NACS Show in Chicago this October during a workshop session for attendees. He will appear with Joseph Bona, the founding partner and president of Bona Design Lab.
Both will talk about their experience with integrating design to support strategy, and how a business can change and morph, including how to integrate acquisitions. Coen is not complete in its transformation, McIlvaine asserts. At the NACS session, McIlvaine will describe Coen's experience of changing its business to adapt to today's consumer, its acquisition integration lessons, and the role of image/design in its retail locations to support strategy. Joe Bona will moderate the session, adding his perspectives on Coen's journey and how these experiences relate to other chains in a similar lifecycle stage.