Craig Distributing Co. Inc.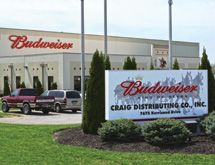 Founded in 1945 as Southeastern Beverages Inc., a lot has changed about Craig Distributing over the years. But one thing that has always remained true about the company's operations is its commitment to providing the best possible services to its local Indiana communities.
Craig Distributing has been an exclusive Anheuser-Busch product line distributor for close to a decade. The company also has a Nestle division. Headquartered in Aurora, Ind., the company was once owned by a number of stakeholders. Today, the company is solely owned by Richard Craig.
Over the years, the company has grown naturally and through acquisition. In 1984, it purchased K & L Distributing of Rising Sun, Ind., followed by the 1989 purchase of Ohio Valley Beverage and a move to Aurora, Ind.
Craig came to the business in 1999 as executive vice president before purchasing shares of company stock and becoming a co-owner. That same year, Craig Distributing purchased A-B Beverage of Brookville, Ind., and the company acquired the distribution right to Ripley County from North Vernon Beverage Co. Inc.
Between 2004 and 2010, Craig purchased additional shares in the company, eventually becoming the sole owner. In 2005, the company moved to a new facility in Aurora, and it changed its name to Craig Distributing Co. Inc. in 2011.
Serving the Community
Today, the company's Anheuser-Busch division serves Ohio, Dearborn, Franklin, Union and Ripley counties, delivering beer to any qualified establishment that holds a valid Indiana beer license. Its Nestle division serves 18 counties, including Dearborn, Ohio, Switzerland, Jefferson, Scott, Clark, Floyd, Jennings, Jackson, Lawrence, Ripley, Franklin, Decatur, Union, Wayne, Harrison, Fayette and Rush.
"We hope to expand the Anheuser-Busch division in the near future," Craig says.
"We were just named business of the year for 2012 by the Dearborn County Chamber Of Commerce and have been presented with the gold Ambassador of Excellence award from Anheuser-Busch."
Acting as an exclusive Anheuser-Busch distributor has many benefits for Craig Distributing. By carrying only the Anheuser-Busch product line, the company doesn't have to represent competitive brands or packages.
"Our focus is 100 percent on Anheuser-Busch products," Craig says. "The advantage is that we have a very healthy 70 percent marketshare. With our Ambassador of Excellence scores, market conditions, marketshare, financial stability, modern facility and succession plan, we feel confident that everything is in place for territory expansion into any contiguous territory."
Craig Distributing has a keen understating of the rural markets it serves. For example the company has seen a shift toward purchase trends that are focused on value. Craig explains consumers in the company's territories are buying value brands because of price.
"The buying habits of consumers are focused on items like Natural Light and Busch Light 30 packs," he says. "At the same time, the young adult consumer is willing to try a variety of products, especially microbrews and imports. They have also jumped on board with extensions like Bud Light Platinum, Bud Light Lime A Rita and Bud Light Straw Ber Rita."
The Nestle division has a larger footprint and a different product focus. Its many products include everything from Nesquik to Arizona teas and Dad's Old Fashioned Root Beer. For both divisions, the key to Craig Distributing's success is possessing an understanding of what it means to live within the territory.
"That is crucial for us, and it gives us the opportunity to give back," Craig says. "We live here, shop here and dine here. We support other local businesses, especially the retailers, and we participate in community functions and get involved in volunteer work and alcohol awareness programs."
Well Prepared
Craig Distributing isn't taking success for granted, however. The company has implemented a retention plan to ensure that its human resources remain a source of strength.
"What we have done is raise the bar on compensation and provide benefits such as no cost for hospitalization, optical and dental, matching retirement plan, ample time off, attractive uniforms and company cell phones," Craig explains. "Additionally, our facility is state of the art, created by a group of engineers and Anheuser-Busch Facilities Planning Group."
In fact, although the facility is eight years old, it is not outdated at all. Craig says the company is in position to expand because the facility can be readily expanded to handle extra volume. It is also outfitted with the latest technology.
Craig Distributing's fleet is state of the art, as well. Craig says all company trucks and vehicles are wrapped with chrome rims, and there is a strong maintenance plan in place for the facility and the vehicles.
"Our vehicles are often in local parades for additional exposure," Craig says. "So our employees are in uniform each day, driving in the best equipment and working in top-class facilities. We participate in local events and have special equipment to provide draft beer at those events. All of this helps promote the company."
There are some economic and industry challenges that Craig Distributing must confront. Chief among them is the fact that disposable income isn't what it once was, as consumers have to focus on caring for their families and don't have a lot of room to play. In addition, the competition from microbrews and imports has made shelf space harder to come by. But Craig believes the opportunities for his company outnumber the challenges.
"We have positioned ourselves in such a way that we feel expansion is a part of our future," Craig says. "We are poised for growth and confident about our future because we are focused on doing everything right and making sure we maintain and grow marketshare."