Crayola® IMAGINE ARTS ACADEMY™
"I have three kids, including a very artistic daughter who was less interested in Mad Science® but was very interested in art," says Shafik Mina, president of Mad Science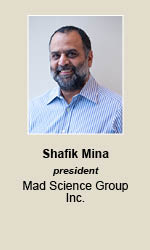 Group Inc. "I knew that we could do for art what we did for science and help children engage with art in very different ways from other art enrichment programs in the market."
"At Crayola®, we are all about giving kids innovative and relevant products that spark creative experiences," says Warren Schorr, vice president of business development and global licensing. "Our collaboration with Mad Science® focuses on art concepts and techniques to broaden the understanding of today's world, sharpen kids' creativity and critical thinking skills as problem solving tools, and learn about different places and new cultures. We have always been committed to art-infused education and are thrilled that Crayola® IMAGINE ARTS ACADEMY™ adds another valuable pillar in that mission."
Crayola® IMAGINE ARTS ACADEMY™ offers programs to children ages 5 to 12. Some of these include Crayola® World of Design, a program created around the design thinking process that introduces art careers, including graphic design, and Crayola® Artist's Passport, an art exploration program that uses different techniques, like sculpting and painting, to explore cultures. "This is not your average arts and crafts program," says Sharon King, vice president of research and development and operations. "We wanted to engage kids in the whole philosophy of art and teach them how art is a holistic part of all we do in our lives."
All children participating in the program receive art products from Crayola®, which help them continue their artistic journeys at home.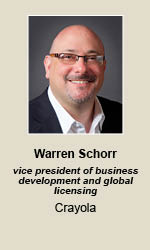 "Through the partnership of Crayola's® education team and their engagement in the art world, in conjunction with the hands-on science experiments that Mad Science® has established over the years, we were able to create amazing after-school and camp outreach programs for children," she adds. "We use our combined experiences to help art come to life for kids."
"Schools across the nation are embracing arts integration as an effective teaching strategy that increases student engagement and deepens the understanding of robust concepts," says Cheryl Sterman, director of education at Crayola®. "One of the key messages students learn from this program is that creativity is an essential skill used by both artists and scientists."
Mina says the program is meant to show children how to think beyond their current boundaries. "The first reaction I had when I was exposed to Mad Science® was 'if this was available to me as a child, I would be in a science career,'" he says. "I had the same reaction when I saw what the teams did with art; I knew we were on to something. We want children to be creative and unrestricted in how they approach the world, and not limited by what they like and don't like right now. We are allowing kids to see beyond their existing moments and be open to the world around them."
'A Winning Formula'
The Crayola® IMAGINE ARTS ACADEMY™ concept was initially tested in a few Mad Science® franchise locations. Currently there are 18 locations offering programs, with stand-alone Crayola® IMAGINE ARTS ACADEMY™ locations projected for 2019. Both concepts offer after-school programs, camps and birthday parties.
Alan Simon, a Mad Science® franchisee for more than 20 years in St. Louis, owns one of the locations that tested the new concept.
"I felt the market in St. Louis was open to an art concept, similar to what we did with science," he says.
Simon had early success with the new concept, as he was able to leverage many of his community connections from his Mad Science® business. "We have developed a very good reputation and pride our
selves on having a high-quality product, and are particular on the instructors we hire," he notes. "I have seen many attempts by other companies to run after-school art programs in the St. Louis area – I worked with them, and every single one closed down. Either they were not the right people, or they had very small territories that were not viable."
The Mad Science® corporate office helps Simon and other franchisees avoid a similar fate by offering large, viable territories. "It's easy to divide into small territories and sell thousands for quick gain, but that is not viable over the long term," Mina says. "We have intentionally taken a different path and offer larger territories, so it is a year-round viable business. We've done this for more than 30 years, and that is the winning formula."
Long-Term Relationships
All Mad Science®/Crayola® IMAGINE ARTS ACADEMY™ franchisees receive start-up assistance, including location selection. As most of the company's services are delivered at customer locations, its physical overhead is fairly low. Some franchisees begin operating out of their homes, but acquire other spaces as they grow. "We want franchisees to be in the center of their territory to service the area easily, but don't want them to overpay for a space," Mina says.
Onboarding of a new franchisee typically takes a few months and includes on-site training. "We have a strong trainer model and offer a starter kit with all the tools they need to get the business going," he adds. The fee of $45,000 to $65,000 (depending on territory) includes equipment and marketing assistance. Franchisees receive support from the corporate office and from each other.
"I have a lot of confidence being a part of this system – they listen to us," Simon says.