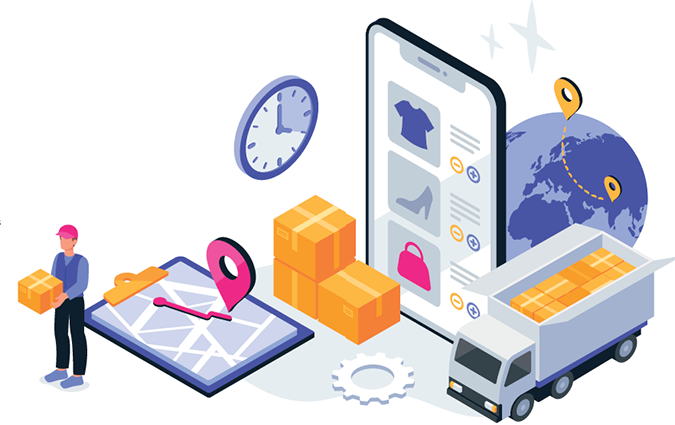 If anything defined the last two years of online retail, it would be shortages and opportunities. Shortages in raw materials, parts, goods, and labor, combined with the Covid-fueled growth of online retail, helped create a perfect storm that the industry is still struggling to weather. And yet, as consumers shifted their purchasing power online, logistics providers were presented with the opportunity to build their businesses.
So, what can online retailers do to keep their heads above water and focus on growth as they navigate this turbulent landscape in 2022 when resources are tighter than ever? For those taking steps to implement the right strategies, this year is actually one of opportunity.
Shifting labor and consumer expectations
First of all, it helps to define the challenges. In the last two years, the pandemic forced many people indoors with little to spend their money on other than bills and online retail stores. Thus, we saw a massive increase in the number of online orders to fulfill.
And while many online retailers proved to their customers – and themselves – that they could ramp up their business, this coincided with a massive shift in the labor market. Employees' expectations have evolved significantly through the pandemic and, though the labor shortage may be easing, options for employment have expanded. The result? An extremely competitive labor market.
We also have to contend with the 'Amazon Effect.' Consumers expect to order something online and have it in their hands the next day – without paying for shipping! Amazon's large network of fulfillment centers around the country makes this possible by getting products closer to the consumer. But most online retailers and brands don't have those resources, nor can they leverage the Amazon delivery network unless they want to give a significant portion of their revenues, and data, to the retail behemoth.
Consumers are now used to ordering everything online, from milk to toilet paper to lipstick to yoga pants. Whether they plan to pick up curbside or in-store, opt for same-day delivery, or have the order shipped to their home doesn't matter; the expectation is a unified and efficient experience regardless of delivery method.
All of this has placed great stress on back-end operations, i.e. storage, packaging, inventory management, etc. While technology can help to improve efficiency and integration, it alone will not meet increasing consumer expectations. Someone still has to do the physical logistics, get products into consumers' hands and provide customer support. This is where Third Party Logistics (3PLs) providers are stepping in, helping retailers leverage their assets to meet and exceed consumer expectations despite the challenging circumstances.
Can a multi-node approach solve these challenges and more?
One solution for retailers is to enable them to embrace a hybrid model combining online and brick-and-mortar stores. Many retailers have made use of their empty brick-and-mortar locations by converting them to micro-fulfillment centers in support of online orders. Utilizing these 'dark stores' has proven a powerful strategy to keep their workforce employed, avoid sitting inventory, leverage existing physical space and handle the massive influx of digital transactions.
A distributed order management (DOM) empowers retailers to route orders across multiple fulfillment points depending on delivery preferences, shipping time and costs, and store inventory. Using a DOM, retailers can support fulfillment from multiple distribution centers, e.g., West and East Coast distribution centers, as well as micro-fulfillment centers, dark stores and temporary pop-up distribution centers. This multi-node approach enables faster fulfillment and equips customers with access to alternative delivery methods such as curbside pick-up, pick up in-store and ship-from-store.
By utilizing a multi-node fulfillment approach and DOM technology, brands and retailers can compete with two-day and same-day delivery, optimize their inventory, ensure business continuity, and operate fulfillment practices in a sustainable manner. The latter is no small thing: Consumers are increasingly aware of the environmental impact of their purchasing choices. Even before the pandemic, 74 percent of US millennials said they were more likely to purchase from brands that support the social issues they care about. In getting products closer to the consumer, multi-node fulfillment is one way brands reduce their carbon footprint by shortening last-mile delivery.
Now, none of this is easy by any means. It costs money and time to think through your strategies and find ways to integrate technology into your process, leverage and repurpose your existing real estate, and find and retain skilled labor throughout the business. But, the return on investment is worth it – when done right, a multi-node fulfillment solution, powered by DOM technology, equips retailers to create exceptional omnichannel customer experiences that encourage loyalty.
For a list of the sources used in this article, please contact the editor

Kamran Iqbal
Kamran Iqbal is a Commerce Strategist at PFS, the business unit of PFSweb, Inc., a premier eCommerce order fulfilment provider. It facilitates each operational step of an eCommerce order in support of DTC and B2B retail brands and specializes in health & beauty, fashion & apparel, jewelry, and consumer packaged goods. Its scalable solutions support customized pick/pack/ship services that deliver on brand ethos with each order. With 20+ years as an industry leader, PFS is the BPO of choice for brand-centric companies and household brand names, such as L'Oréal USA, Champion, Pandora, Shiseido Americas, Kendra Scott, the United States Mint, and many more.
www.pfscommerce.com