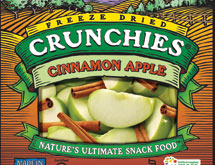 The health revolution has seen a big push in the last few years. First Lady Michelle Obama's Let's Move! campaign promotes active lifestyles and proper nutrition, and several states have stepped in to make sure vending machines at their schools include a balance of healthy options. The federal government even has taken steps to define what "all-natural" means so food companies can't mislead consumers with ambiguous packaging. These factors, coupled with media attention on rising obesity levels, have sparked a fire under the healthy eating trend.
"It doesn't matter if you are making $20,000 a year or $3 million a year, you still want to put good stuff into your body," explains Jim Lacey, CEO of Crunchies Food Co., a brand of all-natural freeze-dried fruits and vegetables. "You only have one body and health is wealth, and people realize that they have to take care of themselves. It doesn't matter the age group, the demographic or the income level. All of that is irrelevant if you want to take care of yourself."
Crunchies is one of the companies that allow consumers to do that. The company's freeze-drying process removes 97 percent of the fruits or vegetables' water but locks – literally freezes – everything else in place, including the product's numerous health benefits. Freeze drying preserves the look, the taste and 94 percent of the products' nutrients and still maintains a 24-month shelf life.
Because the process takes nothing away, nothing has to be added. The company may add natural flavorings such as cinnamon to the freeze-dried apples or assorted spices for the freeze-dried veggies, but most of the products remain untouched, making them great alone or as ingredients in recipes. No added preservatives or sweeteners results in a product that is all natural, non-GMO, kosher-certified and gluten-free, which means nearly everyone can enjoy it.
"What we have found is that young toddlers all the way up to senor citizens love the product," Lacey explains. "There is a switch in behavior with consumers and it's a gradual revolution, but it has been accelerating."
Expanding Reach
Crunchies has positioned itself to capture growth from this rising consumer trend. The company is known for its innovation, such as being the first to freeze-dry grilled edamame beans with rice, and it introduced eight new products at the 2012 Natural Product Expo East. The products will roll out in retail stores over the next six to 12 months. Proving Lacey's theory that healthy living crosses all incomes, retail superstore Walmart has also picked up four of the new products, bringing its Crunchies count to seven.
"Even Walmart at first thought it would be too high-priced for their demographic," Lacey says. "Walmart consumers are typically middle to average income, but Crunchies is still selling extremely well because people want healthy products. Now they are branching into veggies, which will launch June 3 into Walmart planograms."
Another unexpected distribution channel for the company is the convenience store market. Convenience stores (c-stores) aren't known for a plethora of healthy food options, but the industry is intent on changing that stereotype. Lacey explains that meals-on-the-go are trending alongside of healthy eating, and Crunchies happens to fit into both categories, making it a natural fit for c-stores. Crunchies will begin rolling out to retailers such as Circle K and 7-Eleven over the next year.
At the same time, the company will expand its international presence. It has been sold in Canada for the past four years, and now with French/English labeling it will be distributed in even more provinces. It's also making the move into Australia, New Zealand and South Korea.
"In the short-term, Crunchies will gain distribution in all channels and most retailers across the country," Lacey says. "Going into 2013, we will increase our sales organization across the country to help manage customer relationships and to drive future growth."
Spreading the Word
Now that Crunchies is branching into new markets, it is making a triple effort to let customers know where they can find the brand. The company doubled its advertising expenditures in 2012 from 2011. It will triple its 2012 advertising spending going into 2013. It will get in at the ground floor at more than 50 health fairs and 60 to 70 trade shows across the country. The company will participate in athletic events across California. It has signed on to participate in nine marathons, providing samples and coupons to participants. It is also a major sponsor of three sports events for 2013: AMGEN TOUR OF CALIFORNIA – a nine-day bike race from Escondido to Santa Rosa, Calif.; the Nike Basketball 3ON3 Tournament at L.A. LIVE; and San Francisco's annual Bay to Breakers foot race. The company will issue its first freestanding newspaper insert and launch its first 15-second commercial in select markets.
The bump in advertising will create greater awareness for the brand and its current products, while also readying the market for new products under the Crunchies' name.
"We are going to take our footprint and expand into other categories," Lacey explains. "One of the keys to our success is innovation. We are working on other segments and other categories that will debut in the next 12 to 18 months that will propel the company into fulfilling more consumer needs regarding natural products."