Although the city is famous for placing items like cheesesteak, Stromboli and hoagies on the culinary map, its food culture has become much more diverse. Di Bruno Bros., which is celebrating its 80th anniversary this year, was founded in the heart of Philadelphia's Italian Market as a pioneering specialty food retailer and importer of cheeses, cured meats and other food products.
"We are one of the founding families of Philadelphia's food community," Mignucci says. "We are a part of the fabric of Philadelphia. There's a huge loyalty here and we credit a lot of our success to the city of brotherly love."
Fast-Growing
Di Bruno Bros. has come a long way since planting its roots in city's now-iconic South Philadelphia Italian Market. What began as a modest shop in 1939 has evolved into a community-driven enterprise that employs more than 350 team members with five retail locations and divisions that focus on catering, imports and e-commerce.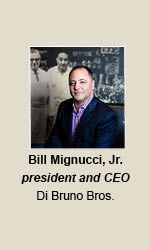 "But it all started with two Italian brothers, Danny and Joe Di Bruno, who came here with a third-grade education in pursuit of the American dream," says Mignucci, adding that Danny was his grandfather. "They opened up a market with a butcher and soon became local celebrities."
In the 1960s, Danny realized that the small grocery store alone would not be enough to stay in business so he reinvented the business and named it the House of Cheese. "He was ahead of his time because he sought specialty foods before most people did," Mignucci adds. "He diversified and the store started carrying international foods. That's why we call ourselves culinary pioneers."
Di Bruno Bros. is now owned and operated by Bill Mignucci and his cousins Emilio Mignucci and Billy Mignucci, all of whom took over the family business in the 1990s and grew it into a culinary empire.
Aside from the company's original 400-square-foot store in the historical market, it has Philadelphia locations in Rittenhouse Square, The Benjamin Franklin building and the Market & Shops section of the city's first Comcast Center building. It also has a location on the Main Line in Ardmore, Pa.
In addition, Di Bruno Bros. products are now sold at more than 2,000 retail locations in 42 states. They include major food retailers like Giant Food Stores, Sprouts Farmers Markets, Big Y, Weis, Fresh Markets, Shoprite and Stop & Shop supermarkets.
"That growth has all happened since the 1990s," Mignucci says. "We have grown from 12 employees and $1 million in sales in 1990 to 350 employees and in excess of $50 million in sales today. We're proud to service 30,000 customers per week."
The company has a distribution division to handle its expanding retail and wholesale business and an e-commerce division that has helped bring the company into the national spotlight.
Furthermore, Di Bruno Bros. has a catering and events division that prides itself on bringing its culinary delights to outside destinations.
With flaming wheels of Parmigiano, prosciutto hand-sliced on location and a variety of gourmet cheeses and meats, the company has earned itself a stellar reputation. "We're one of the top 10 caterers in Philadelphia," Mignucci says.
Tapping into our exclusively imported goods and local farms and markets, Di Bruno Bros. chefs create game-changing culinary experiences for an assortment of different events.
According to the company website, its chefs have "eaten truffles five ways in Umbria with our partners, cooked fresh Mahi Mahi on the beach in Cozumel and have run incredible restaurants across the city."
Upcoming Projects
In line with its catering business, Di Bruno Bros. is working on a new venue. It isrenovating a 100-year old bank in Philadelphia that was once abandoned and turning it into a 5,000-square-foot catering space. "It will be a destination for corporate and social catering events," Mignucci says. "We expect to open in September."
In addition, the company plans to open a new café this summer on the second floor of its flagship Rittenhouse location in Center City. "We want to bring to life the amazing products we have in our store downstairs and expand the Di Bruno experience. You'll be able to taste cheeses, charcuterie, eat Roman-style pizza and other specialty dishes with a glass of wine."
Also launching this year is Di Bruno University, a new employee development, engagement and management tool. The company invested roughly $75,000 into it.
"It will provide great transparency for our employees to make them feel a part of the company," Mignucci says. "It's a roadmap for employees. This is the beginning of us developing an employee development department."
Phase one is launching this spring with full implementation targeted for September. The new technology will give employees access to company history, benefits, current events, information and tools for earning a raise, safety measures and customer service.
"We spend a lot of time on employee development and training and that makes the Di Bruno experience different," Mignucci says. "We're more of a hospitality business than a food business. We're shop keepers and storytellers."
He adds that the company has adopted a philosophy based on the Servant Leadership model coined by Robert K. Greenleaf in "The Servant as Leader," an essay that he first published in 1970. In that essay, Greenleaf said: "The servant-leader is servant first … It begins with the natural feeling that one wants to serve, to serve first."
"It's really about putting the ownership and leadership serving upwards," Mignucci adds. "I think that's a key component to our success. We implemented the philosophy in the early 2000s."
Prize-Winning Products
From rustic Harbison to fudgy Baley Hazen Blue, Di Bruno Bros. offers a full spectrum of prize-winning cheeses. Recently, author Tenaya Darlington (a.k.a., Madame Fromage) partnered with the company to write Di Bruno Bros. House of Cheese, a comprehensive catalog of the shop's best-known and loved cheeses and accompanying recipes from the family.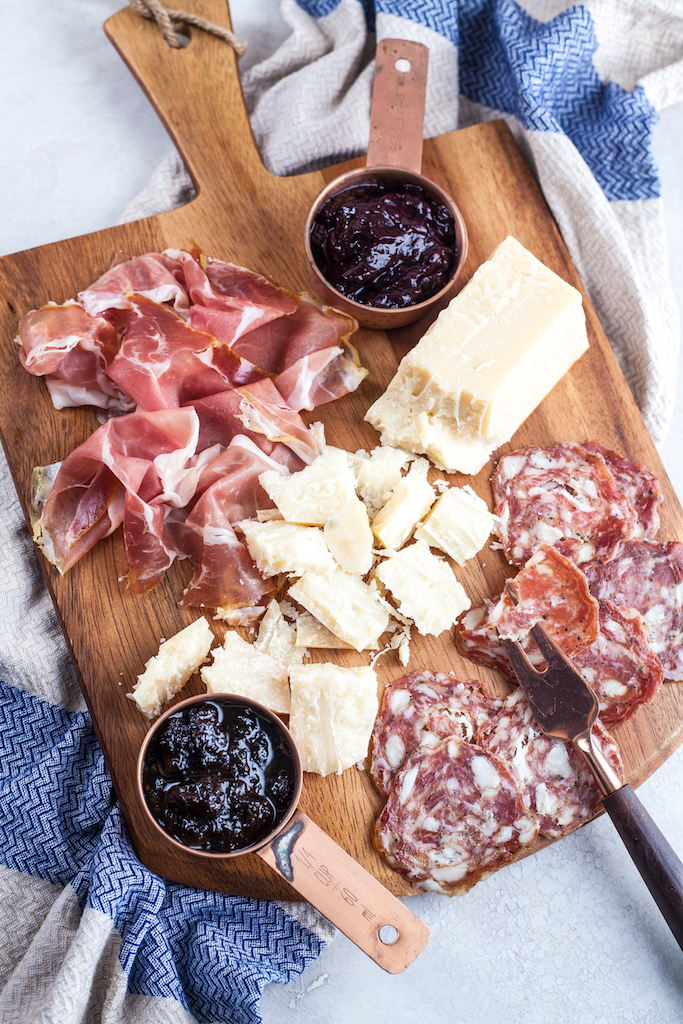 Di Bruno Bros. is also famous for its cured meats that include salami, prosciutto and bacon varieties. Its specialty items include culinary treats like antipasti, oils and vinegars, crackers, pastas and sauces, sweets, coffee and tea and various signature items like caviar, nuts, chocolate, pasta sauce, jam and truffles. The company also started selling wine about two years ago.
"The law has changed in Philadelphia," Mignucci says. "You can now pair wine and cheese and beer in retail establishments. That has been a game changer for us. The wine and beer category has exploded for us. But you won't find mass-produced wines, here. We carry a unique offering of about 200 SKUs."
Di Bruno Bros. also offers prepared foods and has a high-end butcher and seafood department at Rittenhouse. This year, the company purchased an artisan nut company with a small roasting facility.
"We have some really cool flavor profiles like our black lava sea salt cashews," Mignucci says. "That's another growth opportunity for us. After 80 years, we believe the best is yet to come."