By Janice Hoppe-Spiers
He is known as the "King of Pop Culture" with an impressive 13 million followers across his social media and well over 1 billion Facebook video views, a New York Times best-seller, a friend to numerous celebrities and now a household name, thanks to numerous licensing agreement. It's Doug The Pug; the small, lovable canine that has become a social media sensation and everyone's best friend.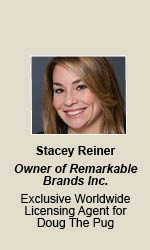 "People are just drawn to Doug The Pug," says Stacey Reiner, owner of Remarkable Brands Inc., which oversees Worldwide Licensing for Doug The Pug. "They're drawn to Doug because he has this human persona, witty captions, a stylish wardrobe, and he just makes people laugh. Doug has a long list of celebrity friends and people are drawn to him because they enjoy watching where he will go, who he will partner with and what video will be created."
Oftentimes, the lovable canine will be seen recreating popular TV shows and movies. For example, he's been a zombie from "The Walking Dead," the star of "Pugvengers" and even "The Fresh Prince of Bel-Air."
"Leslie Mosier and her husband, Rob Chianelli, are the creative geniuses behind the photos and videos, and are the voice of Doug," Reiner adds. "They come up with these great 'Dougisms' that become the voice for Doug. Leslie and Rob are constantly on trend with creating the best videos based on the best movies, rising stars, the song of the day and everything relevant in pop culture. I don't think people understand the amount of work and dedication it takes to create a social media influencer such as Doug The Pug."
A Star is Born
Mosier knew there was something special about Doug the moment she adopted him as an eight-week-old puppy in the summer of 2012. "His personality was larger than life," she remembers. "I would have a lot of fun taking photos of him wearing cute little outfits."
It wasn't until Mosier got her own Instagram account however, that she saw the potential to form a business around Doug, who was quickly charming his way into the hearts of people worldwide. "Very quickly, I discovered the people following me on my Instagram only wanted to see Doug," she recalls, noting that she created a separate one for her pet.
Once the site earned 100,000 followers, she opened Doug-themed Facebook and Twitter accounts as well. Things really took off when she posted a YouTube video of Doug, running around a park in Nashville, Tenn., with a balloon attached to his waist. By the next morning, the video had 20 million views on Facebook.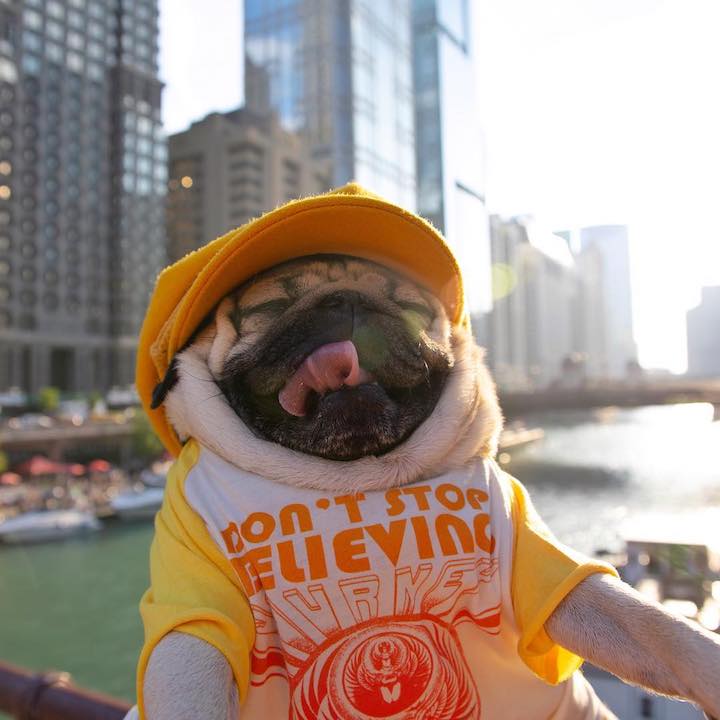 Mosier, who previously worked in marketing and PR at a record label, formed a firm with her pet's namesake, Doug The Pug. Today, she is CEO of the company that continues to post videos and photos of Doug. Mosier makes two posts daily, which she says is one of her biggest challenges. "It can be hard on us just mentally coming up with new content every day," she admits. "I've definitely learned a lot as a creative person to harness that creativity."
The company has also licensed Doug The Pug merchandise including plush toys, bedding, accessories, ornaments and posters, to name a few. Mosier has written two books, including "Doug the Pug: The King of Pop Culture," which was published by St. Martin's Press. "We made the New York Times' best seller list with that book," Mosier says, noting that HarperCollins Publishers released "Doug the Pug: The Coloring and Activity Book" in May 2017.
Doug The Pug also has a strong celebrity fan base that includes Ed Sheeran, Justin Bieber, John Legend, Chrissy Teigen, Nicole Kidman, Keith Urban, Blake Shelton and even the queen of country herself, Dolly Parton. Mosier and Doug met Parton at the Academy of Country Music Awards in Las Vegas. "Doug had an old-time country suit that someone had made for him with pizza embroidered on it," Mosier remembers. "She walked straight up to me, started petting Doug and saying how cute he was."
Living the #PugLife
Claire's was the first specialty retailer where Reiner thought Doug The Pug should live, and Remarkable Brands brokered the deal with the fashion accessory company in May 2018. "Claire's has been an amazing partner to work with," she adds. "We have been selling GUND, a division of Spin Master, plush toys exclusively for about a year now as well as selling additional merchandise to round out the assortment. Claire's has treated Doug The Pug like part of the family."
Claire's was encouraged to expand its partnership with Doug after three plush toy designs, each sporting one of Doug's best looks, sold-out when they were offered on their site in 2018. Additional items featuring the celebrity pooch include an array of merchandise such as backpacks, pillows and water bottles that have been displayed along the retailer's fixture. Fans also gather at Claire's stores around the world to meet Doug The Pug. "We have held many meet and greets in North America and internationally, and tickets have sold out in 30 minutes," Reiner says. "After purchasing Doug The Pug merchandise, fans are able to meet and take a picture with Doug. Fans have stayed connected with Doug from the beginning of his career and are so excited when they know they can buy Doug's merchandise."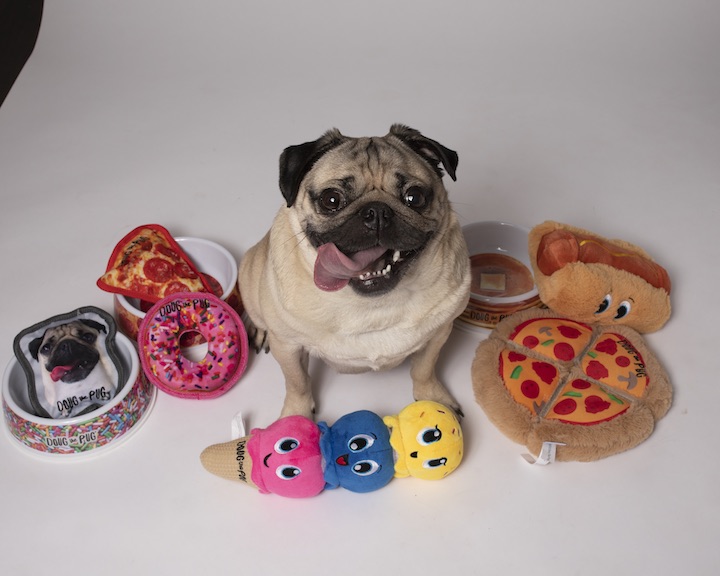 Doug The Pug has also partnered with American Greetings to offer Doug-themed gift-wraps, party goods and of course, greeting cards. Buffalo Games launched Doug The Pug puzzles, and Jay Franco with bedding, bath and room decor. Additional partners are Kurt Adler with ornaments and Trends International with posters. "We are also excited to announce our newest partnership with Outward Hound to create Doug The Pug pet toys and bowls."
Reiner wants to continue expanding Doug The Pug's plush toy line and will look at co-branding opportunities with other licensors. Doug The Pug will have his first booth at Licensing Expo for attendees to see the breadth of his products. "Once people meet Doug The Pug, it solidifies a majority of the deals," Reiner says. "They can understand firsthand the lovable factor of Doug and how hard Leslie and Rob work to make sure the brand is being refreshed."
Reiner also works alongside Victoria Bachan, Doug The Pug's digital media agent. "Victoria is responsible for putting together the most creative partnerships for Doug The Pug since the very beginning," she concludes.