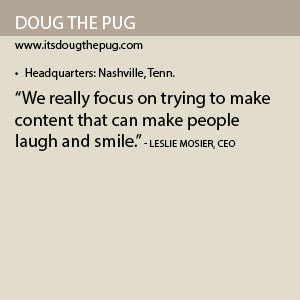 Once the site gained 100,000 followers, she opened Doug-themed Facebook and Twitter accounts as well. But things really took off when she posted a YouTube video of Doug, running around a park in Nashville, Tenn., with a balloon attached to his waist.
By the next morning, the video had 20 million views on Facebook. "Within a week, he had 100,000 likes," she says. "Now he's almost at 6 million."
Hail to the King
Mosier, who previously worked in marketing and PR at a record label, formed a firm with her pet's namesake, Doug The Pug. Today, she is CEO of the company that continues to post videos and photos of Doug.
Oftentimes, the lovable canine will be seen recreating popular TV shows and movies. For example, "We've had Doug being a zombie from 'The Walking Dead' or Doug being 'The Fresh Prince of Bel-Air,'" she describes.
Usually, Mosier makes two posts daily. "It can be hard on us just mentally coming up with new content every day," she admits. "I've definitely learned a lot as a creative person to harness that creativity."
The company also sells Doug-focused merchandise including T-shirts, outerwear and accessories, plush toys and mugs. Mosier also has written two books, including "Doug the Pug: The King of Pop Culture," which was published by St. Martin's Press.
"We made The New York Times' best seller list with that book," she recalls, noting that HarperCollins Publishers released "Doug the Pug: The Coloring and Activity Book" this May. "That's been selling really well."
Doug also has nurtured a strong celebrity fan base that includes Ed Sheeran, Justin Bieber, John Legend, Chrissy Teigen, Nicole Kidman, Keith Urban, Blake Shelton and even the queen of country herself, Dolly Parton. "She was amazing," Mosier says.
Mosier and Doug met Parton at the Academy of Country Music Awards in Las Vegas. "Doug had an old-time country suit that someone had made for him with pizza embroidered on it," Mosier recalls. "She walked straight up to me, started petting Doug and saying how cute he was."
A Positive Persona
The fans' ability to relate to Doug has made him a social media icon, Mosier says. "People just love following him," she says. "He portrays the voice of a human being trapped in a pug's body."
Stacey Reiner, the owner of Remarkable Brands Inc., which oversees licensing for Doug The Pug, agrees. "People are just drawn to dogs," she says. "They're drawn to Doug because he has this human persona, and it just makes people laugh."
Reiner herself notes that she started as a Doug fan before working with Mosier. "My niece told me about it and I just started following him," she recalls. "I thought he was the funniest thing I had seen in a long time."
If it is Monday morning, Mosier may post a photo of Doug lying in bed or sitting with a cup of coffee. "All of his followers say, 'I feel you, Doug,'" she says. "We really focus on trying to make content that can make people laugh and smile.
"With the way that the world is right now, there's a lot of really scary things happening," she says. "They can always count on Doug to brighten their day."
Pug Partnerships
Doug The Pug recently formed licensing agreements for new products, including a partnership with American Greetings. The company will develop Doug-themed gift-wraps, party goods and of course, greeting cards.
"They're the leaders in that category," Mosier says. "I'm going to be super excited one day to walk into a retailer and see Doug The Pug cards." Doug The Pug also is working with Gund, a manufacturer of plush items. "They're going to be doing some plush toys, accessories, journals and notebooks, to name a few," Reiner says.
Imaginarium Goods Co. will be manufacturing cozies, air fresheners and money banks, while Kurt S. Adler will produce Doug-themed ornaments and wooden blocks. "We also have Willow Creek Press, which does puzzles and calendars with Trends manufacturing posters," she adds. "These great companies join one of our first licensees, Kids Preferred, who already has goods placed in the marketplace."
Doug The Pug also has a partnership with FLONASE nasal spray. "We had a blast working with a company like FLONASE who was willing to think outside the box and let Doug's acting skills shine," Mosier says. "Working with them two years in a row is an awesome success story for when influencer marketing works."
Bringing Good Cheer
Mosier is developing the Doug The Pug Foundation, which will benefit children with cancer. "We have so many fans who are of all ages, but there are a lot of kids that are battling cancer," she says.
"They email us and message us on Instagram almost daily," Mosier says, noting that she often sends them messages or Doug's products to cheer them up.
"We've gotten to go to a few children's hospitals with Doug," she adds. "I'm excited that [the foundation] is actually coming to fruition."
Making Connections
Reiner predicts that Doug The Pug will become a household name with more products for fans to enjoy. "My plans for Doug is to have him really connect to the 9 million social media followers and friends," she says.
"Doug The Pug fans are very dedicated," she says. "We will continue our grassroots approach with Doug appearances at retail stores, fairs and charity events so that our fans can continue to meet Doug one on one."
Mosier also plans to continue releasing Doug videos. "We just put out a video that has 16 million views," she says. "We hope to make them bigger and better."