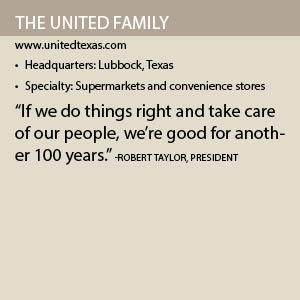 The United Family President Robert Taylor notes that almost doubling the size of the company in the past four years has come with its challenges. "Our growth is a challenge to maintain," Taylor says. "It takes a lot of focus to keep with the service level and the culture we've had for a hundred years. You have to continually evolve. But if we do things right and take care of our people, we're good for another 100 years."
The United Family is experimenting in Wolfforth, Texas with a new model for a convenience store. It will break ground on a new 5,000-square-foot store that will feature a production kitchen that will serve hot food with automated ordering.
100 Years and Counting
The United Family's roots go back to 1916, when its founder, H.D. Snell, opened his first United Cash Store in Sayre, Okla. From the beginning, the company's philosophy was focused on service, value, quality products and treating each customer as a personal guest. "For us, the No. 1 thing is people," Taylor says. "We call our employees 'team members' and we call customers 'guests.' We have a very service-orientated culture."
Its oldest and most recognizable brand, United Supermarkets, has 43 stores throughout Texas. A traditional supermarket, it sells dairy, meats, produce, seafood, snacks, beer and wine, and features a deli and bakery. Market Street, founded in 1997, focuses on organic and healthy foods and take-home gourmet cuisine. It also features a high-end bakery and a restaurant with seating for up to 280 people. The company operates 16 stores in Texas. "It's kind of like Whole Foods and United Supermarkets mixed together," Jackson says.
Also in 1997, The United Family launched the United Express brand, a chain of 34 gas stations with convenience stores in Texas. The Amigos brand came shortly afterward. Focused on offering Hispanic foods and brands, Amigos has four locations in Texas.
In 2013, United Supermarkets LLC was bought by Albertsons LLC and now operates as a separate, decentralized division of the Albertsons Company. Joe Albertson founded the company in 1939 with a similar philosophy to the Snell Family's. Albertsons Market has 29 locations in Texas and New Mexico.
Rewarding Loyalty
More than 400,000 customers are active in The United Family's loyalty program. Participants are notified via phone, email or mail about upcoming promotions and specials. The company also has a variety of different clubs for its customers including a beer and wine club, baby club, kids club and pet club.
"You earn points for every dollar you spend and you can redeem them for grocery items," Jackson says. One of the company's most popular rewards programs offers reduced prices on gas. For every 100 points earned, customers receive 10 cents off per gallon of gas and can redeem up to 1,000 points on a single fill-up at $1 off per gallon.
Giving Back
As its name suggests, The United Family places a large focus on people. Over the years, the company has donated time and money to a number of different charities. Giving back to the communities it serves has always been one of The United Family's philosophies.
When it comes to choosing charities, the company tends to support four main categories: basic human need (food and shelter), education, children's organizations (boy scouts and girl scouts) and quality of life (arts and sports).
"A lot of our members are involved with their community," Taylor says. "There's a really big focus on wiping out hunger and the other focus is on education." Over the years, the company has hosted a number of food and school supply drives, donated teddy bears to local hospitals and performed a variety of other charitable acts.
In 2016, The United Family donated roughly $375,000 to 25 United Way affiliates, including $99,171 for the Lubbock Area United Way. The company raised $350,000 at its annual Jacky Pierce Charity Classic golf tournament, along with a special anniversary gift of an additional $25,000. Since its inception in 1991, the tournament has raised more than $3 million for United Way.
The company has made the Dallas Morning News' "Top 100 Places to Work in DFW" list, and appeared on Texas Monthly's "Best Companies to Work for in Texas" list three times. In 2010, InStore Buyer Magazine named United Supermarkets "Deli Operator of the Year."
In 2003, The United Family was named the inaugural winner of the Supermarket News "Community Service Award" for its innovative UCrew community volunteer teams. In 2001, it was named winner of the Better Business Bureau's "National Torch Award for Marketplace Ethics."