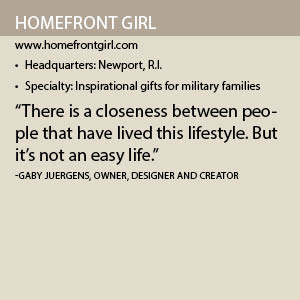 Her first card featured a doodle of a girl wearing a BDU military cap with the slogan: "The original army of one." The response she received was staggering. "I realized that there was a lack of products that spoke to our way of life," Juergens says. "What I did see out there was very masculine. There was a large segment of the buying public that no one had ever addressed before in retail."
The idea for Homefront Girl started taking shape. Juergens took classes and taught herself about product management, marketing and experimented with graphic arts programs. In 2013, Homefront Girl was born. "Homefront Girl was created by someone who lived the life and the designs are from that perspective," Juergens says. "Everyone has a hero and many quietly share them with the world."
Marching Forward
Today, Juergens has licensing agreements with a number of companies that use her designs on their products. They include Yankee Candle Company, Enesco LLC and Evergreen-Cypress Home. Designed for military families and first responders, the items range from mugs, tote bags, frames, key chains and bracelets to teddy bears, pillows, lunch bags, calendars and home décor. Each item carries an inspirational message for those who "share their hero with the world."
Juergens' portfolio features more than 1,000 designs and her artwork has been licensed to Enesco LLC, which released several of her collections including the "Pink Camo" and "Signature" collections. Her slogans include "Imagine a world without heroes," "Freedom is never free," "Military Wives: A Sisterhood" and one titled "I miss it all," a design popular with many Gold Star wives and mothers.
This year, Juergens signed with Kurt Adler, an internationally recognized importer of holiday decorations. The company will carry Homefront Girl Christmas ornaments with messages like "Carry on Santa, All is Secure." In the near future, she plans to sign with Udi Behr, a former paratrooper turned award-winning jewelry designer.
Behr is a native of Israel who has lived through three wars. Together, the two are working on creating a jewelry line. It will include silver and gold necklaces, rings and bracelets. "He deeply understands the inspiration behind the brand," she says. "We're hoping to introduce the new line in 2018."
In addition, Juergens has expanded the Homefront Girl line into other brands. They include Homefront Baby, Homefront Bride, Homefront Pets and Homefront Kids. Her product lines include ready-to-wear apparel, fabrics and home décor.
Supporting Veterans
To give back to those that have served and sacrificed, Juergens often teams up with other businesses to raise funds for veterans. Proceeds from numerous Homefront Girl products benefit veteran's causes.
In 2015, Juergens teamed up with Yankee Candle Company, which distributed a limited addition of Homefront Girl candles with slogans like "Not for Glory. Always for Country." A portion of the proceeds benefited Homes For Our Troops, a nonprofit group that builds mortgage-free, specially adapted homes for severely injured veterans.
Homefront Girl also features a Teddy Bear Collection. A portion of the proceeds from the sale of each bear supports Operation Homefront, a charity that offers a range of services to veterans. The bear collection is also sold on Amazon and at certain online retailers like Walmart and Sears.
In May 2015, Juergen's Fabric Collection from Cranston Print Works included a "Be Strong, Be Brave, Be There" quilt. It was chosen to be featured in the 2016 Quilts of Valor Challenge.
Juergens is a licensed artist with her Homefront Girl brand. Creating products and inspirational messages from her own personal experience has been her passion.