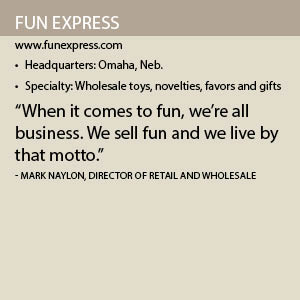 And there's more fun to come. Of all its products, roughly 16,000 are exclusively designed by the fun-maker's own product design team. Customized and licensed merchandise is a fast-growing part of the company's business – especially last year.
"Everyone wants to put their own mark in someone's life with fun products," Naylon says. "We have a team of over 30 award-winning artists and designers who, along with your sales rep, will work with you to develop custom products to separate you from the competition. This service is provided to our customers at no additional charge and includes artistic design, product development, production and distribution."
Fun Express carries hundreds of licensed merchandise items that include a variety of characters from Disney, Star Wars, Angry Birds, Ghostbusters, Pirates of the Caribbean, Barbie, Hot Wheels, SpongeBob SquarePants and superheroes from DC Universe and Marvel Comics.
"Our team of buyers work to have the latest products in stock early so that our customers have them in their redemption centers and stores when they are hot in demand," Naylon says. "Fun Express supplies businesses of all sizes with the products they need, when they need them."
From initial design to the distribution phase, Fun Express offers thousands of products and its state-of-the-art technology makes customization affordable, he says. Customized products include corporate gifts, tradeshow giveaways, novelty toys and games, mugs, tumblers, bottles, tableware, jewelry and backpacks.
Tech Savvy
The fun never stops. In fact, Fun Express has made significant investments in technology to make sure it doesn't stop. This year, it plans to redesign its website to make it more functional and user-friendly. "We want to make it a better experience for our customers and make it easier to order," Naylon says. "It will also have a better ability to search for products and for customers to look up their past ordering history."
At the fulfillment center, Fun Express uses cutting-edge technology, such as an automated voice command system that directs employees to the correct pickup zone for each ordered item.
To keep up with its customers' advancements in technology, Fun Express fully supports electronic packing list formats for customers' POS systems. It offers a customized web shopping experience that can be tailored to meet each customer's specific ticket value calculation factor.
Funtastic
Fun Express is a leading wholesale supplier to party retail stores, family entertainment centers, amusement parks, restaurants, schools churches and a variety of promotional agencies. "We understand the success of family entertainment facilities relies heavily on the relationships you maintain with your supplier," Naylon says. "Fun Express offers extraordinary customer service that guarantees your satisfaction."
That includes a new counter setup service, counter resets and merchandise consulting to provide its customers with the confidence that they will have the most desired and profitable prizes in their prize counters, he says. Customers also receive monthly emails showcasing brand-new items for both kids and adults.
"Our vision is to provide family entertainment centers a one-stop-shop product line and customer support solution that is easy-to-use, reliable and provides the latest trends and innovations," Naylon says.
Every eight weeks, Fun Express mails out a new funtastic catalog to its customers, highlighting existing and new products and seasonal items. Orders can be placed via phone or through the company's online catalog form. The company also offers free shipping on orders of more than $300.
"Free freight allows our customers to store their product and have it delivered whenever they want," Naylon says. "We have the ability to ship anywhere in the world in a very timely manner and our product pricing is more than competitive. All they have to do is order and the product is only five days away."
Fun Facts
Fun Express has been a trendsetter in the industry for more than eight decades. In the 1980s, the company started using a toll-free telephone number. Free phone calls, when conducted from a landline, were a novel idea. "We were the first in the industry to use it," Naylon says. "It wasn't as common as it is today."
Fun Express also started offering free shipping in the 1980s. "We were one of the first to start offering free freight on shipments," Naylon says.
Also in the 1980s, the company's mail order catalog was one of the first in the industry to be printed in color. At that time, most catalogs were printed in black and white.
Although a lot has changed since the company first opened for business, some things will always stay the same. "The one thing that remains at the core of our business is offering great selection at a great price," Naylon says. "That will never change. We make the world more fun."