Fun2Play Toys LLC/Poo-nicorns
President Evert Weenink, a longtime veteran of the toy industry, co-founded Fun2Play two years ago with friend and colleague Dave Brooks. "Together, we started with a product line that revolved around trend-based emoticon products," he recalls, adding that the company put an emphasis on personality and character.
Fun2Play quickly found that the "Poo" emoticon inspired character (named Smelvin™) was a favorite among buyers. "[It] was the rock star," Weenink says. The company soon began exploring how it could capitalize on this trend.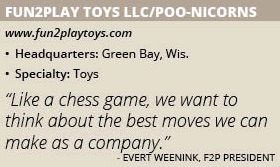 "We initially went down the vulgar route, but quickly discovered that cutesy is much more appealing in the toy industry," he says. F2P's Creative Director and Partner Rick Corvese (a.k.a. "the magician," as Licensing Director Jacqueline Vong likes to call him) together with Weenink, realized that by adding a horn and a rainbow mane to the pile of poo, it would be too stinkin' cute to pass up. Fun2Play developed the company's Poo-nicorn characters by mixing the unicorn and poo emoticon trends together.
Weenink's own daughter helped in choosing the neon colors for the characters. "She would say, 'That blue is the wrong blue' or 'That's too dark, you've got to go in the other direction,'" he recalls. "It was the combination of unicorns, rainbow colors and a pile of poo."
Fun2Play saw an early sign of the Poo-nicorns' success at the Dallas Toy Fair in 2016. When Weenink approached a retailer, "I said, 'What what do you get when you mix a pile of poo with a unicorn?'" he recalls.
"He said 'What?' and I dropped it in his hand," he says. As soon as the retailer saw it, he told Weenink he wished he thought of the Poo-nicorns himself. Soon afterward, Fun2Play trademarked, copyrighted, etc. and launched the Poo-nicorns.
Vong, who is also the co-founder of Playology International, says consumers relate to the products beyond their cuteness factor. "People gravitate towards the everyday issue of pooing," she says.
Buyers find them amusing as well. "There was an instant 'ha, ha' factor," she says. "So we also created some poo puns to go along with that."
Whole Poo World
Fun2Play has expanded on its "Poo-niverse" with additional characters, including the "Poo-nimals," which combine poo with animals such as puppies and rabbits, as well as the "Poo-nisaurs," which do the same with dinosaurs. "They're 'X-STINKT™,'" Vong jokes. "Get it?"
The company also has its "Poo-F.O. Party Poopers," which takes characters into outer space. "To support this, we've created a web series called 'Poo-nicornicopia,'" she says.
The series, which can be seen on YouTube, teaches lessons about friendship and acceptance with the Poo-nicorn characters. "It's all about poo-sitivity and embracing your poo-nique qualities," Vong says.
Fun2Play added other fun toys to its lines, including its Squishiez characters, which kids can squish and squash and use as pencil toppers. The blind capsule packaging can be converted into a moon chair for kids to display their favorite characters. Its Droplings characters are Poo-nicorn plush with clips that come in eggs that children can crack open to play with their new toy.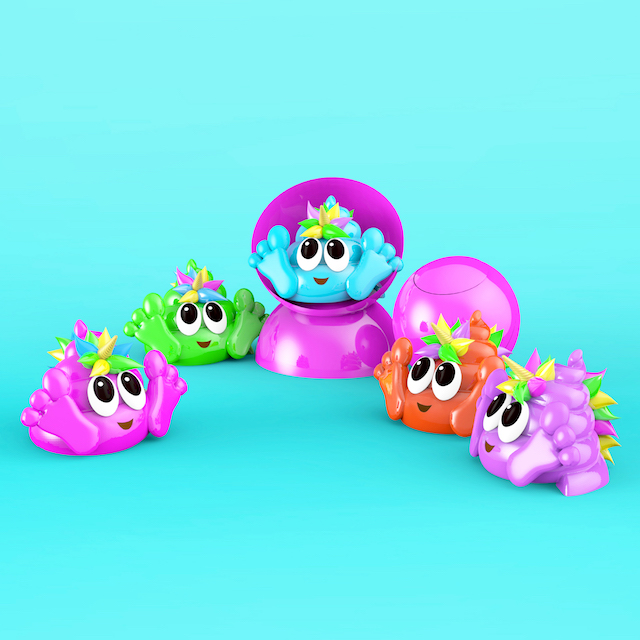 The company also has branched out with licensee partners into bikes and apparel, with the Poonicorn bikes being sold at Toys "R" Us locations in Canada, as well as t-shirts which are sold at Wal-Mart. "We have footwear and slippers," Vong says. "We also have Poo-Jamas, which are head to toe PJs with Poo-flaps with puns on them like 'This is How we Poo it' or 'Pooped out.'"
Like the plush toys, Weenink says, the apparel pulls off the feat of making the poo appealing. "If it's gross, it's not so appealing to license out," he says. "My daughter will look at the shirts and say, 'It's so cute.'"
Breaking Down Doors
Despite the popularity of the Poo-nicorn toys, Fun2Play has encountered challenges as a modestly sized start-up toy company. "The retail landscape is always changing," Weenink admits. "Getting your foot in the door with some big licensing opportunities can sometimes be the biggest challenge out there."
But the experience of Fun2Play's team and the relationships it has formed help it cope. "We have very strong manufacturing and retail relationships and consider ourselves a speed boat when capitalizing on opportunities. That's how we've broken down so many doors quickly," he says, noting that its team also includes Chief Business Development Officer Ranki Lo.
Lo previously worked with Weenink at Tech 4 Kids, but also brings a vast amount of experience from companies such as Spin Master, Ganz, TCG and Irwin Toy Ltd. "We want to attract an individual like that who has the seasonality and the knowledge," Weenink says.
Fun2Play also has a full content strategy to support the toys, as well as licensees, with robust social media and public relations plans. "We've been able to connect with some influencers on the social media side and get great Poo-blicity," Vong says.
The company's success has helped the company win over reluctant retailers. "We know that there are certain mass retailers who were poo-adverse last year, [but they] have come around and want to give poo a chance," she says. "Poo is a very hot trend right now."
Giving Comfort
Fun2Play's Poo-nicorn toys have provided comfort to Anastacia Wartmann, a 13-year-old girl who has lived with irritable bowel syndrome and chronic constipation for her entire life. "To get her through rough times, her family made poo jokes and poo puns," Vong says.
Wartmann discovered the Poo-nicorn plush toys, which has helped bring her more joy. When she participated in marathons, "She brought a bunch of Poo-nicorns out to the runners as well as her own Poo-nicorn while she was running," Vong says.
"She's been a really positive Poo-nicorn ambassador," Vong continues, noting that this helps bring more attention to issues like constipation and IBS. "Poo-nicorns have been a playful and fun way to bring that conversation to life."
Best Moves
Weenink is proud of Fun2Play and what it has accomplished with the Poo-nicorn toys. "We were the poo-ineers in this category when we first were talking about poo in toys," he recalls.
"We weren't afraid to go out and say, 'I think kids will think it's funny, go after it and want to buy it,'" he recalls. "We were the first on that trend and it makes me really proud of that accomplishment."
Fun2Play's modest size will allow it to continue to look at ideas that push the envelope. The creative direction under Rick Corvese is fast on execution and allows product to come to life. In fact, Weenink says, some of the current popular toys are the ones that stand out and think outside the box. "I would consider us a trend setter and that's what makes me most proud," he says.
The company wants to continue expanding the Poo-nicorn universe, while attaching itself to exciting brands that will "make the next big statement for retail," he says. "Like a chess game, we want to think about the best moves we can make as a company."
Fun2Play also plans to expand into online retail. "We know that the web is the way to go," Weenink says. "It's a major focus for us going forward."
For more information: www.fun2Playtoys.com.
SIDEBAR – Unique Ways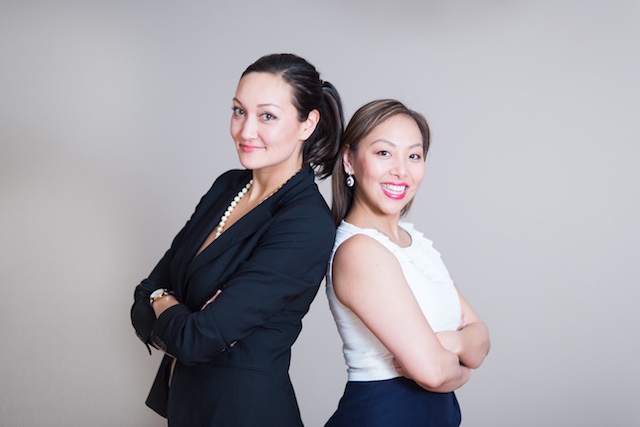 Traditional licensing usually starts with the use of media to amplify a brand in order to build lines of merchandise around it. But times are changing, and Playology Intl Inc. is prepared to serve clients as they move in a different direction. "We're starting to see unique and new ways to build licensing strategies. Be it trend-driven or toy first, we're now backing into a content strategy," co-founder Jacqueline Vong says.
For Playology, an Asia and North American-centric strategic consultancy that combines licensing and merchandising expertise with a content strategy, this trend includes client Poo-nicorns. Vong and co-founder Nicole Schneiderjohn founded the company after gaining experience with licensing and content giants such as Nelvana, Mattel, Spin Master, Cartoon Network, FX, Warner Bros. and National Geographic.
Today, Playology also works with properties such as The Wiggles and Scout & The Gumboot Kids. "Content is an essential way we market brands," Schneiderjohn says, noting that technology will continue to play an important role in content development and brand licensing.
For more information, visit www.playologyintl.com.