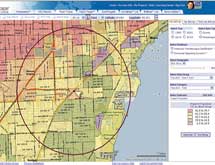 Fifty percent of the recent population growth in the US is due to growth of the Hispanic population. Hispanics and Latinos comprise approximately 16% of the total US population, coming in second only to non-Hispanic White Americans. Facts such as these make it clear that companies can no longer ignore this important consumer demographic, which is where Geoscape comes into play.
Founded by Cesar Melgoza in 1995, the Miami-based company provides actionable intelligence through its use of unique data sets, information technology, and experience in analytics, marketing, and strategy. And it is all designed to support business growth.
"For us, supporting business growth means capitalizing on the culturally diverse business environment," said Melgoza, CEO. According to Geoscape's findings, a large percentage of the growth affecting businesses occurs in industries where Hispanics are largely underserved but are a major percentage of the consumer audience, such as CPG (especially food and beverage), insurance, and fine service products. "We help companies understand those growth opportunities and how to act on them," said Melgoza.
Platinum rule
Geoscape works with clients from a variety of industries, from telecommunications companies to insurance and financial services institutions. A significant amount of its work comes from retailers and CPG companies, and when dealing with retailers in particular, the company takes a start-from-scratch approach.
"We try to understand the context they're in and what they're trying to accomplish," said Melgoza. "Usually our clients are aware that there might be an opportunity for them by addressing these opportunities, but they may not have thought enough about exactly how they need to execute on a strategy."
Sometimes it begins with an opportunity assessment: having clients articulate what they want to do to find out where there are gaps in their understanding of the situation. Other times it requires applying that data and other metrics to grasp the size of the opportunity and consider how prepared the company is to address it.
To get the ball rolling, Geoscope asks for simple pieces of information from its clients: data on their coverage area, who lives within that area, and what ways are available to address them. Typically, clients have done some of that work, so the jumping off point becomes what can Geoscape can add to the mix to provide clients with information they don't have but do need.
When dealing with supermarket chains, for example, Geoscape looks at grocery as a category and at the company's business model, geographic coverage, and expansion plans. It then analyzes what people, households, and spending potential is available to the company within shopping distance of its stores.
"Once we establish that universe of opportunity, we dig more into how the segmented opportunities can be addressed," said Melgoza. "It's likely they will have a variation in coverage among their stores, so the question then becomes will they be serving unique customers in a way using the platinum rule, which is treating them the way they want to be treated."
Missing the boat
Evidence that companies treat their customers the way they should is easily reflected in their sales data; the in-store merchandising, marketing, and communications; the human resources allocated to the store; and the degree to which the client is willing to proactively address the needs and wants of its trading area population.
"We can give them that data on a company-wide basis and at an individual store level," said Melgoza. Geoscape can dig into specific categories within grocery, for example, in terms of dollar spend, potential estimates, population growth statistics, and brand-level potential. It can also dig into the level of specific categories of brands and potential by categories.
For clients that simply want that information available at their fingertips 24/7, Geoscape's Geoscape Intelligence System provides the information online. "It's a self-service environment that gives our clients what they're looking for without our assistance," said Melgoza. "We can supplement with additional intelligence where needed."
From primary research to strategic or media planning support, Melgoza said customers want more information today than they did when he started the business 15 years ago because they recognize these practices as solid business strategies. For those companies willing to invest the resources, they'll see their businesses flourish. Those not willing to invest often see their competitors taking advantage and wonder how they missed the boat.
"It's kind of an early-mover mentality," Melgoza said. "It can be a dangerous situation when companies don't take it too seriously. Years can go by, and those that do act on it assertively are likely to get more than their fair share of the market."
Taking action
Melgoza formed Geoscape after working on an international basis combining database information with geographic and marketing data. Over the years, he noticed there were some missing pieces in the puzzle: a lack of accurate representation of the cultural segments in within the US and gaps from the lack of IT available in places like Europe and Latin America.
Having grown up in Central California in an immigrant family, Melgoza's personal experience also played a role in forming the company. "At Geoscape, we quantify socioeconomic phenomenon in a way that business people can take action on," he said. "That's a combination of my personal background and the experience many of the people who are a part of the Geoscape team."
The Geoscape team includes software developers, database engineers, analysts, statistical modelers, and people with extensive experience in marketing communications and strategy. That cumulative experience, coupled with a culture based on innovation and constant learning, has kept the company abreast of what's new and necessary in its industry.
"We all want to make a difference," Melgoza said. "Everyone wants to innovate and fulfill the promise the company represents and focus on their professional development."
In the next few years, Geoscape will become more automation oriented in alignment with its Geoscape Intelligence System, which has become about 50% of the company's revenue. The team has also developed the DirecTarget System Development Kit, which is a database enrichment technology for any client with a consumer database, loyalty card database, or licensed direct marketing file so they can build stronger models and, consequently, better CRM.
"We're a business model-oriented multidisciplinary company," said Melgoza. "We happen to specialize in the cultural diversity of the country because that's where we see growth coming from into the foreseeable future. We invite companies to take a look at that to enhance their business model going forward and to not underestimate it."