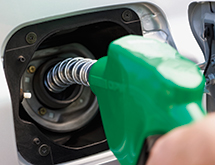 What started as Heater Oil Co. has evolved into a successful gas-and-convenience store business. The Heater family has had long-standing patriarchs to foster its strong ties and shared interests. David's father, John, Go-Mart's president, is 81, and he never intends to retire. His brothers, Bill and Jim, were involved in the building of the company, as well. "My grandfather Fred, who started the company, didn't retire," Heater says, "and my dad won't, either."
Long History
David has worked at Go-Mart alongside family his whole life. "I've done every job here there is," Heater says. That's what Heaters do, going all the way back to 1914, when three Heater brothers – Fred, Charles and Rod – started Heater Oil Co., selling heating and lubrication oils and other petroleum products to farms and businesses along the Kanawha River in central West Virginia. The products came to them via boats.
In 1970, the Heaters built the state's first self-service gas station in the city of Gassaway, W.V. That same year, the company turned its flagship Gassaway store into its first convenience and gas station and renamed itself Go-Mart. Today, Go-Mart has 109 stores in West Virginia and bordering areas of Virginia, Kentucky and Ohio.
David's older sister Laurie handles payroll for Go-Mart's 1,500 employees. His younger brother Sam is in charge of construction. His cousin Billy heads up maintenance. David is responsible for real estate. He admits that business relationships are certainly complicated by family dynamics. "We've had our trials and tribulations," he says. "But we're family, so you find ways to work it out, because you have to."
Looking Forward
Go-Mart opened three new stores in the past 12 months, and it plans to open three to five more this year. It is also working to add diesel fuel to the 44 gas stations that do not yet have it.
As the chain grows, so do the opportunities for the people who work there. "With as many stores as we're building, if you stay with us and do a good job, there's a good chance you'll make manager and maybe even supervisor," Heater says.
To get the best employees, Go-Mart tries to be a more appealing employer than its competitors. "We pay well – it's a good living," Heater says. "We try to recognize talent and bring it up. We don't make promises, but when we see it, we will promote. That's a well-known fact."
Heater describes himself as a fair and honest manager with a no-nonsense approach. "I expect the same. If I don't get it, it's goodbye," he says.
Go-Mart performs ongoing training with employees, has regular meetings with managers and frequently sends supervisors to tradeshows to learn about new trends and developments, including the latest in technology in the industry. "We always try to have the newest equipment," Heater says. "Matching up the hardware and software can be difficult, but companies want our business and they always make it work."
Go-Mart dominates its relatively small geographic area, but it still competes with the likes of Speedway, BP, Citgo and 7-Eleven. It beats them on gas price by buying in bulk and receiving all of its product along the rivers where the company started doing business decades ago. Go-Mart owns terminals on the Ohio River and the Kanawha River, which are near its stores. That delivery method is cheaper than shipping fuel from refinery to stations via trucks as the competition does, and results in a better margin for Go-Mart and a better price for the customer.
Go-Mart also doesn't pay for marketing like many of its bigger peers do. "We don't actively market because we don't have to," Heater says. "We stay the lowest on price – on even things like bread and milk – and the freshest on product.
"This area doesn't have a huge population, and we've been here forever," he says. "Everybody knows us. People just know."