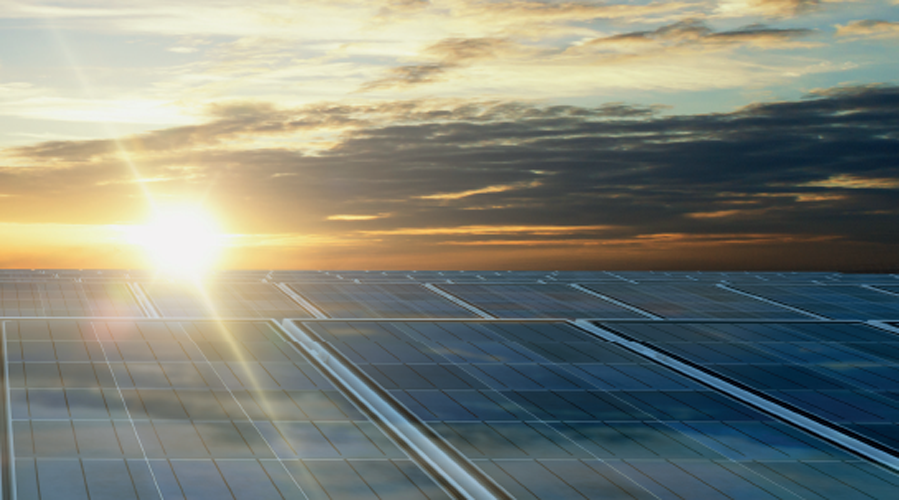 President Biden's commitment to halve greenhouse gas pollution by 2030 increased the already existing pressure for companies to adopt more sustainable energy solutions. Recent studies show rising environmental consciousness is impacting consumer behavior, with 83 percent of consumers reporting they took the environment into account when shopping, according to a survey from Kearney.
In the retail and distribution industry, your goal is to acquire and keep satisfied customers who will return again and again. That's why your facilities need a sustainable energy system that better protects seamless and efficient operations. Duke Energy Sustainable Solutions – a part of Duke Energy, one of America's largest energy holding companies – is helping retail and distribution companies access clean energy infrastructure that meets their and their customers' sustainability goals, while simultaneously improving operational resiliency. Through an operating lease, Duke Energy Sustainable Solutions can help reduce the responsibility of operating and maintaining the equipment – delivering predictability and reliability to retailers and distributors.
Read about how the team within Duke Energy Sustainable Solutions created custom energy solutions for Kroger, IKEA and Dole Plantation
Kroger
• Location: La Habra, CA
• Project Size: 1.174 MW DC
• Annual Production: 1,420 metric tons of emissions, equivalent to powering 240 homes annually
The Scenario
Kroger was seeking to cut energy spend at the La Habra Bakery and find more ways to deliver on its Zero Hunger | Zero Waste social impact plan. The plan aims to end hunger in local communities and eliminate waste across the company by 2025. Leveraging emissions-free renewable energy is crucial to Kroger spending less on electric bills and putting more investment into communities.
The Solution
Kroger had nearly 3,000 solar panels installed on the bakery's 300,000 square foot rooftop. The bakery operates 24/7 in order to supply 303 Ralphs and Food 4 Less grocery stores with baked goods every day, so it was important to minimize disruption. The numerous vents and other equipment already installed on the rooftop also presented a unique challenge. Tapping the latest technologies allowed for cost-effectively dividing the solar into 51 different sub-arrays. This is the second installation that Kroger has done; the first was a 496kW rooftop solar installation on the Fred Meyer distribution center in Clackamas, Oregon.
"Kroger's newest solar installation is another responsible choice that supports our sustainability goals. We will continue to explore energy efficient technologies and renewable energy options that are protective to the Southern California environment and communities we serve across America." – Erin Sharp, Kroger Group VP of Manufacturing
Dole Plantation and Processing Facility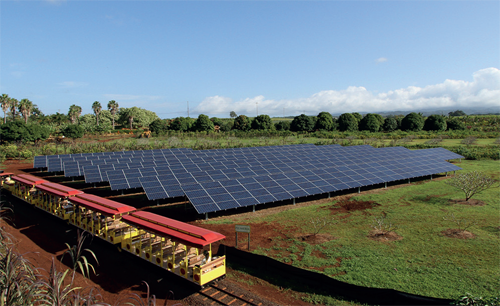 • Location: Waialua, HI
• Project Size: 647 kW DC total
• Annual Production: 287,000 kWh DC total
• Energy Offset: 30 percent of annual energy costs
The Scenario
To offset Hawaii's high energy costs and demonstrate their company's commitment to sustainable business practices, Dole decided to invest in solar.
The Solution
Dole Plantation had a 186 kW ground-mounted solar array installed immediately adjacent to their visitor center and Pineapple Express Railroad. The location has over one million visitors a year, giving Dole the opportunity to help educate local and off-island visitors about the role of clean energy in agriculture. Since the completion of this project in 2013, Dole has continued its sustainability efforts by installing an additional 461 kW of solar panels at their fruit processing facility.
"We needed a contractor that would minimize the impact on daily operations at Dole Plantation during construction. Now, we use the Hawaii sun to not only support agricultural activities, but also to help us reduce our impact on the planet." – Michael Moon, Dole Plantation Director of Operations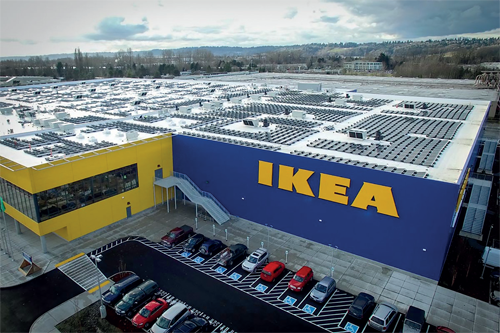 IKEA
• Locations: CA, CO, FL, IN, MA, MD, NJ, OH, OR, PA, TX, UT, WA
• Project Size: 20.01 MW DC total
• Annual Production: 28,896. 38 MWh DC
• Energy Offset: Enough to power more than 2,1 44 homes for one year
The Scenario
IKEA is a Swedish home furnishings company with a deep respect for nature. In an effort to minimize its impact on the environment, IKEA made a commitment in 2010 to use solar energy to reduce carbon emissions from its facilities.
The Solution
In support of IKEA's commitment to solar, we designed, engineered, and built solar electric systems at 20 IKEA facilities in 13 states across the country. These projects included both retrofits of existing IKEA stores (and a distribution center), as well as solar projects added to newly constructed buildings.
In addition to project design and construction, Duke Energy provides complete operations and maintenance for all IKEA systems it installs. Our monitoring and service teams observe production across all systems, identify issues and troubleshoot to find ways to improve system performance.
"At IKEA, we have a mission to create a better everyday life for the many, so we are excited about furthering our sustainability commitment and contributing to a low-carbon society with solar panels on nearly 90 percent of our US locations." Lars Peterson, IKEA U.S. President
Duke Energy Sustainable Solutions
Duke Energy Sustainable Solutions is a nonregulated commercial brand of Duke Energy – a Fortune 150 company and one of the largest energy holding companies in the US. Duke Energy Sustainable Solutions is a leader in resiliency and sustainable energy solutions, offering a comprehensive approach for businesses and organizations nationwide.
https://sustainablesolutions.duke-energy.com/industries/retail-distribution/