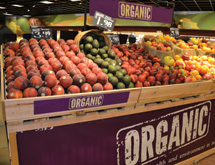 No matter how large Haggen Northwest Fresh has grown in the Pacific Northwest, the company's executive team has maintained a feeling of community at each of the company's locations in Washington and Oregon. Clement Stevens, Haggen's senior vice president of marketing and merchandising, says that community feel is a point of emphasis for all aspects of the company's branding.
"Haggen has an amazing heritage, for many years, of being a high-quality retailer in Western Washington," Stevens says. "The idea of community is what everyone is trying to do today, but it has always been a part of the Haggen brand. Haggen is celebrating our 80th birthday this year [and] today, just like 80 years ago, we are focused on our customer and the community.
"[We are] focused on our internal and external community [and] we rebranded our Haggen stores as 'Northwest Fresh,'" Stevens adds. "The local piece – always being a quality retailer, the integrity of the brand, instilling doing what is right for the customer – we have a very solid heritage of putting the customer first."
Founded in 1933 in Bellingham, Wash., Haggen Northwest Fresh operates 29 supermarkets throughout Washington and Oregon and employs close to 3,000 people. Ben and Dorothy Haggen and Doug Clark founded the company with just $1,100. In 1941, Haggen Northwest Fresh became the first grocery store in the region to offer a self-service meat department, and in 1951, it opened an in-store scratch bakery.
The company has grown throughout this region by operating two business models. The Haggen Food & Pharmacy format provides stores for shoppers that combine personal service with high-quality products. Also, Haggen Northwest Fresh has a format called TOP Food & Drug, which focuses on low prices while still emphasizing quality, freshness and selection.
According to the company, Haggen is one of 75-largest grocery chains in the United States as ranked by Supermarket News. It also stands as the largest independent grocer in the northwestern United States, Stevens says.
More than a Name
Stevens insists the community aspect of Haggen Northwest Fresh extends well beyond the branding of the company's locations. For example, it encompasses the decades-long tenure of many of its employees and the locally produced products and homegrown produce.
"We have a local grower who produces honeycrisp apples that are pretty amazing," Stevens says.
Its long-tenured employees make Haggen Northwest Fresh's presence felt in its communities, as well. This allows employees embedded within these communities to determine what their specific stores need to best serve customers.
"These are not one-size-fits-all corporate directives coming from somewhere else," Stevens says. "We are from the Northwest and we know our community." Stevens says the company trusts its employees to understand its community mission and how to best project that offering at the store level.
He predicts Haggen Northwest Fresh will continue to grow by helping everyone understand what its new brand represents and empowering employees to get involved.
"We're making sure that we help everyone understand how to be a part of the brand," Stevens says. "The community helps build that, as well. The brand is different than it was 80 years ago and even eight years ago; it is all about our neighbors and the local foodshed."