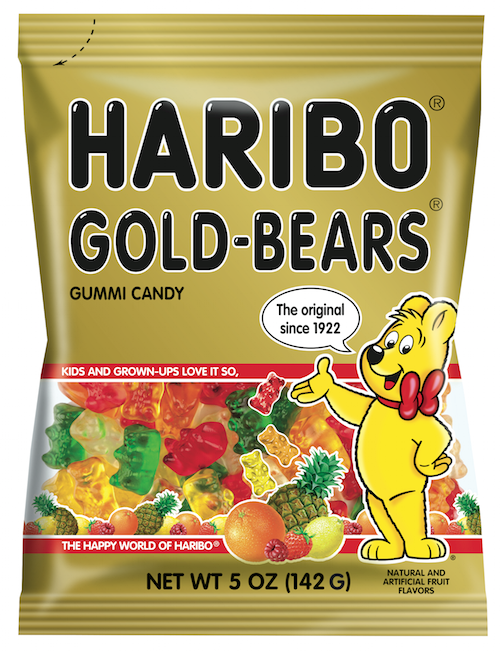 HARIBO of America is continuing to raise consumer awareness of its brand through high-quality products and numerous strategic initiatives.
By Eric Slack
Remember to give thanks to HARIBO the next time you enjoy a gummi candy. The German-based company was founded in 1920 and made the first gummi candy in 1922. Having expanded from its German roots, HARIBO now has a presence in many countries around the world and is among the biggest fruit gum and licorice sweet manufacturers on Earth.
"The company has a long history, and there have been almost 100 years of HARIBO Gold-Bears," says Rick LaBerge, who has been COO of HARIBO of America since May 2015. "The company strives for quality above all else, providing quality products at reasonable prices to consumers."
Tradition of Excellence
Today, HARIBO has factories in Germany and many other European nations, as well as a factory in Turkey and Brazil. The company has established a sales presence throughout Europe, the Middle East and parts of Africa, the Americas, Asia and Australia. The company's existence in the United States extends back to imports by German food importers into German delis and small gourmet stores. Incorporated in the early 1980s in Baltimore, HARIBO of America has been bringing HARIBO products to the U.S. mass market for decades.
"Gummis have gained in popularity, and we were early entrant in the U.S. market," LaBerge says. "We continue to grow as U.S. consumers realize their love for the gummi category, and our products have a different look and feel, which helps to make us unique in the marketplace."
To be certain, the Gold-Bear fruit gum product is the standard bearer for the HARIBO brand. HARIBO of America delivers products that appeal to both retailers and consumers. HARIBO's products have proven their ability to outsell gummi competitors and many other non-chocolate chewy segments at the U.S. retail level. "One of our main goals is to keep Gold-Bears current and top-of-mind with consumers," LaBerge says.
At the same time that it is reaping the benefits of the strengths of the Gold-Bears product line, HARIBO also looks for ways to add to its offerings in the U.S. market. Recent years have seen the company bring on product offerings such as Sour Gold-Bears, Happy Cola and licensed Smurfs gummis. The most recent new product launch is the HARIBO Twin Snakes product, a combination of two connected gummi snakes that offer sweet and sour tastes.
"Twin Snakes is our big product launch for this year, as we've been receiving a lot of positive feedback as they gain distribution at retail," LaBerge says. "They can be pulled apart or eaten together, and they have a high play value. As an added benefit, the sour flavor is actually in the gummi and not in a sugar coating. That makes it a great product for moms to share with the whole family without getting sugar everywhere."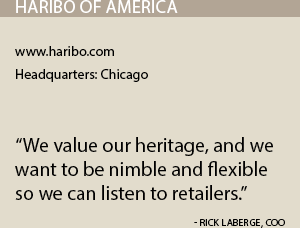 Room to Grow
Altogether, there is a big world of HARIBO products already winning over the hearts of consumers around the world. The portfolio is full of different textures, shapes, flavors and consistencies. Some of these products are not available in the U.S., and HARIBO knows it must continue to work on understanding U.S. consumers to see what other products may make a mark here.
"We do quite a bit of consumer research to understand how U.S. consumers view gummis," LaBerge says. "We are constantly testing different products with consumers, which helps us make sure we bring out products that are meeting a real consumer need or desire."
The company has also been investing in advertising for many years in the U.S., with the newest campaign in 2016 that focuses on Gold-Bears and Sour Gold-Bears. Additionally, the company is working hard to ensure that HARIBO products are available wherever consumers may buy candy. "Sometimes that means the typical outlets, but it isn't just the candy aisle any more," LaBerge says. "We do a great job getting into alternative channels with our products."
Another way the company has worked on improving its ability to compete in the U.S. is by moving its domestic headquarters from Baltimore to Chicago. The company started that move in early 2015 and completed the transition late last year, all with a focus on meeting the needs of U.S. market today while also being in better position to anticipate the future.
"This move demonstrates HARIBO's commitment to our customers and our vendor partners to ensure our operational support grows along-side our business and delivers best-in-class service with regards to finance, supply, and customer service," LaBerge says. "It also completes an important step in a broader growth plan."
Other ways the company is improving its service to the market include streamlining and re-evaluating its display program. HARIBO has enhanced its in-store promotional offerings, providing more display options that meet channel needs from size and count perspectives.
"We continue to partner with retailers so we can bring product to shoppers in the most relevant manner," LaBerge says.
"Pack types play a big role, so we've expanded to offerings such as stand-up bags as we are taking a hard look at how retailers are merchandising candy and making sure our pack types meet consumer usage needs. We want to offer a variety of pack sizes that allow consumers the ability to purchase what is right for them; whether that is a multipack containing mini bags, a portion controlled count good, or a larger format for sharing," he adds.
Fortunately, gummi products are on trend currently. This is good news for HARIBO because the category is growing, but it also means the market is becoming a more competitive environment. To make sure the HARIBO name continues to be synonymous with gummi and candy excellence in the U.S., HARIBO is working on strengthening its Gold-Bears while also bringing new product to market. All the while, it is committed to partnering with retailers and providing exceptional product assortments that will continue to appeal to retailers and consumers alike.
"HARIBO is a significant player in the worldwide candy industry," LaBerge says. "We value our heritage, and we want to be nimble and flexible so we can listen to retailers, bring products to market quickly and be present wherever consumers think about snacking and buying candy. We want to be part of joyful moments for families and bringing happiness to consumers."