Tom Honer, Bosma's father, founded the Fort Bragg, Calif.-based company in 1985 after working for years in the industry and deciding he wanted to start his own store. When he realized there was little differentiating Harvest Market from many of its larger chain competitors, Honer began focusing on natural and organic products in 1995 after recognizing his consumers' demand for such items.
In 2006, Honer purchased Mendosa's Market, a 100-year-old, small family owned market in Mendocino, Calif., which he renovated and renamed Harvest at Mendosa's. Harvest at Mendosa's focuses nearly exclusively on natural and organic products in a 15,000-square-foot space while the 40,000-square-foot Fort Bragg store offers both conventional and specialty products. Both stores offer fresh produce, as well as full-service meat and seafood counters, specialty wines and cheeses and a made-from-scratch deli and specialty bakery.
"We are always trying to improve upon who we are," Bosma says. "We are trying to create a sustainable business not just in profit, but with the community and our staff. One of the things we are really happy about is that we are one of the largest employers in Fort Bragg right now, giving us a certain responsibility to keep people's livelihoods going."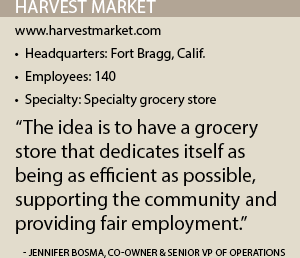 Staying Sustainable
Harvest Market is working to shrink its footprint by becoming more environmentally friendly. One of the biggest improvements the grocery store made is when it developed a new garbage stream. Each department is responsible for putting products in the appropriate bins – recyclables, compostable and landfill, which is the smallest bin.
"We have reduced our waste by 60 percent going to the landfill in the last six months," Bosma notes. "We are making everyone more aware of what they are putting in each can. We used to have a 25-yard compacting dumpster for waste, but now we have a four-yard dumpster that's picked up three times per week. The change was almost immediate because once we expressed what we were doing and how we would do it, employees jumped on board."
The company also collects waxed cardboard and backhauls it to a company in Chico, Calif., which then turns it into fire logs that are shipped back to Harvest Market and sold. Harvest Market retrofitted its produce cases to use less electricity, increase airflow and extend the life of produce. Both of the company's stores are equipped with solar panels, and Harvest uses condensed water captured from refrigerated cases in the Mendocino store to flush toilets.
Harvest Market's focus on sustainability earned it Progressive Grocer magazine's "Outstanding Independent Greatness in Green" award for multi-store operators and the 2015 North Coast Sustainability Award.
"We believe in taking care of the planet and being responsible in the way we run our business," Bosma says. "Environmental stewardship is also very important to our customer base, and many of the things we do are ideas we get from consumers."
Tokens for Charity
Harvest Market decided to stop using plastic bags well before a Fort Bragg city ordinance went into effect in late 2012, banning their use in all grocery stores. The ordinance also requires stores to charge 10 cents for each paper bag. Instead of keeping the bag fee for itself, Harvest Market's two locations donate it to local organizations chosen by customers.
"We give out wooden tokens for every bag purchased and brought in, and each token is worth 10 cents," Bosma explains. "We started this in April 2013 and we have donated $125,000. In the front of the store is a token bank with four bins for customers to deposit their tokens into. The choices are Fort Bragg Food Bank, Mendocino Coast Senior Center, Mendocino Coast Children's Fund and the fourth bin is for the school's PTAs. An additional canister is available in the check stands and rotates on a monthly basis."
In addition to those four charities, Harvest Market participates in many other events including Wine Song, an annual fundraiser that raises over $500,000 for the local hospital.Harvest Market focuses on education, feeding the hungry, emergency services and organizations supporting children.
Harvest Market hosts the Harvest of the Month program that provides kids with an opportunity to try different seasonal fresh fruits that they might not otherwise have. "The local schools now have gardens and we support that with time and money to help teach them how to grow things," Bosma adds.
Moving forward, Harvest Market will continue to support the community and take environmentally sustainable measures. The company has considered expanding and is looking to open more locations. "The idea is to have a grocery store that dedicates itself to being as efficient as possible, supporting the community and providing fair employment," Bosma says. "Our community involvement really distinguishes us, and we support a number of organizations."