Holmes Murphy President Den Bishop's book on the Affordable Care Act Aims to Tell Business Owners What They Need to Know About Healthcare Reform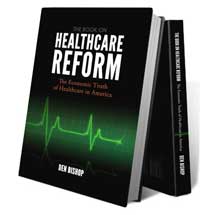 June 5, 2013 – Den Bishop, President of Holmes Murphy & Associates, one of the nation's largest independent insurance brokers, has written a book about the Patient Protection and Affordable Care Act in which he asserts that the landmark health legislation is essentially just shifting costs, not solving the healthcare crisis. The book was released on May 20 and is available on Amazon.com.
The book, titled "The Book on Healthcare Reform – The Economic Truth of Healthcare in America," takes an unflinching look at the legislation, and contends that the passage of the law is just the beginning of a larger discussion. "Disease is the real driver of healthcare costs. Employers must use their influence as a provider of coverage to incentivize their employees to change their healthcare behaviors. The only chance we have of controlling costs is to prevent major diseases from occurring in the first place," said Den Bishop.
In the book, Bishop explores the economic fallout of the legislation, who has been (and will be) blamed for its shortcomings, where the impact of its implementation will be – and most importantly – how alternative approaches might move the country forward toward a real solution.