A co-op is a member-owned and -governed business that is operated for – you guessed it – the benefit of its members. Members invest in co-op shares, patronize the store and elect a board of directors who hire, guide, and evaluate the general manager – in this case, Mausert – who runs day-to-day operations. "Our financials are transparent for members to see and there are quarterly membership meetings," Mausert says.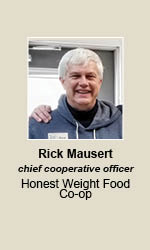 Members get certain benefits, like 5 percent off all local products and 2 percent off their groceries. If they choose, members may attend an orientation and volunteer at the store to receive a greater discount on groceries.
A Love of Local
More than four decades after its founding, there is considerable competition in Honest Weight's area. But Mausert isn't worried. "We all compete for food dollars but the products we sell are different products," Mausert says. "We have a long list of banned ingredients that dictates our buying and we take supporting local to higher level."
Indeed, Honest Weight sells about 4,200 products from almost 600 local vendors. That accounts for one-fourth of its total annual sales.
There's also the matter of pricing, which is a bit more complicated than figuring out how much consumers will pay. Mausert says. "[Conventional products] and grocery chains might have different costs," Mausert says. I just saw an ad for [conventional] chicken breast for $1.99 a pound. We will never have that. We try to create value for our customers through the quality of our goods and the knowledge they're supporting out mission."
Technology: Slow but Steady
"We are probably walking, not running, in technology," Mausert says. "It's a big spend." Honest Weight updated its website about two years ago. It highlights their gift cards, catering menus and employment opportunities listed there. The co-op also stepped up its digital advertising and social media efforts. It recently hosted an event for elite Yelp-ers to sample products and review them online.
"I think the new word-of-mouth is social media," Mausert says. And if you like talking to cashiers rather than putting your money into machines, Honest Weight is the place to be. "We're not interested in self-scanning registers," Mausert says. "It's not on our radar."
Mission-Based Business
The mission of Honest Weight is divided into three main areas: outreach, education and environmental sustainability.
Through its outreach programs, Honest Weight aims to teach people in the Albany area about growing produce, preparing natural foods and developing healthy, sustainable ways of living. The co-op has been particularly interested in bringing that information to schools. In 2006, staff and members created the "Ready, Set, Grow" program to teach cooking and nutritional activities at primary and secondary schools.
Honest Weight conducts workshops and seminars at the co-op to educate consumers. Recent sessions included Vegan Love: Dating and Partnering as a Vegan, Albany Food Readers Book Club, Hand-Dipped Chocolate Fruit, Techniques for Zero Waste Household Management and Demystifying Gluten-Free Flours. Other topics concern yoga for beginners, socially conscious investing, meditation and a coffeehouse open mic.
Beyond classes, Honest Weight members offer one-on-one practitioner sessions at no cost. Topics include alternative healing modalities, group movement, music and language lessons. The co-op hosts community meetings for both internal and external organizations and holds several family-friendly celebrations throughout the year.
Environmental sustainability begins with the co-op's 30,000-square-foot building. Honest Weight reclaims the heat generated by its refrigeration system's motor to preheat water for the store's water heaters. It also installed a porous parking lot to better control runoff, uses only indigenous plants in its landscaping, gets its electricity and gas through an alternative energy supplier and heavily insulated the building to save money on heating and cooling. Thinking ahead, it built its roof with extra supports for eventual use as a green roof or for solar panels.
Honest Weight also works to reduce waste. It partners with a composting company to prevent 13,000 to 16,000 pounds of waste per month from going into a landfill, recycles 18,000 pounds of cardboard a month, saves wax boxes for reuse by farmers and sells bulk foods to reduce packaging. It uses paper bags made of recycled content, prints its newsletter on recycled paper with soy ink, uses chlorine-free paper for its coffee and soup cups and has compostable cutlery in its deli.
Catering to Convenience
To cater to the increased desire for prepared and ready-to-eat foods, Honest Weight recently started selling Freebird rotisserie chicken. "We finally found a supplier that meets our buying standards," Mausert says. "People are short on time and looking for convenience meals."
Mausert and his team are currently looking into the feasibility of offering home delivery service. He says the biggest challenge is upgrading the Honest Weight website to make it more "shoppable."
"Whatever we decide, we'll do it in a way that works for our community of shoppers, members and staff while considering the environment as well," Mausert says.