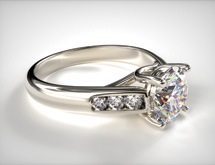 Engagement and wedding rings are among the most important purchases a person will ever make. As permanent symbols of love and commitment, it's absolutely critical that the ring more than meet its buyer's needs. Of the many things for a buyer to consider when it comes to a ring – such as size, material or engravings – none is as important as the diamond at its literal center.
Historically, diamonds could only be closely examined inside of a jewelry store with the assistance of a jewelry loupe. Although the loupe provides a magnified view of a diamond, many nuances of the stone such as facets can still be lost.
For JamesAllen.com, an up-close view of the diamond is the most critical part of any major ring purchase. "I believe that the experience we offer online is better than the one you can get in a store," says Oded Edelman, CEO and – with James Allen Schultz and Dean Lederman – co-founder of the New York City-based online retailer. "You can't get a better look at a diamond than you can on our website."
The website, established in 2006, utilizes the company's patented Diamond Display Technology™ to display thousands of pictures of diamonds. Every diamond sold by the company is taken to an in-house photography center, where hundreds of images are taken of each stone. These are then combined to offer users a 360-degree, in-depth view of each stone. A high-definition version of the viewer launched in 2013.
"Our competitors treat diamonds as a commodity, and something you can buy just based on a piece of paper and certificate," Edelman says. "We're the only retailer that lets its customers see and interact with $300 million worth of actual diamonds.
"We provide customers will all the tools they need to make purchasing easy and fun."
The company's diamond collection includes the largest selection of fancy color diamonds available on the market, it says. All diamonds are certified, hand-selected and examined.
Shoppers using JamesAllen.com can purchase loose diamonds or pair them with one of the company's hundreds of ring designs, which range from classic solitaires to sleek, modern designs. The company offers free shipping, and all purchases can be returned for a full refund within 60 days. "We offer a risk-free shopping experience," Edelman says.
The website is backed by technology including a point-of-sale system connected to the inventory of each of its vendors. The website displays the least expensive diamonds available in each category from its various vendors, and automatically removes diamonds that may have sold through another retail channel.
'A Part of Something Important'
JamesAllen.com shoppers also have access to a team of certified customer service specialists. Representatives do not collect sales commissions, and are available to help on a 24/7 basis. "We understand that an engagement ring is the first jewelry purchase people make, and it can be an emotional purchase, so our representatives will get the best sense of the buyer and couple as they can," Edelman explains.
Each customer service representative goes through a six-month training process before taking calls. The first two months of this training are book/education-related, while the remainder of the period involves listening to actual calls and pairing with veteran representatives. "I can honestly say that each and every one of our customer service representatives know more than I do about diamonds," he adds.
Many of the company's employees are hired as a result of referrals from existing staff members. "We spend a lot of time interviewing candidates, and try to find unique and talented people," Edelman says.
Employee retention is extremely important to the company, and turnover is low. "We make our people feel they're a part of something important; we may not be in the business of saving lives, but we are in the business of helping couples," he adds. "Our employees stay motivated when they believe they're a part of something larger than themselves."
Edelman believes in empowering employees and helping them build their skill sets. "We let each and every employee learn and develop on his or her own, as we believe that the best ideas often come from people on all levels of the company," he says. "We want our employees to feel free to express themselves in a way that they won't be judged."