Johnny Rockets Opens First Of Ten Restaurants In Pakistan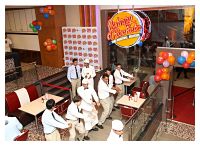 Jan. 3, 2014 – As part of a strategic plan to introduce 10 Johnny Rockets in Pakistan within the next nine years, Johnny Rockets franchise partner and CEO of Hamdan International Monavar K. Ahmad unveiled his company's first location at Dolmen Mall today. The US Consul General along with his wife was at the opening to cut the ribbon. Later this month, a second restaurant is scheduled to open at Z Block DHA Lahore.
Both locations will model the brand's signature atmosphere of relaxed casual fun with twirled straws and decades-spanning music that has been associated with the iconic brand since its first restaurant opened in Los Angeles in 1986. The menu will feature all-American favorites, including made-to-order burgers, crispy American Fries, classic sandwiches and rich, delicious hand-spun shakes.
"Johnny Rockets is recognized worldwide as the place to go for delicious food, friendly service and a fun dining experience," said Monavar, "The company's casual ambiance, upbeat music and passion for guest engagement should be very well-received by our family-focused culture. There's really nothing quite like Johnny Rockets here in Pakistan, and local residents and area visitors should warmly embrace what makes it so special."
The largest shopping mall in Karachi and one of the first mixed-use developments in the country, Dolmen Mall boasts approximately 160 high-end stores, restaurants and services. The 3,135-square-foot Johnny Rockets is located near the sea with a sea view from the restaurant, and is open daily from 12 noon to midnight.
Mr. Abdul Wahab, Chairman of Bandhani Group, who is at the helm of one of the leading logistics organizations in Pakistan, is the one who decided to bring Johnny Rockets to Pakistan, signing the franchise agreement last year. Mr. Wahab has agreed to open at least ten Johnny Rockets restaurants over the next ten years, enabling the Pakistani population to enjoy the global brand locally.
By the end of the year, an 8200-square-foot street front Johnny Rockets is slated to open at Z Block DHA Lahore with an impressive glass-encased exterior. Like its Dolmen City counterpart, the newest eatery will feature a modern Americana decor and traditional menu of hamburgers, fries, shakes and sandwiches. The third outlet is in the Capital city of Islamabad and is an express unit situated in Islamabad's first shopping mall 'Centaurus' and is due to open in January 2014.
"Pakistan represents an important foothold for us into the extremely viable South Asia market," explained John Fuller, CEO of Johnny Rockets. "Because of our all-American dining experience, supreme quality of food and a well-recognized brand name, Johnny Rockets has massive potential in this country. We look forward to continued expansion in one of the largest and most populated countries in Asia's southern region."
Johnny Rockets currently has more than 300 restaurants in 32 states, 24 countries and aboard 11 Royal Caribbean cruise ships.