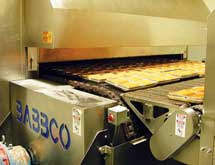 Attention to detail, exceptional customer service, and a family-first mentality enable this bakery goods manufacturer to flourish. A lot has changed for JSB Industries in the 15 years since Scott Anderson joined the company as vice president of operations. What hasn't changed is the fact that the family-owned and operated bakery manufacturer doesn't have to look far to find new customers.
"We've been fortunate that we've never had to go out and find sales," said Anderson, one of three sons who work with and for their father and JSB Founder, President, and CEO Jack Anderson. "Sales always come to us."
Perhaps this is why the $35 million company only employs three inhouse salespeople. The rest of its business comes from the brokers JSB deals with across the country. The brokers find the business, the salespeople manage the brokers, and the entire team meets once a week to discuss new opportunities and old SKUs that have reached their peak. "We analyze SKUs and customers on a weekly basis," Anderson said.
Keep it private
JSB's history goes back to 1978 when it was founded as Muffin Town, a bakery commissary supplying foodservice companies. Over the past decade, however, the company has done more in-store bakery and private label production for supermarkets.
Private label is now the largest portion of JSB's retail business. As a result, the company decided to try its hand at developing Muffin Town-branded foods. Switching from labeling its products with store brands to the Muffin Town brand wasn't a tremendous hurdle, but it wasn't an easy process, either.
"A lot of customers were against it, so we still sell products under their names," said Anderson. "But if it tastes good, looks good, and is selling for the right price, for the most part, our customers want to sell it."
Only 10% to 20% of JSB's private label retail business is under the Muffin Town label, but the company continues to take steps to build the brand and receives inquiries from some of the country's biggest brands asking if JSB can make private label goods for them.
"We do a lot of private labeling. Big companies come to us and say they want a particular type of muffin, ask if we can we make it, and if we can we make it at a specific price point," said Anderson. "Nine times out of 10, we'll say yes."
Never say never
That never-say-never mentality enabled to diversify with the 2001 acquisition of Aesop's Bagels. The move was a response to foodservice customers wanting to purchase their muffins and bagels from the same supplier.
In purchasing Aesop's Bagels, JSB also moved into the world of retail with the addition of an Aesop's Bagels kiosk in Boston University's student co-op. The company considered further expanding by franchising the product under the Muffin Town name but quickly realized retail wasn't its strength.
Soon thereafter, JSB's customers began inquiring about making cookies. Again, said Anderson, customers wanted the one-stop shop: muffins, bagels, and cookies. Instead of looking for outside parties to acquire, the company developed Madeline's Cookies, named after Anderson's daughter.
"She's the only granddaughter of the six grandkids my father has, so he thought it would be special to name something after her," he said. Using the same standards it does to make its bagels and the finest quality ingredients, the line has been a success.
In 2007, JSB developed its Smart Choice line of products for the healthy consumer after Atkins fell by the wayside and whole grains came on strong. JSB saw an opportunity to translate its great tastes into products consumers could feel good about eating.
Anderson said the first formulation didn't take off as the company intended. "It didn't have the wow factor we were looking for," he said. So the company went back to the drawing board, readjusted the formulation to make the products moister and richer in flavor, and reintroduced Smart Choice in 2007. "It's been very successful since," Anderson said.
New addition
For the past five years, JSB has seen anywhere from 15% to 30% growth year over year. Already in 2010, the company is up to 40% growth. It's no wonder that to maintain the same "yes we can" operating modus, it purchased an 80,000-square-foot bakery in Lawrence.
JSB's current plant in Chelsea, Mass. is approximately 100,000 square feet. By 2009, the plant was at 90% capacity. Understanding the business would continue to grow, it decided to look for a new place.
The city of Lawrence, like many others, has been hurt by the recession. JSB was looking for a place to set up shop, and the mayor approached the company to make the Anderson family an offer they couldn't refuse. Once it's up and running, the Lawrence facility will handle 30% of JSB's manufacturing, with the headquarters and rest of the business staying in Chelsea.
"We had just filled every nook and cranny of the Chelsea location, and to grow the businesses, we needed more space," said Anderson.
Secret ingredient
Anderson says the secret to JSB's success isn't complicated. Even in recessionary times, people have to eat. And when they buy food, they want the highest quality at the best price. "That's what we pride ourselves on: making a good quality bakery item."
The Anderson family lives by a simple tenet Jack proclaimed when the business started: if muffins aren't coming out of the oven, money isn't being made. In addition, all of its products are kosher. "We're aggressive in how we purchase and shop around all year to find the best deals on quality ingredients," said Anderson. "And when it comes to employees, we make sure we train them well on the most efficient ways to do their jobs."
A year from now, Anderson said he'd like to see the Lawrence plant planning its second line (currently, only one-third of the facility is in use). In five years, he hopes that facility will be at full capacity, and JSB will be looking for another building. But no matter which direction the company goes, the family-focused culture remains the most important ingredient in JSB's recipe for success.
"My father started this business a long time ago, and myself and my two brothers were brought in later," Anderson said. "It's truly been a blessing for all of us to be able to work together because every day we get to work with the people we grew up with and respect more than anyone else."