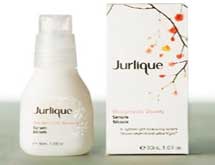 The number one skin care brand in Australia is launching a new communication campaign to attract more consumers to the green life. On a 153-acre certified organic farm on the other side of the world, hundreds of herbs, flowers, and plants are growing that you will be able to use to moisturize, protect, and rejuvenate your skin, all thanks to Jurlique.
This skin care/body care product manufacturer and distributor has a corporate office in New York, but its heart is in Australia where, 24 years ago, Ulrike Klein and her husband, Jergen, laid the foundation for a completely integrated skin care manufacturing and distribution company.
Today, Jurlique is the number one brand in Australia, has a strong presence in North America and Asia, and can be found in Europe, particularly in the UK, Denmark, and Greece. Stores and spas around the US stock the company's all-natural, organic lotions, cleansers, and baby care products. Jurlique has been an industry leader for years, but Eli Halliwell, president and CEO, said the time is ripe for big changes and even bigger growth.
Halliwell, who joined the company two years ago, said his goal has been to tell Jurlique's story to a wider audience. "As consumers become more aware of what they are putting in and on their bodies, they are looking for natural products that deliver results without chemicals. We have been providing an alternative for more than 20 years now and are in a position to capitalize on that growing awareness."
Freshen up
So far, Jurlique has grown mostly through word-of-mouth, Halliwell reported, adding that the company's consumer base is mostly composed of consumers already devoted to going green. His current objective is attracting consumers who are just becoming aware of natural body care alternatives. To that end, Jurlique has launched a multi-faceted communication campaign that includes fresh packaging, redesigned stores, and a new slogan.
"We are a company of the earth, so we re-centered how we communicate with our customers around that principle," explained Halliwell. "Our new core tagline is 'Beauty from beauty,' which communicates how the beauty our products can provide for our customers comes from that which is most beautiful, our living world."
He said that sentiment is reflected in Jurlique's new packaging designs and retail location renovations. The company's packaging used to have a very clinical look, but now, neutral toned bottles and boxes depict the plant ingredients in that product.
Likewise, the renovation of Jurlique's stores in Australia and the US is a step away from clinical. The stores now incorporate elements reminiscent of the company's farm. The wall paneling and shelving is made of reclaimed wood, accented with raw concrete and glass. Playing a video of the farm in each store brings the customer even closer to the source of the products.
In the center of each store is a large, wooden table where customers can consult with sales associates about the products. On the table are books about gardening, organic cooking, and the environment, creating a relaxed environment that encourages people to relax, interact with other customers, and learn.
The first renovation was completed last July in South Australia, and Halliwell said sales have increased by more then 50% in that time. Two more renovations were completed since then, one in Melbourne, Australia and another in San Francisco, and the company is in the process of beginning more widespread renovations in the US.
"The new design has completely succeeded in what we wanted it to: it's brought new customers to the brand who were curious but didn't otherwise have a lot of experience with natural products like ours," Halliwell said.
Seeds for tomorrow
To handle the higher demand for products, Jurlique has had to do a lot of work updating the supply side of business. Most significantly was the recent purchase of more than 100 acres, increasing the size of the farm tenfold.
"I think it's one of the largest, if not the largest, biodynamic farm in the world. We brought in our first harvest last fall, and that expansion came not a moment too soon," said Halliwell. He added that the company hasn't planted the entire 153 acres, but such a large farm will provide plenty of room to grow in the future.
The challenge, however, comes in knowing how much of which ingredients to plant to meet demand for products. Jurlique is completely integrated: it grows its own ingredients on the farmland it owns, then sells the finished products in its own stores around the world. That level of complexity, added to the company's biodynamic farming methods (which requires the careful placement and rotation of crops, as well as harvesting according to a lunar calendar), results in a great deal of information coordination.
Until about a year ago, Jurlique relied on an outdated MRP system that required a lot of manual work to keep on top of so much information. The new system is more automated and capable to coordinate biodynamic farming. Today, Jurlique's farmers can easily determine how many roses they need to plant this spring to have enough essential rose oil next year to meet the expected demand.
Industry predictions
These internal adjustments enabled Jurlique to launch the Biodynamic Beauty collection, a new line of products Halliwell says provide all the anti-aging effects of other brands, without the chemicals.
"There is a weird stigma out there that you can't have natural with high efficacy, and that is just not true, especially with our products," he said. "We've conducted clinical studies to test the effectiveness of the formulas we put together, and we've proven that these products are at least as effective as any other anti-aging line out there."
The line includes a serum, eye cream, night lotion, and refining treatment. It hit stores last month, and none of the products include propylene glycol, synthetic emulsifiers, or artificial colors or fragrances. Halliwell said Jurlique's products harness the power of nature instead of relying on chemicals, and that this is the way of the future in retail.
"Consumers are going to continue to change their buying patterns and look for products that are healthful and work. If a product has the same functionality, and it's natural, people are going to choose that product over a synthetic one. It's that simple, and it's happening now."