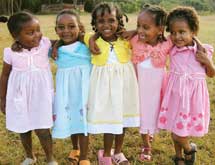 Rather than defining how its audience interacts with its products, this girls'-clothing designer is letting customers make the decisions. At a time when retailers are struggling to find their place with consumers, one 121-year-old clothing designer has decided to let its customers lead the way. What makes its decision even more interesting is that its target audience still plays with dolls.
Kahn Lucas houses well-known girls'-clothing brands such as Sweet Heart Rose, Youngland, Emily West, Jenny & Me, and KrazyLegs. In 2009, it rolled out the brand Dollie & Me—an introduction that changed everything. "With Dollie & Me, we provide retailers with a total solution," said Howard Kahn, CEO and fourth generation of his family to run the company. "We work with retailers to create an environment and build a brand, both in store and online, rather than just selling merchandise."
With its department store partners, Kahn Lucas creates an in-store environment complete with signage and recommendations for fixtures. It also creates an online sitelet for them that connects to Kahn Lucas' website. Kahn said creating a visual and digital identity for Dollie & Me makes the brand more meaningful and engaging to consumers and Kahn Lucas a more attractive partner to retailers.
"Most wholesalers sell stuff. Their products provide product benefits, but there's no emotion behind it," said Kahn. "That's where Dollie & Me differentiates itself."
Defining brand DNA
The concept for Dollie & Me came from a simple conversation between Kahn Lucas employees and one of the company's customers. Each has a daughter, granddaughter, or niece that loves to play pretend with her doll. At one point in the conversation, it was suggested that the company design coordinating dresses for girls and their 18-inch dolls.
"There weren't any attractive coordinates for both the girl and her doll in the market," said Kahn. The company began by distributing one style with an attached 18-inch doll dress, and it performed so well at retail, the company expanded on the idea.
Then, the president of one of Kahn Lucas' partnering department stores asked a question that pushed the simple apparel concept to what's evolved into Dollie & Me. "He asked us how we could make this special for the consumer," said Kahn. "So we engaged a strategic brand-building agency and created the blueprint for the brand."
The DNA of the Dollie & Me brand is broken into three areas: fashion, friendship, and creativity. The fashion element is illustrated through the matching dresses for the girl and her doll, but Kahn Lucas takes it a step further than most by designing fashion forward, on-trend dresses girls will want to wear.
"They're modest, so parents are happy about buying them, but they're also fashionable," said Kahn. "It's clothing made for little girls to look like little girls."
The friendship element focuses on the relationship between the girl and her doll. Before making any choices in how to develop the brand, the company studied how girls play with their 18-inch dolls, which they consider their best friend, their sister, their cousin, or a combination of all three and more.
The focus on friendship is important because through it the company creates environments for the girl to express her creativity through realistic pretend play. So what started with dresses developed into sleepwear (at the request of Kahn's eight-year-old daughter!) and costumes. The company then developed a relationship with the Alexander Doll Company and launched a line of dolls.
"There was an opportunity in the market to create a beautiful doll at a reasonable price point for the average consumer," Kahn said. "Alexander Doll Company was the right partner to deal with, and now it's a licensee of the Dollie & Me brand."
Indeed, a Dollie & Me doll costs between $29.99 and $34.99 versus other 18-inch dolls in the market that start at $95, which could explain its popularity among retailers. Right now, Dollie & Me is distributed at more than 2,000 department store locations.
Kahn Lucas continues to build out the Dollie & Me brand with a line of plush toys for the girl and her doll, which Kahn says is a function of following the pretend-play patterns of little girls and their 18-inch dolls. "We're keeping that relationship in a realistic environment; there's no historical bent," he said. "We're not trying to prescribe what the relationship should be."
Which is where the third piece of Dollie & Me's brand DNA comes in. Creativity for the brand means open-ended play and un-prescribed approaches. Rather than being told how to play with their dolls, girls are given the freedom to use their imagnations. "They create their own storylines, and the story is always changing," said Kahn.
Owning the role
Although the development of Dollie & Me seemed like a good idea when it launched, no one at Kahn Lucas knew how it would evolve. When retailers and consumers immediately jumped on board, the company suddenly realized it needed to invest behind the scenes to keep up.
In the past year, it's beefed up its staffing complement and opened a set of offices dedicated to Dollie & Me. "We didn't have the inventory. We didn't have the staffing. The business, which in 2009 was meaningful, has grown fivefold in 2010," said Kahn. "And we're just getting started."
Kahn Lucas already had business in Canada, Central and Latin America, Europe, and the Middle East, but the success of Dollie & Me has propelled it further. It's now in two major department stores in Canada and has found new distribution opportunities in Europe and Asia.
"Very quietly, we've been growing our international business, but the excitement we've generated with Dollie & Me has gone beyond what we've accomplished or the buzz we've generated as just a dress company," Kahn said.
That's not to say Kahn Lucas' heritage as a dress company is anything to scoff at. Its longstanding position as a leading designer (its design team remains inhouse) and distributor of girls' clothing has earned the trust of retailers far and wide. The company has been named supplier of the year by JCPenney and Sears and was named supplier of excellence by Walmart.
On the financial side, the company has a strong balance sheet and has yet to find a need to borrow money to grow its business. Philanthropically, Kahn Lucas supports organizations such as KIDS (Kids In Distressed Situations) and runs events at the Child Life Center at Mount Sinai in New York. But it's the work Kahn Lucas does to create in-store environments, not only for Dollie & Me but also for some of its other brands, that makes it a truly attractive partner to retailers.
"We create environments to make the retailers a compelling place to shop," Kahn said.
"The greatest opportunities come in the kids market, which has become very flat. The onus is on suppliers like Kahn Lucas to innovate and bring big ideas to the table, not just bringing an idea to the retailers, but actually showing them and helping them visualize how these ideas can develop."