Katy Perry and Popchips unveil Katy's Kettle Corn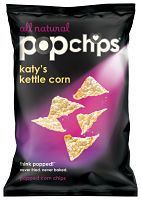 Jan. 25, 2013 – Singer-songwriter Katy Perry and Popchips, one of the fastest growing snack brands in the U.S., are excited to introduce the newest addition to Popchips' award winning line of snacks – Katy's Kettle Corn, a sweet & salty popped corn chip debuting at most Target stores nationwide this month. Shortly after joining the Popchips family in July 2012 as an investor and creative partner, Katy expressed the desire to create a signature, unique flavor that captured both her passion for popcorn and craving for the classic sweet & salty flavor of kettle corn. The result is Katy's Kettle Corn, a popped corn chip with a balance of sweet and salty, and with less than half the fat of fried chips, fewer calories and no fake colors or flavors.
"Popchips had never ventured into sweet territory before, but I wanted to add my personal touch when creating a flavor," said Perry. "So I rallied behind the idea of kettle corn. When I snack, I crave a little bit of sweet and a little bit of salt, but I had yet to find a healthier way to satisfy those cravings. After a series of intensive taste tests, I'm proud to introduce the best of both worlds, and my dream snack realized."
"When Katy Perry became the new face of Popchips and an investor we were thrilled. When she told us she wanted to create her own flavor, we couldn't wait to get started," said Keith Belling, co-founder and chief executive officer of Popchips. "Through the process we got a first-hand look at the drive, passion and attention to detail that's helped turn Katy Perry into a global poster, Katy's Kettle Corn is a delicious reflection of her unique personality and continues Popchips position as a leading innovator in the snack aisle."
The new product debuts at Target stores, as well as on Popchips' website and in select retailers, including Safeway and Walgreens beginning in mid-February.