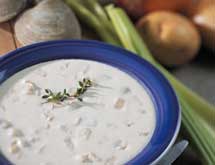 This all-natural food maker is going the extra mile in health and wellness by offering its own brand of gluten-free soups. For years, Jerry Shafir made gluten-free soups for his daughter, who suffers from celiac disease. Shafir, the president of Boston-based soup maker Kettle Cuisine, didn't give much thought to the specialty soups until his daughter, now away at college, called.
"She was having trouble finding gluten-free foods," said Shafir, who founded Kettle Cuisine 23 years ago. "She recommended we put out a gluten-free soup line, but we never wanted to make the claim gluten-free without FDA support."
The FDA had yet to establish gluten-free guidelines for food manufacturers. But in January 2007, that changed when the agency proposed regulations for the manufacture and labeling of gluten-free products. Shafir saw the opportunity to fill a need for a growing population and went to work.
After perfecting processes and procedures to manufacture the new product, the company began testing its gluten-free soups in the fall of 2007. Once the company hit on the right recipes, it began a label, packaging, and merchandising blitz. In January 2008, Kettle Cuisine's new line of 10-ounce, frozen, gluten-free soups was ready for prime time.
"Building a brand is tough as a small company," Shafir said, noting the line has rapidly grown to nine soups. "But we're working hard at it, and we've seen strong results. We've reached out to offer a healthy new product to the gluten-free community, and it has responded with open arms."
Fresh start
Shafir got his start in the food business while working at a Chicagoland restaurant after college and before he began attending law school. After a brief stint in corporate law, he decided to pursue his MBA at Harvard, and while in Boston, Shafir became an aide to the founder of one of region's most famous restaurants, Legal Seafoods. The seeds for Kettle Cuisine were planted.
At Legal Sea Foods, Shafir learned how to package fresh, refrigerated soups through rapid chilling. He recognized the technology could also be used to create a higher quality soup with a longer shelf life than had ever before been available to foodservice operators. Kettle Cuisine was born, providing restaurateurs the ability to buy fresh, all-natural prepared soups made from scratch—soups Shafir made sure were just as good (or even better) than the soups they had made in their own kitchens.
Working with chefs, Shafir developed the culinary philosophy that would make Kettle Cuisine soups among the best tasting and highest in quality. In the company's kitchen, only the finest, freshest, all-natural ingredients are used. Inhouse, chefs braise the meats and sauté the vegetables used in all of Kettle Cuisine's soups. The company even simmers its own made-from-scratch stocks for hours.
"As our head chef says, 'If I can't pronounce it, it's not going in our soups,'" Shafir said.
The company began selling its refrigerated soups in bulk to restaurants and food-service establishments. Soon delicatessens and grocery stores were jumping on board, and they all marketed Kettle Cuisine soups under their own store brand.
Today, the company offers a selection of over 70 varieties of soups, chilies, and chowders and services over 5,000 restaurants, cafés, delicatessens, and supermarkets in the United States.
Second try
Like any business, Kettle Cuisine's success didn't come without its share of setbacks. Most notably, in 1998, the company began packaging select varieties of its soups in individual 10-ounce bowls and selling them from refrigerated cases under the Kettle Cuisine brand name. While Shafir managed to build the brand up to roughly $2 million in revenue, he eventually pulled the plug.
"We found we were being shut out of refrigerated deli cases by store brands," he said. "Retailers wanted to differentiate themselves in prepared foods with their own brand. And to this day, most offerings in prepared foods are store brand. We resisted, tried to get through it, but couldn't. So we focused on store brand, and that's been a big business for us."
But Shafir's competitive nature never let him forget the setback. He wanted to create a successful Kettle Cuisine branded product and jumped at the opportunity with the gluten-free soup line. The company invested heavily in label and packaging design, merchandising, and marketing for the branded products, and thus far, that investment is paying off.
"We're in the Northeast, Mid Atlantic, and Midwest, and we're going into Colorado," Shafir said. "We're just about to go to Northern California, which has 12-month-a-year soup weather and is natural-foods friendly, so we think that will be a big region for us. And it's all this line. We're thrilled how far it has come, and we're going to continue to feed it."
It's all rather fitting. For years Jerry Shafir made gluten-free soups for his daughter. Very soon, he'll be making them for people all across the country.