Based in Nashville, Tenn., Kirkland's operates 431 stores that sell holiday, furniture, art and wall decor products, as well as mirrors, lighting, pillows, rugs and kitchen and dining products.
Carl Kirkland co-founded the company in 1966. His introduction to retail came from having grown up in his family's clothing store business. He started his own business with a single location at Old Hickory Mall in Jackson, Tenn.
Today, "Tennessee remains our home base," Woodward says, noting that Kirkland's has grown to become a national player in the retail industry. "The brand has enjoyed wonderful success for 52 years; now we are looking to refresh ourselves and stay relevant for the next 52."
The Secret Sauce
Woodward joined Kirkland's nearly a year ago, after serving as president of Crate & Barrel. "I have been a merchant my whole life," he says. "It's a passion of mine."
A longtime admirer of the Kirkland's brand, "When the opportunity came up, I thought it would be the right time to come here," Woodward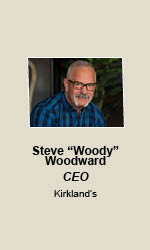 explains, adding that Kirkland's has established a strong niche in its marketplace.
"Kirkland's has this 'secret sauce' that I believe we can enhance," he says. "It's got the right blend of ingredients that are key to our refresh process."
Woodward also praises the work of its president and COO, Mike Cairnes, who has been with the company two and a half years. "[Mike] has a sharp vision for Kirkland's operation. He has influenced many positive changes across channels. Mike is actively involved in making sure our customers' needs and wants are heard and being addressed. He is a tremendous partner and a huge asset to the company."
Building a Powerhouse
When Woodward began the process of refreshing Kirkland's, he decided to utilized a multi-tiered approach. Although the company is known for selling seasonal products for holidays such as Halloween and Christmas, "We were missing some of the bigger drawing merchandise that many of our competitors were offering in their best quarters. My goal was to add in fresh products to existing assortments and introduce new product categories that would build a powerhouse business."
The company has been thoughtful in its approach to these and how they will be received to its loyal customer base. "My contribution to Kirkland's is making sure we're relevant and cool, with an element of surprise for the customer," he adds.
This year, Woodward says, the company has added three new product categories to its stores that include tabletop items. "We've always done a lot of accessories, but we never did full dinnerware, flatware or tabletop textiles," he says.
"Even if we had done a little smattering of it, it wasn't relevant in the customer's eyes," he continues, noting that Kirkland's has introduced a fully curated tabletop assortment. "We launched it in a unique way and different from what our consumer and retail partners have out there."
Kirkland's additions also include rug products in its stores. Although the company has been selling rugs online, "We never carried them in the store in a meaningful way," Woodward says.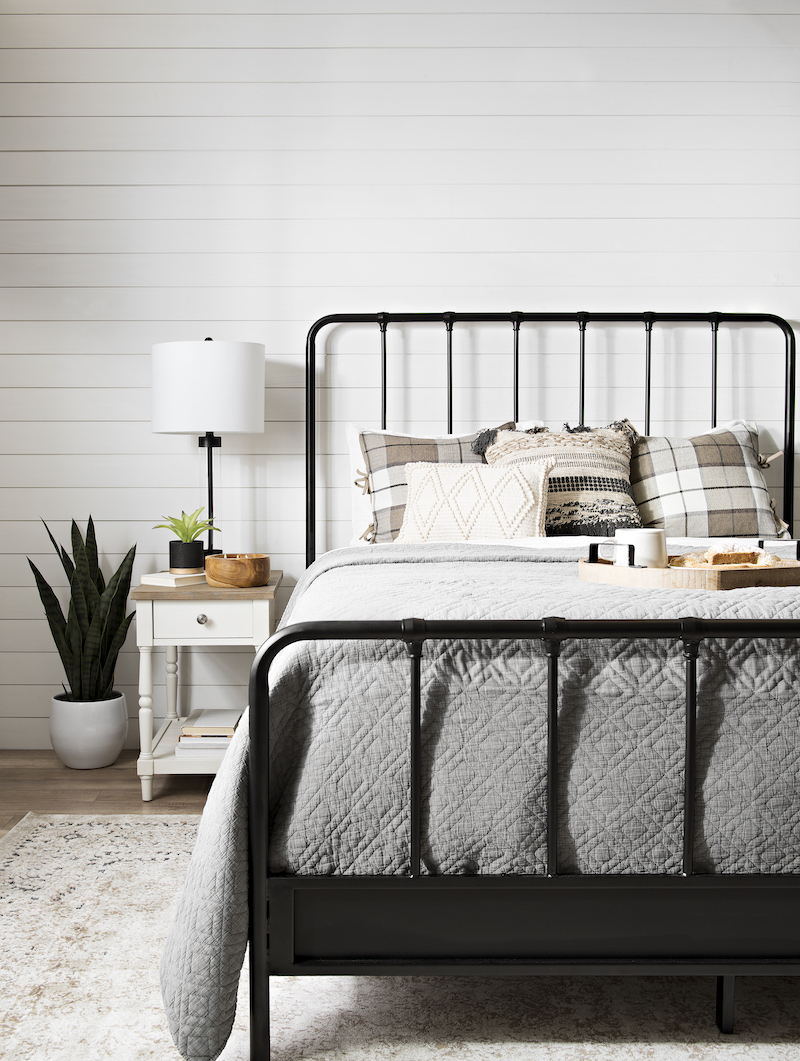 The company also launched its bedding category, which Woodward describes as "the ultimate farmhouse guest room assortment. We're including the bed and the nightstand with a keen focus on the textiles."
Next year, Kirkland's plans to launch an upholstery line as well. "Upholstery has been a key part of the home furnishing offerings in most of our competitors," Woodward says.
These new lines, he notes, will allow Kirkland's to broaden its retail offerings and capture the customer at the start of their search for home furnishings. "They (our customers) come to us for the wreath or the final touches, not the beginning of the process."
He adds, "We've gotten the customer at the end of the journey and never focused on them at the beginning."
So far, Woodward notes, the customer reactions to the new products has been strong. Currently, "We're selling thousands of pieces of our tabletop collection," he says. "The early reads are very good."
Stores have responded positively to the new additions as well. "They've been very open-minded and receptive to the new products," Woodward says, noting that the company also created new floor plans for its locations.
"These new floor plans give all our stores consistency throughout the chain," he says. "I'm pretty proud of that and our team rising to the occasion to think boldly about making our store shopping experience easier for the customer."
Making it Simple
Kirkland's strives to position its products differently than its competitors. For example, Woodward says, if a customer were to go into one of its competitors' stores, they might find more than 60 tabletop patterns to choose from.
"What we decided to do at Kirkland's is really narrow that down to the very, very best dinnerware collection," he says, adding that the retailer also keeps value in mind by offering the best price.
"We've done all the homework and we believe this is the one that you should buy," he says. "We'll be adding new colors and layers on top of that collection, but it'll all coordinate."
Some consumers want a large amount of choices, while others prefer "an edited and curated choice," Woodward says. "They'll say, 'They did all the editing and work for me.'"
Technology Catch-Up
Kirkland's is proceeding with other projects, including growing its use of technology. "We're playing a bit of catch-up," Woodward admits. "We have not been as forward on technology as we need to be.
"As I look at our whole industry, retail in general is going through a digital transformation. We have to understand how the customer wants to interact with us," he says, noting that Kirkland's is open to customers coming to its stores or shopping via e-commerce.
Recently, the company launched its Buy Online and Pick Up In Store (BOPIS) system where customers can order items via the web and pick them up at its locations. When they do, "They get to see the rest of the store, and many customers want to pick up other things," he says.
The BOPIS system also provides them with the opportunity of seeing the product they ordered up close before they actually purchase it. "We have it on the floor where you can see it," he says. "It helps people make a better decision and reduces our return rate."
As Kirkland's adopts more technology, Woodward notes, the company will be careful when selecting what it chooses to implement. "A lot of technology is about knowing the consumer and anticipating their next move," he says. "We want to make sure any technology we add benefits the consumer."
Best in Class
Kirkland's recent steps included increasing the company's infrastructure with the addition of new distribution centers to make store deliveries more efficient. Previously, "We were a little old fashioned in our infrastructure," Woodward admits.
Currently, "We're trying to bring our infrastructure up to the best in class," he says, adding that the company plans to make more updates in its
supply chain to keep it competitive.
Even so, the company currently utilizes a strong inventory management system that ensures its products are in the right place at the right time. "That's haunted a lot of retailers out there," he says. "Some may have a more sophisticated system, but ours seems to work.
"We launch new goods pretty effectively on our floor," he adds. "It all comes in at once, gets set up and makes a big impression."
Kirkland's also has a history of staying steps ahead of its competitors in other aspects. For example, "Over the past 20 years, we made decisions to move out of malls," Woodward says. "We're mostly in strip centers today."
This has allowed Kirkland's to lower its cost base so it can offer a better value. "If we're not paying huge mall rents, we can try to come into an area and build a better store," he says.
"We're the intersection of a great value in a specialty shopping environment," he says.
Showing What's New
Kirkland's future projects also include increasing its marketing efforts. Historically, "We've spent less on our marketing than our competition," Woodward says.
Going forward, "We'll be increasing our marketing in the future now that we've got these new categories," he says. "We will be shouting from the mountaintops that we're a new, refreshed Kirkland's."
Much of this will be done, Woodward notes, via online marketing. He says, "We have seen success through advertising focused on social media platforms such as Instagram and Facebook as well as email."
Kirkland's also will issue an updated catalog that will tell why it added these new categories. "We're sending it out to our most loyal customer base and it shows what's new at Kirkland's," he states.
A Quality Culture
Kirkland's has nurtured an open, friendly culture in its workplace.
The company employs associates who are enjoy working in retail and collaborating with others. "People love this company," he says. "They come in and they feel like it's a place where they can grow."
One of the ways Kirkland's has achieved this is through a management philosophy where all associates' opinions are respected. "Everyone has a voice in the company whether you're at the front desk or a CEO," he says.
In addition, all are focused on the primary goal of helping the customer. "If it doesn't help the customer, we're not interested," he says
A Strong Future
Woodward takes pride in his executive team at Kirkland's as well as its board of directors, which helps it make good decisions.
"They recognize good work," he continues, adding that the board members use their previous experience to give advice on matters that the company should consider. "They don't necessarily want to run the company, but put people in place that they trust and believe in."
Woodward sees a strong future ahead for Kirkland's. In the past, its stores were a place "you could come at the end of your decorating cycle for your table top and flower wreaths," he says.
"People weren't celebrating what you could do at the beginning of your cycle," he says. "My goal for the future is to make Kirkland's a real powerhouse with a reputation of great value and style.
"We can do it all for you on your decorating," Woodward says. "We've already made all the choices for you so you don't have to be a decorator or designer to find what looks good for your house."
Kirkland's also wants to appeal to a broad customer base that consists of people "from all walks of life," he says. "I want us to do great things for people whether they are on a budget or not."
But Woodward stresses he does not want the company to be known for selling inexpensive items. "I want us to be known for selling a great value and better than what you thought you were going to get," he states.
Sidebar 1:
Location, Location, Location
Kirkland's headquarters in Nashville has allowed it to recruit strong associates. "It's like Austin, Texas — it's one of those places people love to move to," CEO Steve "Woody" Woodward says.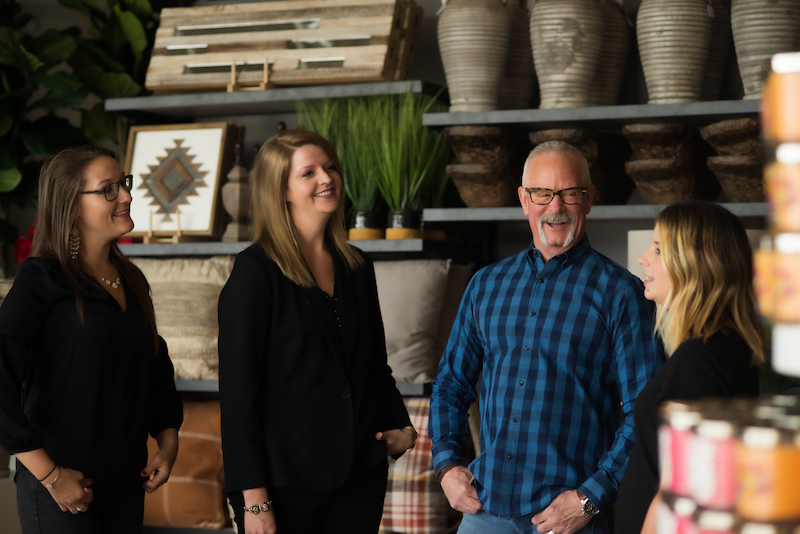 "Everyone wants to live in this town," he says, noting that the city offers many advantages in helping it find young associates, including a broad base of people to choose from.
But once Kirkland's hires them, it takes the time to ensure they stay through retention programs. "After the investments we've made in bringing in and training the right people, you want to keep those people," he says.
This has included providing them with training programs to help them learn more tasks, such as building Happy Baskets for its customers. "Keeping your store associates motivated with new products and relevance goes a long way."
Sidebar 2:
Staying Positive
When it comes to succeeding in business, Steve "Woody" Woodward believes in accentuating the positive. "If we make some mistakes, that's okay," he says. "If we're not making some mistakes, we're going too slow."
When the company stumbles, Woodward says, it strives to learn from the error but keep its environment positive and personable, while also ensuring people have fun in its office. For example, Kirkland's recently had its "Bring Happiness Home" week, where employees enjoyed popcorn and ice cream cones.
"We're always trying to do fun things," he says, noting that some managers tend to be distant from their associates. "We're a really great group that likes each other."
Woodward also makes sure that his employees understand and get to know him. "[I'm regularly] getting into social settings with our people and making sure that I'm highly visible around the building," he says.