KISS to Rock Retail in 2015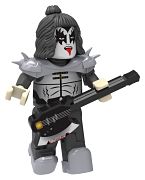 July 15, 2014 – Following Licensing Expo 2014, Epic Rights, the full service, global branding, merchandising and rights management company representing the merchandising, licensing, e-commerce and digital media interests of legendary rock band KISS, has secured its first raft of licensing agreements with Bif Bang Pow!, Figures Toy Company and K'NEX Brands for the development of new toy lines for the iconic brand.
"There continues to be an incredible demand for anything KISS, as evidenced by the quality and quantity of licensing partners that the band and the brand attract, and we look forward to working with Bif Bang Pow!, Figures Toy and K'NEX to bring all new product to consumers," said Juli Boylan-Riddles, Executive Vice President, Global Strategic Partnerships & Licensing, Epic Rights.
Bif Bang Pow! will create the first-ever 3 3/4 inch scale KISS action figures. Bif Bang Pow! will also produce KISS stationery products, tin totes, drinkware, license plate frames, nesting dolls and other products as part of its special KISS collectibles line. KISS action figures and collectibles will be distributed exclusively through EE Distribution and sold directly to consumers via its website, www.entertainmentearth.com, and other fine specialty retailers.
Figures Toy Company is introducing KISS action figures reminiscent of the classic figures first released in 1977-78 by the Mego Toy Company. The figures, each with rooted hair, cloth clothing and 16 points of articulation, will be available in 18-inch, re-released in 12-inch models and, for the first time, will be available in 8-inch figures, too. The Figures Toy Company KISS figures will be distributed through Toys "R" Us, Entertainment Earth, KISS Museum, KISS Army Warehouse, Comic Book & Hobby Stores and Big Bad Toy.
K'NEX Brands has developed KISS buildable figures that provide consumers with the ability to build their own Demon, Starchild, Spaceman and Catman, including costumes, musical instruments and a stage to display the completed KISS band members. K'NEX has also produced a KISS Rock Stage Big Rig Building Set. The K'NEX KISS licensed products are currently available through www.knex.com and various independent toy retailers.