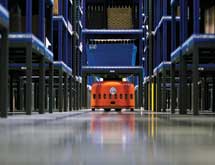 When Dansko opened a new distribution facility in Pennsylvania and needed to fill orders for shipment to 2,500 premium U.S. and international retail locations, it turned to Kiva Systems Inc. to ensure this was accomplished in the most efficient way possible. When Acumen Brands acquired an abandoned warehouse in Arkansas, Kiva helped it become a state-of-the-art fulfillment center in less than four months. Additionally, when Dillard's decided to open an e-commerce fulfillment center, it turned to Kiva Systems to ensure the center would be able to support the growth of Dillard's online store.
These examples are not to say Kiva Systems is the sole reason for its clients' successes. But by offering hardware, software and fulfillment and distribution expertise, Kiva plays a key role in ensuring its clients can simplify their operations and reduce costs while improving their strategic flexibility.
"We offer the entire sequence, from consulting to post-sales service and support, and everything in between," founder and CEO Mick Mountz explains. "Clients come to us to solve all different types of business problems. They call us to improve their order capacity or to give them new output capabilities. We can solve cycle-time problems, help to ensure accuracy in the pick-pack-and-ship workflows and change clients' systems so they run at peak capacity during the holidays and can support the extra people they hire. We take material handling from just a hardware solution to a hardware and software solution, and our solutions get better every year."
Mountz launched Kiva nine years ago when he was a material-handling purchaser for an online retailer. "The solution just came to me out of thin air," he says. "I knew a complete end-to-end solution was what the industry needed." Working with retailers and the manufacturers that supply retailers, Kiva creates customized pick-pack-and-ship, retail restocking and e-commerce fulfillment systems, as well as the robots and stations necessary to complete those tasks.
"After we've installed their systems and ensure everything is performing at 100 percent of the design goal, our field service and support team takes over," Mountz explains.
"We are there to help whenever our customers need us, and we provide biannual tune-ups. Additionally, our continuance team works with our clients to show them how to go even faster with configuration changes and software updates. Clients have gone up to 10 percent faster with those improvements."
Four Beliefs
Kiva Systems' services start with consulting, design and simulation, which it performs without charge. They continue with the development of software and the software interface, manufacturing the robots and work stations, integrating the pick-pack-and-ship stations, installing wireless access points and connecting them to the client's server, installing the robots and training the client's team.
Kiva stays at a client's facility to help it replenish the systems and to ensure everything works to the exact design specifications. After that, Kiva's customer service team takes over, and works with the client on an ongoing basis.
"Accuracy and work flow are the main things our customers want to improve," Mountz explains. "Our systems provide the highest order accuracy that our customers have ever experienced."
Mountz notes Kiva's business is guided by four core beliefs:
Products should organize themselves and be free from physical location constraints.
One system and set of equipment should be able to store, move and sort all items in a facility.
A material handling solution should scale up or down, depending on the user's needs.
Orders should be filled when end-users want them.
Kiva keeps these tenets in mind as it develops and innovates new equipment and designs, which is a continuous focus for the company.
"We are constantly making improvements so our systems are more efficient, whether it's in picking, sortation or product replenishment," Mountz says. "Our systems are designed so all of our clients' inventory can walk, talk and come directly to the picker.
"We just came out with double-deep and triple-deep storage," he adds. "Our pallets and storage pods park themselves in denser spaces, allowing our clients to store more inventory. Our systems also can store product vertically – we deploy the system on multiple levels and the robots ride on vertical lifts from floor to ceiling to pick inventory. We can cube out a building with inventory – replacing air with a client's inventory. This is important for retail distribution centers because they can use all three of the dimensions of the space."
Fast and Flexible
As part of Kiva's continuous improvement process, team members use a cross-functional and coordinated process to broadly analyze what can be improved. This goes for its clients' operations, as well as its own. Kiva keeps its manufacturing process in-house, and invents and designs all of its robots from scratch. It builds all of the mobile inventory shelving for clients, and after final assembly Kiva ships the systems all over the world. Mountz says Kiva's "collegial, customer-focused and results-driven" culture ensures quality remains standard.
"Our people are friendly, innovative, competitive and grounded – they are smart and fast but flexible," he says. "We recruit, track and train along those core values, and the company's leadership spends a lot of time building our people. It is our goal to attract and retain the best and most-capable people out there."
Kiva's strong culture and successful systems have kept the company on a steep growth trajectory for the past few years, he notes. Going forward, the company plans to seek out more business in Europe while continuing to serve the retail, e-commerce, medical, business-to-business and industrial markets.
Additionally, Mountz sees growth in multichannel retailing as more brick-and-mortar stores add online sales. This "omni-channel" retail trend, he says, gives flexibility to how end-users buy goods, and provides new opportunities for Kiva's business.
"You can see a marriage of all of the approaches to the retail market in a Kiva system," he says. "We use the same material handling strategies for store restocking as we do for e-commerce fulfillment. As long as we remain fast and flexible in our drive to help our customers be successful, we will continue to grow customers' businesses and our own."