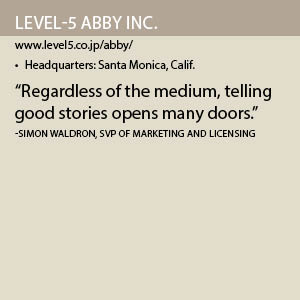 As the company prepares to release its popular titles across many cultures and formats, it can do so knowing its basic formula for successful video games will lead the way. "It's really based on telling good stories," Waldron notes. "We are putting the story at the heart of the game." LEVEL-5's games offer players many choices, ultimately giving them a say in how the story turns out. "There are a lot of choices at your fingertips," Waldron says. "Players are really given the opportunity to explore."
Successful Model
LEVEL-5 abby can look to its portfolio for an example of how to successfully brand license a game across multiple platforms. YO-KAI ™WATCH, launched in 2013 spearheaded by LEVEL-5, is a role-playing video game based around the Yo-kai of Japan folklore, who are said to be trouble-making beings that cause a variety of daily annoyances.
A player can choose to be either Nathan "Nate" Adams or Katie Forester. The player is given a special watch, which allows them to see the Yo-kai. The player travels around town, searching for and befriending peaceful Yo-kai, battling hostile Yo-kai or solving problems caused by mischievous Yo-kai.
The game was planned as a franchise from the start, and a second video game was launched in 2014, as was an animated series on TX Network, owned by TV Tokyo. Subsequently, the game was localized and released in the United States, Europe, Australia, New Zealand and Latin America. The TV series was also dubbed in English and broadcast in the United States on Disney XD in October 2015, one month ahead of the game's release in North America. At about the same time, Hasbro launched their toy program and Nintendo released their video game to create a huge cross-media campaign.
New International Releases
Given the success of the YO-KAI WATCH model, LEVEL-5 abby is moving forward with global launches of some of its other successful games. In July, there will be a global release of LAYTON'S MYSTERY JOURNEY: Katrielle and the Millionaires' Conspiracy. This is the seventh installment of LEVEL-5's successful Professor Layton series, and marks the first time a game will be released as both a mobile and console game.
LEVEL-5 abby says the game will be introduced globally on July 20 on both Android and iOS platforms, with a Nintendo 3DS video game release to follow in Autumn 2017. The game will be available in eight languages at launch.
The new title is made up of a combination of brainteasers, puzzles, and a bigger mystery for players to unravel. The game also introduces a new female protagonist: Katrielle Layton, who searches for her missing father. The series of video games is based on Akihiro Hino's love of Japanese brain teaser books and so far has shipped more than 16 million units worldwide.
Set also for release in Japan in July is The Snack World. The tech-infused fantasy story follows the magical adventures of a boy named Chup and his comrades. "It's an amazing world built around the way the modern world snacks on media," Waldron says. "It combines mythology and technology in a world where physical play meets digital play. At the same time, it's a great comical adventure story."
Similar to LEVEL-5's other cross media releases, The Snack World will include Nintendo games, iOS and Android mobile games, comic books, a full toy line, a CG animated TV show, and a nationwide planned movie release.
There is also Inazuma Eleven, originally introduced in Japan in 2008. It began as a role-playing sports video game and follows the main character, Mark Evans, a passionate soccer goalkeeper, as he tries to build his school soccer team into a world champion team. LEVEL-5 abby plans to bring its new iteration of the series, following a whole new protagonist and complete line of characters, outside of Japan. The lineup will include a full animated TV series, mobile games, Nintendo games and accompanying toys and consumer products.
Waldron notes that all upcoming releases reflect another key element of LEVEL-5 and its design philosophies: the incorporation of modern pop culture into its games. "Within all of the properties, we have strong observations about what is going on in the world," he explains. "More than that, LEVEL-5 taps into the simple, unexpected joys of being a kid. With games at its core and an expansive cross-media ecosystem, they continually strive to excite and bring fun, unpredictable stories and experiences to life." And as anyone in any aspect of the entertainment business will tell you, it's tough to beat good storytelling. "Regardless of the medium," Waldron says. "Telling good stories opens many doors."