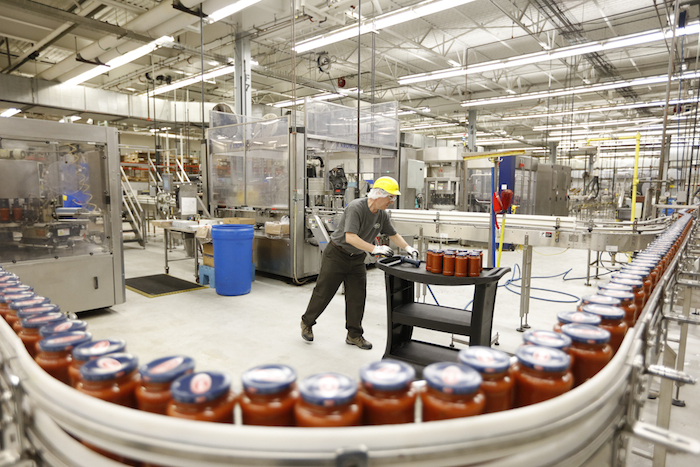 LiDestri creates strategic partnerships and leads the industry with innovations in products, processing and packaging.
By Stephanie Crets
For more than 40 years, LiDestri has combined innovation and collaboration to become the premier private-label and contract manufacturer of food, beverages and spirits. From pasta sauce and salsa to packing and processing innovations, LiDestri has been and continues to be a pioneer in the industry. And with the recent transition of presidency from Giovanni LiDestri to his children, co-presidents Stefani LiDestri and John LiDestri, the company is poised to break more ground in food and beverage processing and packaging.
In just the past eight months, the company launched a High-Pressure Processing (HPP) tolling station and increased its capacity to process cold fill aseptic beverages; both in response to ever-growing demand from a more health-conscious consumer base. LiDestri also brought to market 'Living Jar,' a more sustainable and shatterproof sauce package that instantly began winning prestigious awards. And new products are rolling out of its Innovation Center like clockwork.
"Creating a shift as we have in the last six years has been a lot for the organization to digest, and it's pivoting mostly due to our diversification efforts," Stefani LiDestri says. "My father really started to recognize the commoditization of the sauce market meant we would have to get outside of our comfort zone and tap into other products, processing and packaging. It's really about our strategic initiatives of diversification to remain relevant and to become true innovators."
Innovation Center
Part of LiDestri's effort to get out of its comfort zone involved opening an Innovation Center in 2014. There, the company's research and development team, along with 20 certified tasters, come up with new, unique, innovative products. Thanks to this "trial by fire," as Stefani LiDestri describes it, the Innovation Center allowed LiDestri to create strategic partnerships with other innovative companies, such as Newman's Own and Wegmans Food Markets.
"We've really gotten to a completely different place than we were six years ago," Stefani LiDestri explains. "The transition is exciting because of all the trend-setting we're looking to lead our industry towards – not only in packaging innovation, but also through efforts in sustainability. We're setting the pace for the industry in really trying to establish standards that we can share beyond ourselves and make an impact across the industry at the manufacturing and retail level."
Product innovation is something LiDestri has always prided itself on. It's currently in the process of revamping its salsa to make it even hotter by manufacturing it with ghost peppers and scorpion peppers. Both peppers are growing in popularity in the salsa market, so LiDestri plans to capitalize on that tends.
The company has also helped its partner Newman's Own develop a new line of organic pasta sauces called Common Good. The partners worked side-by-side in the Innovation Center kitchens to develop the recipes, cooking their way through a mountain of spices and gallons of extra-virgin olive oil. After a few months of collaboration, they had a product ready for market.
Always focusing on health and sustainability, LiDestri is excited about another upcoming product: an apple cider vinegar sipping drink. Stefani LiDestri first came across this concoction shortly after having her daughter. Her herbalist suggested she try it to clear her lymph nodes since nothing else was relieving her swollen ankles. "After two days of drinking this, my ankles were normal again – it was crazy," she says. "All of a sudden, everyone started talking about this product. Good Girl Moonshine is this underground community of gals who are drinking concoctions of apple cider vinegar. It's really healthy, and I love the flavor."
Apple cider vinegar can help to remove body toxins, boost immunity and improve digestion. When developing this product, the company made efforts to keep the underground Good Girl Moonshine vibe rather than making it more commercial looking. But the product – releasing in a few months – will be a refreshing, easy-to-drink functional beverage, ideal for the health-conscious consumer.
"My family is from Cuba and Sicily, and I'm so envious of how healthy everyone seems in Europe," Stefani LiDestri says. "They're eating fresher products than in the United States. We're heading in a direction as an industry to put these types of products out in front of the consumer and allowing them to make good choices where the cost isn't astronomical."
Process and Packaging
The Innovation Center also allowed LiDestri to cook up new ways of packaging and processing its products, such as the Living Jar and HPP. The Living Jar benefits retailers and consumers because it's shatterproof, lightweight and in a safer, greener package than a typical glass jar. The company brought this jar to market on behalf of its partner Wegmans Food Markets to provide a package that appeals to environmentally conscious consumers without sacrificing the shelf life of the product.
The jar has won both the 2016 Diamond Award for packaging innovation and 2016 Ameristar Award for excellence in food packaging from the Institute of Packaging Professionals. "This package is a category-changer because we decided to really focus on what consumers are looking for in pasta sauce containers," Stefani LiDestri adds.
But LiDestri couldn't provide certain kinds of fresh products without the help of HPP. HPP makes it possible to remove chemical preservatives from product formulas and achieve the same shelf lives for a range of products, including juices, deli meats, wet salads, seafood, hummus, guacamole and cold soups, through high water pressure. "This process not only produces tastier products because we're not cooking the flavor out of things, but they're actually going to be healthier because we're not heating the nutrients out of it," Stefani LiDestri explains.
From product innovation to processing and packaging innovation, LiDestri is ready to take the industry by storm. "I'm going to take the teachings of my father with long-term partnerships and continue with collaboration, but increase the level of communication, along with thought leadership through educating consumers and the industry," Stefani LiDestri says. "We've been innovators and creative thinkers from every aspect, and all about breaking down barriers. I think it would be great to share that for the good of the whole. We want to make an impact where it counts and will help retailers, co-packers and manufacturers do better for the good of everyone here in the United States."