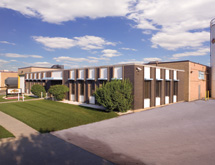 Some firms might be afraid to allow their workers to make major decisions, but not Little Lady Foods. Instead, Senior Vice President of Sales and Marketing Peter Cokinos says, the company trusts its associates to make the right decisions.
"Our style and management philosophy is not to create a lot of bureaucracy," he explains. "Our strategic focus on the customer allows the organization to make decisions always with their best interest in mind."
Based in Elk Grove Village, Ill., Little Lady Foods specializes in customizing frozen foods for its clients, which include the largest retailers, club stores, consumer packaged food companies and largest casual restaurants in the United States.
"We provide solutions to them on a large scale," Cokinos says.
Little Lady Foods started operations in 1960 on a more modest scale as a small food manufacturer. In 1984, its current owners purchased the company and decided to change the focus. Today it is the leading custom manufacturer of pizzas, sandwiches, hand-held items and appetizers – including all natural, organic and gluten free offerings.
Cokinos says Little Lady Foods employs a staff of 700 and generates more than $200 million in annual sales. The company serves its clients from its three manufacturing facilities in Elk Grove Village and Gurnee, Ill.
"There are four pillars that have been the core of our success," Cokinos says. He lists them as its category knowledge, flexibility, speed to market and ability to manufacture product on a national scale. Each of Little Lady Foods' manufacturing facilities has comparable operations, which helps boost the company's ability to react to market conditions, Cokinos says.
"That's a pretty distinct advantage that we have over our competitors," he says. "If our customers' volume increases exponentially, we have the ability to manufacture the items in other facilities that share the same capabilities."
At the High Point
Little Lady Foods likes to stay busy, but sometimes juggling projects while trying to be innovative and competitive can be challenging, Cokinos admits. After the 2008 recession, the firm's industry experienced a downturn, requiring many manufacturers to find new ways to attract customers. "Value for the consumer became very important as consumers had come under great financial pressure with job losses or income reductions," he recalls.
"The industry is growing again and innovation is what our consumers and customers are looking for," Cokinos continues. "These innovations include unique flavors, all natural ingredients and unique crust attributes that emulate pizzeria experiences."
To keep its product lines fresh, Cokinos says Little Lady Foods will add four new product "capabilities" that it will focus on for the future: appetizers, gluten-free foods, authentic Italian pizzas and enrobed sandwiches. The latter is "something completely dough based," he says.
"You can call it a calzone, but it's more of a filled sandwich," he states. All of these new capabilities will be brought on line over the next few months.
Company Pride
A long-time veteran of Little Lady Foods, Cokinos joined the company in 1993 when it only had a staff of 50 and one facility. Today, "Having three manufacturing facilities and [more than] $200 million in sales brings a great sense of pride," he says.
He adds that he is proud of the company's "entrepreneurial" culture. "One thing we strive for is to never lose that entrepreneurial spirit," he says. "That's what keeps companies coming back to us. That spirit is what keeps the company nimble and allows us the ability to meet customer needs as we have grown."
He also praises the staff of Little Lady Foods.
"We have the best employees that share in the entrepreneurial spirit for the organization," he says, noting that it looks for employees that can bring creative solutions. "We want people that can be flexible when needed and share in our passion to serve our customer."
Cokinos anticipates continued success for Little Lady Foods as "the market moves even faster and faster," he says. "[Consumers] will continue looking for authentic products."