They didn't laugh. But Nelson did – all the way to the bank. This innovative furniture concept that started as zealous idea in his parents' basement has evolved into one of the fastest-growing furniture companies in the United States.
Lovesac specializes in a patented modular furniture system called Sactionals, which consist of two combinable pieces, "seats" and "sides," as well as custom-fit covers and associated accessories.
This isn't to be confused with "sectionals," couches that consist of a corner piece, middle piece and an ottoman that can be somewhat rearranged to fit inside a room. Lovesac's Sactionals have a unique quality.
"They are radically different from a sectional," says Nelson, who won Fox's Rebel Billionaire reality show in 2005. "With those two pieces, you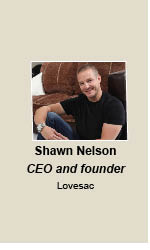 can build 10,000 different couches. They are kind of magical."
Although the Sactional has become the company's bread and butter, Lovesac is also the inventor of "Sacs," huge beanbags filled with a proprietary foam mixture called Durafoam. These sacs are what gave the company its start.
A Ridiculous Story
Each time Nelson tells the story of the birth and rise of Lovesac, he almost can't believe his own words. "Lovesac is a pretty ridiculous story whenever I hear myself repeat it out loud," he admits.
In a nutshell, the idea came to him while watching television in his parents' living room shortly after graduating high school in the 90s. As Nelson remembers it, "I thought it would be funny to make a really big bean bag. So, I got off the couch and drove to the fabric store, but I couldn't find enough bean bags to fill it."
His first "sac" was made of any stuffing material he could find – from old blankets and packing peanuts to shredded camping mattress foam. The first Lovesac was a comfy 8-foot wide fluff ball. His friends loved it.
But Nelson soon forgot about his "Sac" when he volunteered as a missionary for his church and flew to Taiwan, where he learned to speak Mandarin. When he returned back to the United States and attended the University of Utah, his odd piece of furniture started generating interest around campus – and he hand-made a few "Sacs" upon request.
"I was dropping them off every week, getting orders from students, car shows and home shows," he remembers. "But it never made any real money."
As Nelson was getting ready to quit, he took Lovesac to a tradeshow as a last-ditch effort and received 12,000 orders from a national retailer – Limited Too. "They wanted 12,000 little sacs with their logo on it and we had six months to do it," he says.
Knowing how to speak Mandarin, he flew to China to buy material. His knowledge the language helped him negotiate a great price and Limited Too fronted him the money for it. With the help of about 20 friends, he worked 16-hour days and managed to deliver the 12,000 orders. From then on, the company grew.
"More stores led to more stores and we grew too fast," he says.
Lovesac began accepting franchise offers, eventually learning how difficult it is to maintain control over the brand and the success of each storefront. The company also expanded its product offerings to include decorative accessories, weighing even heavier into the merchandising cycle of seasonal rotations and excess inventory.
In February 2006, Lovesac filed for Chapter 11 bankruptcy protection. But that same year, following Nelson's appearance on an entrepreneurial reality TV show, Lovesac caught the attention of venture capitalists. Lovesac closed its unprofitable locations, exited the franchising model and scaled back its product offerings. It left Chapter 11 protection in August 2006 with just 12 company-owned stores.
Designed For Life
Although many loved the "Sac," the one line item that brought Lovesac to new heights was its Sactional, which launched in 2007.
"The problem with normal couches is that you need a warehouse the size of a football field to store them," Nelson says. "And that's the magic of Sactionals – I have every couch in every size in any configuration imaginable and in any fabric possible ready to ship to you immediately."
Being touted as "the world's most adaptable couch," the Sactional can be rearranged to fit in any type of environment. Its owners can choose from 20 stock covers or have them custom made.
"They look exactly like upholstery," Nelson says. "And we let you customize it down to the individual panel of fabric. Our stock covers ship right away and our custom pieces in about four weeks."
Lovesac's products are based on a "Designed For Life" philosophy, a zero-waste philosophy and design framework that promotes reuse, recycling and conservation programs. It also emphasizes sustainability by considering the entire life cycle of products, processes and systems. The goal is to provide longer product lives by developing more durable products.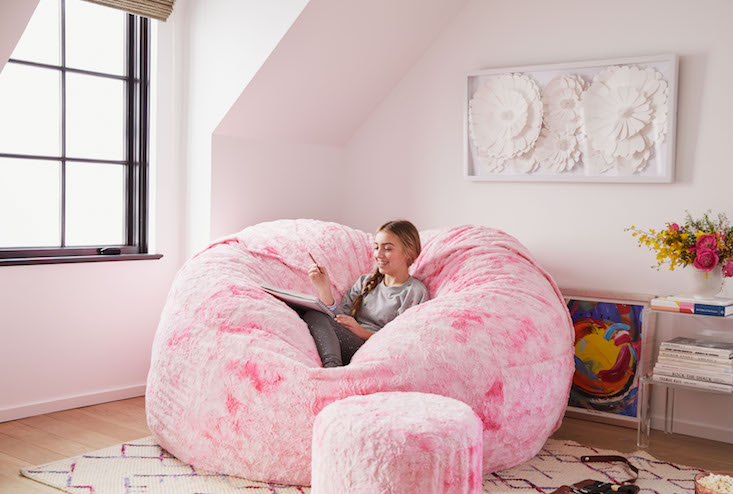 "It's a philosophy that we have evolved into," Nelson says. "It means we have exited the merchandising economy. The merchandising approach generates overstock, clearance and waste. Design For life is about building things that are designed to last a lifetime and designed to evolve as your life changes."
For example, a person may get bored with the color and design of their old couch after a few years. Or the upholstery will get old and tattered and the stuffing old and flat.
"With the Sactionals, you keep those core pieces for the rest of your life," Nelson explains. "If you change the covers and configurations, you have a new couch."
In addition, Lovesac covers are hand-sewn in machine washable fabrics that won't shrink, fade or pill — even after numerous trips to the washing machine.
"We're here to disrupt and change the game," Nelson says. "My goal isn't just to disrupt the couch market. We want to change consumer behavior to inspire mankind to buy less stuff – but to buy better quality. We're here to make good stuff. We hope there will be fewer couches sold because we disrupted the market."
It's A Platform
Lovesac has roughly 35 patents issued around the world – most of them for Sactionals. Instead of thinking of the Sactional as a product, Nelson thinks of it as a platform.
"We continue to put out new innovations on this platform that will allow your Sactional to do things that you never dreamed possible," he adds. "We're inventors, not merchandisers – and we're inventing new platform extensions for our Sactionals, and eventually even new platforms."
For example, one of the available extensions is a Roll Arm Side Insert, which gives the Sactional a more traditional look. In September, Lovesac plans to release another extension – The Power Hub. It's a hidden unit inside the Sactional that can store a laptop or phone, as well as charge electronics. It is reverse-compatible and can be used with all existing Sactionals.
Eco-Friendly
Last year, Lovesac became the single largest plastic re-purposer of plastic bottles in the nation when it comes to consumer home décor fabric. "All our upholstery is made from 100 percent recycled water bottles," Nelson says. "This is the under fabric of the Sactionals. Most of our covers will one day be made from recycled materials as well. We're the only company that's doing this that I know of."
In 2012, Lovesac was named the fastest growing furniture company in the United States by Furniture Today magazine as well as recognized for being one of the top 100 furniture companies. The company has about 80 locations throughout the United States and an expanding warehouse in Chicago that will be roughly 250,000 square feet by the end of this year.
Its stores have been converted to non-inventory carrying "showrooms" focused on the Sactionals concept. Each is only about 800 to 1,000 square feet. Most are located inside malls but the company also has street locations in New York, Philadelphia and Chicago. Two years ago, Lovesac started operating pop up shops inside select Costco wholesale locations. It will do at least 690 of these ten-day pop up appearances this year.
"We are currently in discussions with other retailers for the same kind of shop-in-shop opportunity," Nelson adds.
Lovesac plans to open an additional 17 to 20 showrooms this year. Nelson says that the average opening first year run-rate of a small showroom was $750,000 a few years ago. Today, that number has ballooned to roughly $1.75 million. On average, Lovesac showrooms generate more than $1,600 per square foot – and climbing.