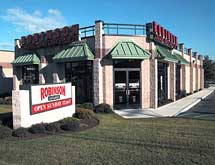 This e-com luggage company uses more than 80 years of brick and mortar experience to translate its value over the Web. It's difficult to translate your company's all-around expertise over a computer screen, especially in the days of price-compare Web sites that direct consumers away from your home page. But with a company history dating back more than 80 years, this is exactly what LuggageOnline.com is focused on as it transitions more of its brick and mortar business into the online arena.
LuggageOnline.com's story began in 1927 with the Robinson family's development of Philadelphia-based Robinson Luggage. In 1981, the Axelrod family acquired the business, building its presence to seven locations. In 1998, the Internet and e-commerce began to take off, and the Axelrod family jumped into the mix.
Financed without outside funds or investors, the company built its online presence with a new name, LuggageOnline.com, and a slow-but-steady approach. "We are a significant player in the online luggage business, but we are not the largest because they were financed early on," said Sharon Laudenbach, president and member of the Axelrod family.
"Our competitors grew by leaps and bounds while we were taking much smaller steps, but we did start early, and that has given us an advantage," she continued.
Today, approximately 70% of the total sales for both LuggageOnline.com and Robinson Luggage come from the e-commerce business. Part of this success comes from the company's approach to customer service. Rather than outsourcing this function, as many moving into the world of e-commerce initially did, the company put its full-time sales staff from its stores on the line.
"We took amazing people that had been with us for more than 20 years and transferred them to our online division," said Laudenbach. "Consumers noticed the difference. Even though more than 90% of our online business doesn't come over the phone, for that remaining percentage, they felt as taken care of as thought they were in our stores."
Ready for battle
LuggageOnline.com has a number of battles to face each day. It's not only impacted by the struggle of the retail world, it's also dealing with a shaky travel industry. In addition, for many consumers, luggage remains a touchy-feely kind of product, one where actually holding the merchandise in their hands is often an important selling point.
Part of the company's counterattack has been to shrink its brick and mortar presence, reducing the number of physical locations from seven to four. It's also upped the ante on its online offerings with deals such as free shipping for products costing $99 or more. "Unlike our competitors, we don't using this as a gimmick," said Laudenbach. "We always offer this deal."
The company offers more than 150 luggage brands online, including Tumi, Samsonite, Travelpro, and Delsey, whereas in its stores it only offered 30. But quantity is no match for quality, so the company offers zoom functions on all products to give customers a level of intimacy with a product before they make their purchase.
Although the average order value for the company is lower online than in stores, Laudenbach said the average dollar amount of luggage is down in the marketplace overall. The majority of luggage products now come from overseas, which adds to the overall effect.
To ensure it can always offer what customers are looking for, unlike most other e-commerce luggage companies, LuggageOnline.com inventories approximately 60% of what it sells. "We warehouse the majority of what we sell, giving us an advantage over companies that often have to pull merchandise down from their site because the vendor is out of the product," said Laudenbach.
"Inventory is getting tight, so I make sure we keep our levels up, especially on our fast-moving products," she continued. "That's one of my top priorities."
A year ago this September, LuggageOnline.com made a significant change by merging its online and brick and mortar businesses after transitioning its software package to SAP. The move enabled the company to put both businesses and their corresponding inventory on one platform.
Laudenbach said the company is now seeing the benefits of the large investment as it begins "anniversarying" its reporting from October 1, 2008 to October 1, 2009. "Reporting is where SAP shines, and we're happy with the progress we've made," she said. "It's also helped us move forward with developing a new platform for 2010."
Family-owned advantage
In addition to more than 80 years of experience in the luggage industry, LuggageOnline.com has another competitive advantage: the fact that it's family owned. The Axelrod family understands the importance of managing a business to ensure its employees and their families are supported, but they must also ensure their own family members are supported.
"When you have a board of directors, CEOs, and all those levels of management, they don't always step in to do what's necessary," said Laudenbach. "As a family-owned business, we're taking major cuts, working hard, and evaluating the business every day."
The closing of three of its brick and mortar stores is one such example of the belt tightening the family has had to do to ensure the business will be strong enough to serve its customers in the years to come. From a different perspective, this move is also a perfect example of how a family-owned company can make decisions that are perhaps unprecedented in its history but necessary to evolve the business for tomorrow.
"We have thousands of customer reviews, many of which are not product-specific but rather reviews of the company and how pleased they were with their experience," said Laudenbach.
"We ship within 48 hours, we offer free shipping on orders of $99 or more—we offer the whole package. That's what we want consumers to understand," she continued. "We just have to continue finding ways to translate that over the computer screen."