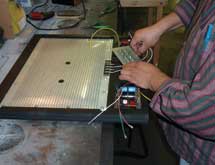 No matter how much the world changed around him, Jim Winey, founder of Magnepan, knew that there would always be a market for his company. Winey created the Magneplanar loudspeaker as an alternative to electrostatic loudspeakers, and the company has manufactured Magneplanar stereo and home theater speakers for the past 44 years.
Marketing Manager Wendell Diller says the invention is a "kissing cousin" to full-range electrostatic speakers and takes a purist approach when it comes to transmitting sound. The company aspires to attain the Holy Grail of loudspeaker design and the audience for its products is definitely a niche market, he says. Yet, its speakers are among the most affordable in their category.
"There's a purist approach that all loudspeaker designers understand," Diller says. "We calculated a certain percentage of the market would be enthusiastic and accept the fact that you can't fit our speakers into a wall or that we can't make them tiny in the pursuit of optimum sound.
"We had an established niche market back in the '70s and '80s before the big-box stores and custom/home theater installers came on the scene – back when there were only independent stereo stores," Diller adds.
Currently operating from a 50,000-square-foot facility in White Bear Lake, Minn., Magnepan has manufactured well over 200,000 Magneplanar loudspeakers that have been delivered to homes around the world – including China, Russia, India and all of Europe. The companies tag line is – "Made in America – Sold in China." Its line of loudspeakers and accessories vary in size and function but each one is based off of proprietary technology using a thin-film, which is the magnetic equivalent to the electrostatic loudspeaker.
Diller says that in his 40 years marketing Magneplanars, the company has improved on its founding concept even as many competitors fell away. The key for Magnepan is innovative technology and solid financials.
Firm Foundation
"We all have seen huge companies get in trouble during the Great Recession," Diller explains. "We have weathered many recessions but this was definitely the worst. One of the reasons we have survived is because we are not leveraged. Mr. Winey was an Iowa farm boy and very conservative. He believes that you don't use debt to grow your company. As a farm boy, frugality was part of the culture. After college, Jim became a production engineer at 3M. When you put frugality and production engineering together, you are equipped to figure out the best way to achieve maximum performance at minimum cost."
Magnepan's role as the high-end, high-performance but affordable loudspeaker manufacturer hasn't gone unnoticed. In 2011, The Absolute Sound magazine voted the Magneplanar 1.7 "Product of the Year." Jonathan Valin wrote that the speaker is "not just The Absolute Sound's Affordable Loudspeaker of the Year.' The 1.7 is the affordable loudspeaker of the decade." To attain high quality and keep a lid on costs, Magnepan manufactures as much in-house as possible. With the exception of processes such as perforating its steel plates or manufacturing its own magnets, Magnepan controls the entire process.
In Control
"Some speaker manufacturers have a cabinet manufacturer build their box, and they order the drivers from specialty companies that make high-quality drivers, and they may order the crossover components. They basically assemble everything on-site," Diller says. "We may not grow our own trees, but we do as much in-house as possible."
For its raw materials and outsourced services, Magnepan tries to stay as close to home as possible. The company says that more than 90 percent of its parts are American-made and it is working toward reaching 100 percent.
Diller says developing relationships with key U.S. suppliers such as Accurate Perf, which perforates its steel plates, ensures a quality end-result. "When perforating many hundreds of small holes in sheet metal, it's difficult to punch the holes and keep the sheet metal perfectly flat – which is critical for maintaining the tight tolerances between the magnets and the Mylar diaphragm." Diller says. "Manufacturers know the advantages when you can visit an American vendor and see their processes, rather than talking to a counterpart in another country."
Another well-known benefit to working with American suppliers is faster and more reliable delivery of material. Magnepan's magnet supplier, Electrodyne, is based in the United States but competes worldwide and in a variety of industries.
Because of its scale and diversity, the magnet supplier comes to market with competitive prices that rival overseas manufacturers and can give fast and efficient service.
Another benefit is the image of "American-made." Diller reports that the European market also has respect for American-made products. He said that has made it more difficult for a Chinese manufacturer to do a knock-off of its products.
"Would you want to buy a knock-off a Magneplanar for, say, 20 percent less if it was possible for you to have the real thing?" Diller explains. "Because our product is American-made and because we have brand recognition that's been built over 44 years, a company trying to do a knock-off would have to undercut our prices dramatically and demonstrate sonic quality to compete with us. Those two obstacles help shield us against possible foreign competitors."