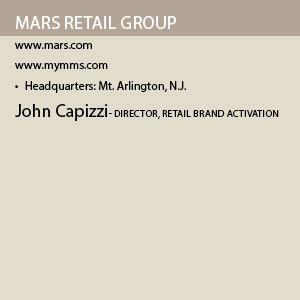 Colorworks emulates some of the world's largest chocolate walls featured in the M&M'S® World flagship stores in New York, London, Las Vegas, Orlando and Shanghai. The variety of single colors allows consumers to choose their favorite blends to customize for special occasions, whether it's to promote their company or to celebrate their favorite sports team. "Consumers have been bringing the colorful chocolate fun of M&M'S® to their parties and celebrations for years, and Colorworks allows consumers to customize their blends to make their parties more memorable," Capizzi explains. "Consumers can match their special occasion – be it a birthday, graduation or wedding day – combining their favorite colors with their favorite chocolate candies."
Mass customization leverages the unique personalization capabilities of MY M&M'S® to produce mass customized blends at retail locations. This allows its customers to differentiate their offering and gives consumers quick access to a truly customized product during their retail shopping experience. "Overall, these three unique executions bring the brand to life in new and different ways, and we provide a one-stop shop to make it happen," Capizzi says.
True Partnerships
Licensing is a major component of how Mars Retail Group promotes loyalty to the M&M'S® brand. Its licensing categories range from novelty candy to housewares, plush and jewelry. The newest product category is focused on adult gifting and the company's partnership with Frankford Candy Company has helped Mars Retail Group quickly hit the market with new products suitable for any seasonal gifting occasion. The partnership with Frankford Candy's design, creativity and production knowledge, combined with market reach, allows Mars Retail Group to offer its customers a quality product at a great value.
Two of its biggest long-term licensing partners include apparel, housewares and plush provider, ERE, and novelty and candy dispenser maker, CandyRific. Both licensing partners have been instrumental in helping it bring the "One Voice" strategy to life. "Our One Voice strategy allows retail customers to put together a truly differentiated blended display of M&M'S® colorful chocolate fun merchandise in their stores," Capizzi explains. "We've had great success with our novelty dispenser and chocolate displays for many years. Our licensee partners seem to have an endless display of options for any season and any time of year."
Mars Retail Group maintains long-term licensing partnerships by following its mutuality principle, one of Five Principles that the company has embraced and anchored itself on since the beginning. "A mutual benefit is a shared benefit; a shared benefit will endure," the company says. The other Principles are Quality, Responsibility, Efficiency and Freedom.
"We try to design our programs so that all parties benefit," Capizzi says. "We work with our licensees to offer a quality product at a fair price to our customers who, in turn, offer value to their consumers. If all parties are not consistently benefiting from the relationship then chances of repeat diminish. We've been doing this consistently for years so we like to think we have been delivering on our mutuality commitment.
"Our partners have helped bring the M&M'S® brand to life in new and different ways," he continues. "Their products continue to surprise and delight our consumers with quality executions. Our licensees have been essential to providing reach beyond our M&M'S® World stores."
Staying Connected
Mars Retail Group strives to stay in tune and connected with its retail customers and consumers, while also ensuring it keeps a close eye on market trends so it can continue delivering value. For example, the company has found consumers really enjoy products that are personalized or customized to a specific event, so the Colorworks and mass customization offerings really tie into that consumer trend and need.
"We are always open to listening and observing the market and working to make sure we continue to meet and exceed expectations and delight our consumers," Capizzi says. "Even though we are part of a larger organization with a 75-year-old brand, our entire Mars Retail division sees ourselves as entrepreneurs. As entrepreneurs, we never rest on past success and are looking forward on how to grow our business and improve consumers' experiences with our brands."
Interacting with the M&M'S® brand and experiencing an M&M'S® World store can be a fun, unique experience for consumers. The company brings the M&M'S brand to life this way. Capizzi says he loves watching their expressions of wonderment as people experience the colorful stores filled with their favorite M&M'S® characters, the product offerings and incredible chocolate displays.
"I am always inspired and proud at the reaction of consumers when they interact with M&M'S® brands," he adds. "Whether it is a consumer that comes across our product, such as an M&M'S® dispenser when they are shopping at their favorite grocery store, the reaction of consumers entering M&M'S® World for the first time or the look on someone's face when they see a customized bowl from MY M&M'S® with their face, personalized message or favorite sports team, it always puts a smile on someone's face and that to me is priceless."
Capizzi credits much of M&M'S® success to Mars Retail Group being a supportive and inspiring place to work. "Mars serves as a compass to help guide our business decisions and unite us across geographies, languages, cultures and generations," he says. "The result is stronger relationships with everyone – our consumers, customers, business partners, communities and each other. While we are happy and proud of where we have come from, we are always eager to evolve, so I always look forward to the next new thing and trying to figure the best way to get there."