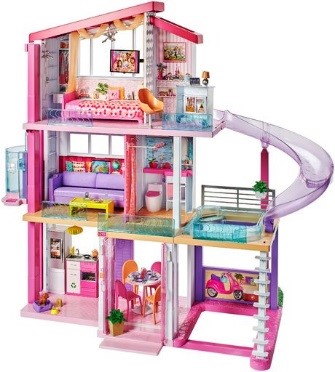 Mattel reestablishes its position as the No. 1 toy company in the United States
as it transforms its operations to become 'leaner, faster and smarter.'
By Janice Hoppe-Spiers, Knighthouse Media
It is that magical time of year again when children's faces are aglow with wonder and excitement as they carefully craft their list of holiday must-haves while toymakers wait expectantly to make the top of those wish lists. "Mattel tops holiday toy lists and has great support from our retailers and customers this holiday season," Chief Commercial Officer Steve Totzke says. "We like to think that come Christmas morning, we will have more toys under more trees than any other toy company in America."
For more than 70 years, Mattel's portfolio of iconic toy brand franchises, which includes Barbie, Hot Wheels, American Girl, Fisher-Price and Thomas & Friends to name a few, has inspired imaginative play. Since its founding in 1945, the company has prided itself on being a trusted partner in offering products and experiences that inspire, entertain and develop children through play.
Based in El Segundo, Calif., Mattel is a leading global children's entertainment company that specializes in the design and production of quality toys and consumer products. The company operates in 40 locations and sells products in more than 150 countries in collaboration with the world's leading retail and technology companies.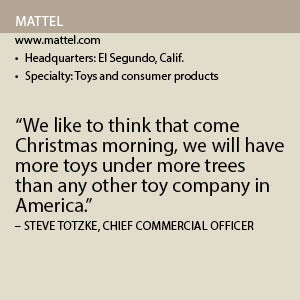 "Mattel remains the No. 1 toy company in the United States both in store and online," Totzke notes. "This year more than ever, getting the right toys in the right stores at the right quantities at the right time is going to be the game. The companies that do it best – the manufacturers and retailers – are going to win the season."
Mattel has been focused on building its power brands – American Girl, Barbie, Fisher-Price, Hot Wheels and Thomas & Friends – by continuously innovating to stay relevant among consumers. Among the predicted bestsellers for this holiday season is the three-story Barbie Dreamhouse that features eight rooms including a carport and home office, a working elevator that fits four dolls, a pool that has a slide descending from the story above, five pieces of transforming furniture, lights, sounds and more than 70 additional accessories. "The possibilities for play are endless," Totzke notes. "The Barbie Dreamhouse is always at the top of the wish list."
The company also expects its Fisher-Price Rocktopus, which helps children explore a variety of musical styles while learning about different instruments, rhythmic patterns and more, to top parents' list of must-haves. Rocktopus comes with 15 musical instruments for preschoolers to mix, remix and let their creativity flow. "That's sure to be a winner," Totzke says. "We also have Lil' Gleemerz performing well, and Hot Wheels and Polly Pocket are in-demand this season."
Changed Landscape
In the ever-changing world of retail, social media and YouTube are influencing consumer trends in real-time with new trends emerging almost daily. "It's no secret the retail landscape is disruptive, but we are adapting and thriving," Totzke notes. "I find it an exciting and fun time to be operating in the toy category."
Mattel began reshaping its operations last year to focus on and strengthen its innovation pipeline and become "leaner, faster, smarter." "We reviewed our business over the last couple of years and saw we needed to speed up our reaction to consumer trends," Totzke says. "Remaining the No. 1 toy company is encouraged by our transformation plan and the themes are reshaping the organization, growing our power brands and expanding our brand portfolio through world-class execution."
Totzke is a longtime employee of Mattel who has held a variety of leadership roles over the course of 20 years. In August, he was named chief commercial officer to oversee a new, unified global commercial organization for the company as part of its transformation strategy. Totzke is responsible for driving continued commercial excellence for Mattel, maximizing retail partnerships and expanding the company's e-commerce capabilities.
"Over the past several months, we have been executing our strategy to restore Mattel to its position as a high-performing toy company," Chairman and CEO Ynon Kreiz says. "Maximizing our commercial capabilities around the world is central to this strategy. With the alignment of all global commercial operations under Steve, we have the leadership structure required to succeed."
Mattel's transformation strategy encompasses balancing global execution with localization to optimize results, creating demand by being reflective of the consumer journey and reshaping its omnichannel strategy to get the right toys to the right consumer at the right time. "It is now my team's responsibility to execute the transformation strategy," Totzke says.
Seizing Opportunity
Mattel's strategy came to life this year as it developed a year-long lineup of live experiences, new products and compelling content in celebration of Hot Wheels' 50th anniversary. The live experiences have brought children, fans and collectors together across the globe.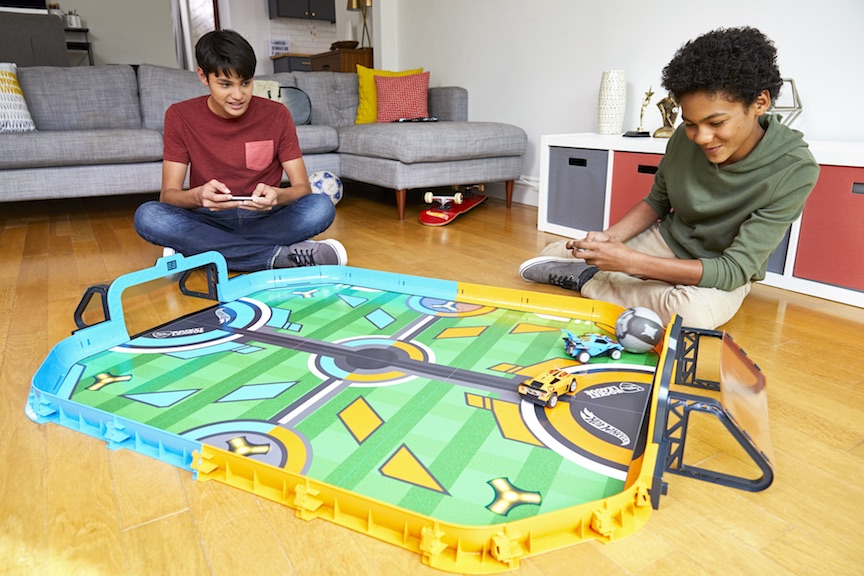 In April, Hot Wheels launched the Hot Wheels Legends Tour, a travelling car show in search of a custom car worthy of being made into a Hot Wheels die-cast toy. Hot Wheels will visit 14 Walmart stores across the country and one winner will be chosen from each stop to win a spot for their car to be sown at the world-renowned SEMA Auto Show where one vehicle will be chosen and immortalized as a Hot Wheels.
"We amplified our message with Walmart's and our social media platforms to combine the power of both companies, getting the stores, community and local media involved," Totzke says. "It's ticking every box in terms of playing on both our customers' and our strengths."
Hot Wheels Challengers program is a multi-year marketing campaign designed to demonstrate its brand purpose, ignite the challenger spirit in children everywhere and champion up-and-coming youth action sports and motorsports athletes in their pursuit of greatness by providing opportunities to compete in inclusive, open competitions. Children will be challenged to lean on determination, grit and perseverance during these contests.
Beto Carrero World, the largest theme park in Latin America, will open an immersive brand experience with a dedicated Hot Wheels themed area within the park. More than 7.5 acres will be dedicated to Hot Wheels, which will feature a live stunt show, themed restaurant and retail shop. The Children's Museum of Indianapolis in May opened the Hot Wheels: Race to Win exhibit where fans got a firsthand look at the science, speed and safety of motorsports with Hot Wheels cars and tracks positioned alongside full-sized racecars, artifacts and memorabilia.
This year, Hot Wheels re-engineered its toy line based on consumer insight to resonate more broadly across ages, stages and interests. On May 18, the official birthday for Hot Wheels, the brand released replicas of five Hot Wheels originals from the "Sweet 16" with legacy graphics, original packaging and original detailed Spectraflame paint, Redline wheels and a collectible button. Each car included a code where one winner in the United States will win a life size 50th anniversary Hot Wheels Camaro.
"The first Hot Wheels toy created was a 1968 custom Camaro, and to celebrate its anniversary, Hot Wheels partnered with General Motors to create a life size version of the die-cast," Mattel says. "Available for purchase in 2018, the full-sized 50th Anniversary Hot Wheels Camaro includes exclusive Hot Wheels features like a Crush-Orange pain job, referencing iconic Hot Wheels orange track, unique interior and wheels, and commemorative Hot Wheels badging."
For younger Hot Wheels fans, the brand introduced Hot Wheels City, a system of play that blends imaginative vehicle "push-around" play and classic "crash-and-bash" action. Using augmented reality and connected play, Hot Wheels Augmoto is a smart device-controlled track set that adds "unprecedented control and gaming to a physical Hot Wheels racing experience," the company says.
Mattel says its consumers and retailers can expect to see more of the same omnichannel approach and world-class execution with Barbie's upcoming 60th anniversary in March 2019 and the release of Toy Story 4 next summer. "We want to ensure we have a deep understanding of the shopper to make sure we are great partners because our customers expect that from us," Totzke says. "Our customers expect Mattel to be the authority and we work closely with our retail partners to support their specific strategies and tactics in entertainment, packaging or partnering with social media amplification. The results of the Hot Wheels Legends Tour have been phenomenal."
Adapting to the New Retail Industry
Mattel established a toy incubator at its headquarters to focus on trend-based products, which has delivered already with the launch of Flushin' Frenzy, a funny toilet game for children. On average, it takes the company about 18 months to transform a concept into a product on a shelf. With its toy incubator, the company is looking to cut that time in half to just six to nine months to respond to consumers demand faster. Pooperoos is another success story of this expedited process to get a trendy product into children's hands faster.
The retail industry was shaken in June when Toys 'R' Us closed its stores in the United States, but Mattel knew the demand for toys would not diminish once the retailer was gone and immediately focused on how to fill the void. "Retail is a bit art and science, and we got busy on the science bit focusing heavily on data analytics and absorption modeling," Totzke says. "We focused on Toys 'R' Us closings by zip code and what categories and items performed well within radius circles from one to five miles. We then closely partnered with other retail partners to share that data and our plans to recapture that marketshare. There are other retailers who have stepped up and filled the void of Toys 'R' Us by expanding their toy department."
Moving forward, Mattel plans to focus heavily on its omnichannel strategy as the retail industry continues to evolve while responding to consumer trends faster through innovation and toy incubator. "The goal is to remain the No. 1 toy company and regain marketshare in some areas," Totzke says. "Our vision is to execute the transformation strategy of our executive team through our regional leaders and our global customers with the aligned goal of delivering products to children and families around the world."