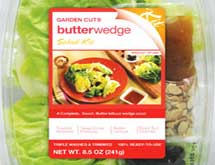 New products, quality, and customer service are the central tenets of this 37-year-old vegetable production company. When it comes to vegetables like lettuce and spinach, it doesn't seem like there's much left to do that nature hasn't already done. Not unless you are Misionero Vegetables, a company started back in 1973 by Floyd Griffin that continues to be family-owned today. The company produces organic and conventional products that are distributed throughout all of North America, operating under the motto of Stephen Griffin, president: "Innovate or perish."
"We supply both private brands and Misionero brands to the foodservice and retailer sectors," said Dan Canales, VP of sales and marketing. "We are not the biggest in organics or conventional salad products, but we are focused on innovation and niche markets."
With processing facilities in Gonzales, Calif. and Yuma, Ariz., Misionero's products have a strong balance between conventional and organic. All products are grown in the US year-round. Canales said each side of the business is growing equally because Misionero introduced new conventional products within the last few years that have matched the healthy growth seen in organics.
"Organics are a large percentage of our business, but now we're experiencing growth on the conventional side due to innovation," he said.
Misionero's retail products are sold under the EarthGreens and Garden Cuts brands. EarthGreens are organically certified salad products available in 13 varieties. The Garden Cuts washed and trimmed product line consists of green leaf, red leaf, and romaine lettuce, as well as the Cosmopolitan variety. Misionero also introduced its new Garden Cuts restaurant-style salad kits last year. The salad kits contain quality restaurant-style ingredients and are currently available in four varieties.
Misionero has a dedicated new product development team focused on innovation. The company is always looking for insight on new trends, specifically working with retailers to determine what they want to see on their produce shelves. Although a larger percentage of its sales are in retail, Misionero benefits from the foodservice sector by tapping into foodservice trends that end up in the retail stores and eventually on consumer tables.
"Once we have viable proof of concept, we go to the next steps in terms of bringing it to market. A great example is our Garden Cuts product line. We had been producing washed and trimmed lettuce packs for the foodservice sector for many years but found there wasn't a similar product for the retail side. We conducted research and created the Garden Cuts product line shortly thereafter," Canales said.
Five years later, Misionero expanded its Garden Cuts line by adding a line of restaurant-style salad kits that took the line to the next level. The company focused on flavor and freshness in the product development stage. Market research indicated that consumers did not want over-processed salads, preferring lettuce in its natural state. Canales said the new product development team found a way to create the product with minimally processed lettuce, enhancing flavor and freshness.
"The response to the Garden Cuts lettuce packs and our restaurant-style salad kits at the retail level has been tremendous," he said.
Improving across the board
In addition to updating its product line, Misionero regularly takes steps to ensure the company is operating at an optimal performance level. About two years ago, the company was operating out of two processing facilities in California: one in Salinas and one in Gonzales within a 20-mile radius. The Gonzales facility was being leased, but the 40-acre property came up for sale. Misionero purchased and upgraded the facility, allowing management to oversee operations from one location.
"We gained efficiencies from the consolidation by having all of our production and management staff located in the same place," said Canales. "At the Salinas facility, we had reached our growth capacity. In Gonzales, there is plenty of land for expansion."
In the last quarter of 2009, Misionero invested in technology by purchasing equipment specifically designed to improve the shelf life and appearance of the clamshell products. Garden Cuts and the EarthGreens product lines currently ship with this new technology, and Misionero is seeing a return on its investment through increased shelf life and consumer satisfaction.
"The changes and investments we have implemented will have a multidimensional effect. It benefits Misionero, the retailer, and the consumer," Canales said.
Misionero is currently redesigning its Web site to address the way conversations are changing between consumers and producers. It used to be purely a shipper to retail/foodservice customer relationship, but now the conversation has changed to the point that shippers must relate directly to consumers whether through packaging or media.
"People are more engaged with where they are putting their dollars now," said Canales. "We have identified the key points for the new Web site. We want our site to draw people in and provide them with more knowledge about where they are spending their money and how we align with their values."
The company is also investing in staff. Within the last four months, Misionero added a western regional sales manager, a marketing professional, and a director of technical services. In addition, Misionero is developing a freight line, purchasing trucks so the company can delve into more delivered sales within a centralized area around its processing facilities. Clearly, Misionero has looked at the tough economy as the time to improve the company instead of simply cutting back.
Misionero has demonstrated an ability to adapt to the ever-changing produce environment by creating attractive new product lines and investing in technology and personnel. The push for innovation that starts at the top is driven throughout every layer of the company, as Misionero's staff knows they must put out new, different, and popular products to survive.
"We are and we know we have to be problem solvers and opportunity providers for our customers," Canales said. "Between creating innovative new items, focusing on quality, and providing great customer service, we will push the company to new heights."