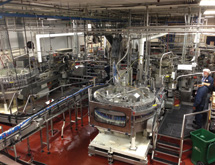 Monarch Custom Beverages stays true to its name. As a contract beverage manufacturer, the Cold Spring Brewing Co. subsidiary works with private label-brand customers to provide each one with a unique product. Whether energy drinks, teas, juice, carbonated soft drinks, fruit-flavored beverages, beer or flavored malt beverages, Monarch Custom Beverages is able to walk its clients from A to Z and produce a one-of-a-kind quality beverage. The company's manufacturing facility produces more than 30 million cases of canned and bottled beverages annually. In working with partner bottlers, Monarch Custom Beverages can produce in excess of another 10 million cases annually.
"We typically work with a retailer or a brand developer in the formulation of a beverage product," Vice President of Sales Larry Williams explains. "We recommend certain suppliers and equipment and packaging. We can handle the formulation, raw materials suppliers and manufacturing or make recommendations in order that they might make the beverage on their own or we can make it for them on a turnkey basis."
Monarch Custom Beverages is able to meet the customers where they are. If a client has the manufacturing capabilities but requires help on the R&D side, Monarch Custom Beverages is able to assist in that area. Alternatively, if a company has a stellar brand and top-notch marketing team but little else, Monarch Custom Beverages can fill in all the gaps to provide a complete solution, even handling storage and distribution. In essence, Williams says the company helps private-label brands compete with national counterparts.
"Private-label retailers are starting to become more sophisticated in how they present their private-label products," he explains. "They're becoming more like brand owners in that they have adopted these brands and they are trying to grow them and compete with national brands. Monarch allows private-label brands to innovate and change quickly and try something new. And if that doesn't work out, we can help them make a quick change to meet a new need or overcome a challenge. Many large companies don't have that flexibility. We are large enough to compete with larger contract manufacturers but also small enough to modify and change and keep our customers on the cutting-edge of product development."
Beverage of Choice
Changes in consumer behavior have led to changes in store aisles. Williams says the trend toward better-for-you beverages has led to growth for Monarch Custom Beverages. Natural and organic ingredients as well as beverages with health and wellness benefits have caught on with the public. Another consumer trend is the gravitation toward craft beer. According to the Brewers Association based in Boulder, Colo., the craft brew industry grew 15 percent by volume and 17 percent by retail dollars from 2011 to 2012. Cold Spring Brewing, the parent company of Monarch Custom Beverages, response to these promising numbers was to open a state-of-the-art brewhouse in Cold Spring, Minn., to expand and modernize its current facility.
The $15 million investment has increased its brewhouse capacity to 300,000 barrels a year, and it "gives us the option to present new and exciting beverages." Williams says. The company modernized and expanded the previous brewery, which had been in operation for the past 150 years. The new facility incorporates automation technology to produce the best quality and consistent products and increase speed and efficiency. The company also has room to grow. Of the 300,000-barrels-a-year capacity, the company is currently using less than half of that.
"The motivation behind the new brewhouse is the increase in popularity of craft beer," Williams explains. "Craft beer as a whole is growing and there will be more growth in the future, so we want to be on the front-end of that growth and be ready to develop the new and unique hot products of the day. This new facility is a faster, state-of-the-art production center which allows us the opportunity to innovate new and exciting craft beer and flavored malt beverages."
As the company looks to the future and grows into its new brewery, Williams says that Monarch Custom Beverages is always testing new business opportunities. Though the company is not at liberty to disclose details, Williams says it will continue to stay at the forefront of consumer trends.
"We are always looking to grow and invest and become better at what we do," Williams says. "As we continue to look to the future, there are always opportunities to expand, get better and grow while bringing new and exciting business. In order to do that we have to stay abreast of changes in the marketplace and expand our operations to keep up with growth in the industry."