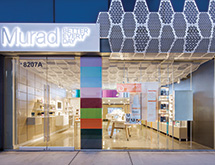 For more than 25 years, the name of Murad and its founder, Dr. Howard Murad, have been closely associated with unique skincare solutions. As a board-certified dermatologist and trained pharmacist, Dr. Murad pioneered the concept of "internal skincare" by encouraging the use of dietary supplements to promote healthy skin, and Murad's line of skincare products have become widely available on store shelves and in spas, furthering the extension of the Murad brand.
From the company's beginnings in 1989, Murad has grown into one of the most popular skincare brands in the world, with product lines ranging from anti-aging to acne care. Dr. Murad says the company has developed a broad customer base consisting of people of all ages and walks of life, thanks in large part to its wide and varied range of distribution channels. But the heart and soul of what makes Murad's products successful is the company's never-ending commitment to developing products that push the envelope, ss well as the brand's commitment to Dr. Murad's Inclusive Health Philosophy, which is to inspire people to look better, live better and feel better through a whole-person approach to skincare.
"What we challenge ourselves to do is make the best product possible and market it as best we can so that we can help provide solutions that make our customers feel their best," Dr. Murad says.
That commitment has remained unchanged over the last quarter-century, even as Dr. Murad has undergone significant growth and change. Earlier this year, the company was purchased by Unilever, and although Dr. Murad says the added resources of its new parent company will be of great benefit to Murad, the core values of the company will remain the same as ever.
Committed to Quality
In everything that it does, Murad's concentration is on delivering products that fill needs in the marketplace no one else is aware of and technology that is far ahead of the rest of the industry, rather than following someone else's lead. Dr. Murad says this is because the company firmly believes in making everyone that it touches happier and healthier. "I believe that we actually have the best product," he says. "We research and try to understand who we are serving and deliver a product that really makes a difference in their lives."
The most recent example of the company's forward-thinking products is Invisiblur Perfecting Shield SPF 30 Broad Spectrum PA +++, which is the company's first clear sunscreen product that is designed to treat the visible signs of aging, blur imperfections and protect skin against UV damage. According to Dr. Murad, the product's clear nature means it looks good on any skin tone, as opaque sunscreens have a tendency to make darker skin tones look ashy. The blurring aspect of the product also lessens minor imperfections in the skin, making the user's skin look better overall while also providing full protection from harmful UV rays. "It's been a big winner for us," Dr. Murad says. "A lot of our retailers can't keep it on the shelves."
Full Wellness
Murad understands that skincare is a vital part of ensuring a person's overall health and well-being, which is something that more and more people have become aware of over the years. "For us it's not new, but we have been focusing on overall wellness forever," Dr. Murad says, adding that concentrating on a more holistic perspective has been one of Murad's core beliefs from the very beginning, and the rest of the industry is starting to follow suit.
"There really seems to be a little bit more of an interest in this concept of wellness, and I believe that is something that will continue to become more important," Dr. Murad says.
As the rest of the skincare industry becomes more like Murad, Dr. Murad says the company's biggest challenge is making sure it does not end up being drowned out in the marketplace. "I think the biggest challenge for us is getting our message across as to who we really are," he says.
However, Dr. Murad believes that the company's recent acquisition by Unilever will go a long way toward ensuring that its message is heard by potential customers. The acquisition has the potential to make Murad's message more accessible to a broader range of people, and Dr. Murad says the company is working on honing that message to take the fullest advantage of the situation. "I believe it'll be a stronger, more vocal message, and we're working on being able to deliver it in sound bites because that's what people understand these days," he says.
New Era
The acquisition by Unilever promises to be the start of a new era for Murad, as the added resources and scope of Unilever are expected to help the company break into international markets where it had little penetration before. Dr. Murad says the company continues to get bigger and broader as more people get the message about its products, whether it's through one of the company's infomercials or Dr. Murad's latest book, "Conquering Cultural Stress."
Dr. Murad says that as long as the company continues to focus on its mission of caring for its customers, Murad will continue to hold a leadership position now and for the foreseeable future.