National Geographic Partners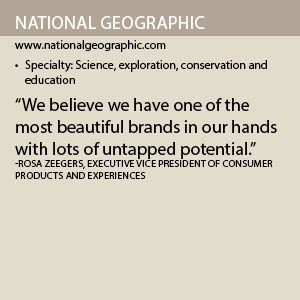 Winning with Social
Zeegers joined NPG seven months ago and is apart of the new leadership team that CEO De clan Moore assembled. "Some people came from the Society and Fox, as well as outside of both companies," she explains. "I'm one of the outsiders. My role is running seven business arms, including ancillary travel, global books, the international magazines, licensing and consumer products, and location-based entertainment."
Earlier this year in March, Zeegers added Cynthia Rapp, senior vice president of creative consumer products and experiences, to her team. "We believe we have one of the most beautiful brands in our hands with lots of untapped potential," Zeegers says proudly. "We are now in an extremely great position, with lots of opportunity, because of our connection to the Society and to 21st Century Fox."
According to Zeegers, the Washington, D.C.-based company is able to tap "into the Holy Grail of marketing" – the millennial consumer – thanks to its brand's strong roots. "We already know they engage with our brand in an incredibly intense way," she says. "For example, one in three millennials engage with us around the world. I think that's because of the strength we have in our social media platforms. We are the No. 1 Instagram brand in the world, only behind the Kardashians and Justin Beiber.
"We have 169.5 million fans on Facebook," she continues. "This is in addition to the 438 million viewers that we have on the channel. Plus, we haven't even noted our magazine and the kids business, which also touch a number of consumers. In total, we reach and engage 745 million consumers every month. I have managed many iconic brands in my life, but never have I had the strength, beauty and meaning of a brand like National Geographic."
Because of the Society's merger with Fox, Zeegers notes that NGP's media reach has also been extended. "We can tap into a vast array of Fox offices around the world and an incredible media reach beyond even the National Geographic media," she explains. "This can be incredibly beneficial to partners that we would want to work with. All of this media has been put at our disposal in order to develop promotional initiatives and any other form of support that we can possibly think of."
Business Evolution
In an effort to expand its business efforts even further, NGP developed a brand extension strategy for the categories it feels are most relevant for its target consumers, which are individuals who are 18-plus. "It also had to fit with our brand positioning and not only be relevant to our target consumer, but also be profitable," Zeegers says. "That is why we are going to initially focus on outdoor categories ranging from apparel to footwear to camping gear and STEAM toys, given the equity we already have with kids."
The next step is to creatively translate those categories into a strategy that is not only suitable across all categories, but also sets NGP apart from its competitors. "We just created our product style guide based on our strategy," Rapp says. "All of the products in it are very high-quality performance-oriented products. When I say performance, it's not something that you're going to go climb Mt. Everest in, but if you're outside exploring or hiking, the product will protect you from elements, such as the rain or cold."
All of its products features National Geographic's iconic logo, which is a yellow rectangle. "This is also a point of difference for us, as it's one of the most recognized symbols globally," Rapp explains. "We've put it on our products in a number of ways. So now rather than screening it large on a T-shirt, we've also added it very subtly on a zipper pull, backpack, jacket and other like items.
"We've also included terrific core categories, including apparel and footwear," she continues. "For example, we have a bucket hat suitable for explorers that holds pads and pens. So if you're out bird watching, you can take your field notes on the pad and then put it back in the hat."
Another "unique point of difference," according to Rapp, is the brand's amazing photography. "We have a library of thousands of images that we can pull from and use on products," she says. "We've included a whole line within the style guide that focuses on that great photography, too. We have images of everything from beautiful landscapes to culture to wildlife photography. These are all the core elements of our brand."
Key Partnerships
At the international Licensing Expo, held in May at the Mandalay Bay Convention Center in Las Vegas, NGP held a summit where it announced two new deals that fall in line with its brand strategy. The first deal is with Eagle Creek, a premium luggage brand.
"We're actually launching that in [July] at the Outdoor Retailer show," Zeegers explains. "The second partnership is with the premier European hiking footwear brand Dachstein. They will launch a hiking footwear line in Europe."
In addition, this summer NGP will launch its first family entertainment center and shopping mall in partnership with IP2 Entertainment. "It's launching in Changzhou, China, and is an ultimate explorer branded attraction with interactive media and games," Zeegers says. "It's the first of three centers we will open in the coming year internationally. We will also roll out more than 20 centers around the world in the coming couple of years.
"We very much believe that National Geographic is a brand that can be enjoyed by the entire family," she adds. "We find a lot of inspiration from retail brand developers who trust our brand in the form of a family entertainment center."
Though Zeegers and Rapp have only been with NGP for less than one year, the duo – and the rest of NGP's leadership team – have made significant strides to grow the company's brand further and expand its licensing business. "We are looking for premium brands that truly have the same vision that we have," Zeegers says. "So these brands have to care, they have to want to inspire the explorer in all of us and believe in the execution of detail. We believe that not only retail is detailed, but that this brand also deserves details in order to leverage true beauty.
"This brand has a legacy and a story to tell," she concludes. "We are just one generation working to help make it better, and our mission is to leave it better than when we found it."