NECA Unveils Hot New Product Line-Ups At New York Toy Fair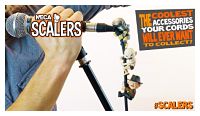 Feb. 18, 2014 – Today at the 111th American International Toy Fair in New York, National Entertainment Collectibles Association (NECA), the world leader in licensed consumer goods, wowed attendees with an exciting line-up of new products from the biggest and best movies, video games and comic books. WizKids Games, NECA's games publisher and the leading innovator in collectible miniatures gaming, kept up the pace with a wealth of new products across major licenses, as well as hands-on game demos.
Scalers, the hottest accessories yet to hit the world of electronics, were front and center in the NECA booth thanks to their unprecedented popularity with fans. The new line of collectible mini-figures clip to headphone cords, device cables and anything else they can fit their little hands around, and feature monstrously cute versions of popular licensed characters. Adding to the frenzy surrounding the first wave of mini-figures, in stores now, NECA revealed the next group of characters set to join the Scalers family this spring.
The second wave will include Cornelius (classic Planet of the Apes), Knifehead (Pacific Rim), and Batman and The Joker (classic DC Comics), plus two more heavy hitters to be revealed in the coming days. Throughout 2014, iconic characters from over 50 different licenses will join the line.
NECA also made announcements relating to the 35th anniversary celebration of the ground-breaking movie Alien, the upcoming theatrical release of Godzilla, Veronica Roth's Divergent novels, the sci-fi action movie Pacific Rim, DC Comics, Marvel, the Predator movie franchise, its Retro Clothed 8″ Action Figure line, A Nightmare on Elm Street, Robocop and Yu-Gi-Oh!