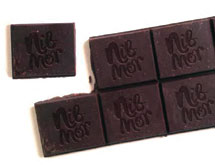 NibMor's co-founders and employees know their core consumer so well that they've given her a name: Lucy.
'We've spent the greater part of the last year really connecting to Lucy and understanding what she wants, how she wants it and how we can deliver it to her," says Jennifer Love, co-founder and CEO of the chocolate company. "We believe we understand how she feels and can speak to her like she's one of our best friends."
"NibMor's strategy is wrapped around who Lucy is and what she wants," Love adds. "All of our decisions are guided by her. This understanding is a huge part of how we've been able to grow and become successful."
For Love and co-founder and COO Heather K. Terry, connecting with consumers is a top priority of the Great Neck, N.Y.-headquartered NibMor, which is short for "nibble more."
"With the marketplace for chocolate and the food industry in general being a crowded space, we always need to think back to why we are doing this," Love says. "Understanding who the consumer is and making her the priority is so important to us that it really makes or breaks the business – it isn't about us or simply about making money, it has to be about Lucy."
Love and Terry identified their core consumer as female. This is based on industry statistics that indicate 80 percent of all household purchases are made by women.
Identifying its core customer has helped NibMor grow from a two-person operation to a thriving national business in under five years. The company has increased year-to-year sales two to three-and-a-half times and, in some cases, increased same-store velocities more than 800 percent yearly.
"We've always had a strategic direction, while also recognizing that it can change over time," Terry explains. "Having a global strategy has been central to our brand's success, as well as our unwavering belief that we will succeed."
'Built Around Sharing'
NibMor's efforts to understand its customers is leading the company to re-brand its line of organic and non-GMO chocolate bars and drinking chocolate in 2014.
"We have thought a lot about how our products are packaged and how they appear physically, and gained a very clear picture from focus groups and industry partners on how we can deliver exactly what our consumer wants," Love says.
NibMor will spotlight its rebranded products during the Natural Products Expo West 2014 in the Anaheim (Calif.) Convention Center. The new packaging eschews the typical sort of packaging and graphics used for chocolate or organic products, much of which NibMor sees as being either redundant, over used or not connected to the consumer.
"We've created something just for Lucy so she can go to it and say that it's just for her," Terry says. "Our entire rebrand is built around sharing, whether with herself, her family or her community. We're very excited about this."
Growing Through Partnerships
The rebranding effort is the latest step in the growth of the company, which Terry says started in 2009 as merely "two chicks in a kitchen." The pair, who met while enrolled in a nutrition program in New York City, started making and selling chocolate that contained no refined sugar after noting the lack of such products in their local grocery store.
At first, the two – who had no previous experience in the food industry – relied on Love's business background to get off the ground. They also asked many questions of entrepreneurs and successful food companies and gathered data and research about industry trends and consumer preferences. "At first, there was an element of throwing things against the wall and seeing what sticks," Terry says. "We have always been flexible, followed our intuition, and reinvented ourselves several times to get where we are now."
Partnerships with other companies also played a large part in moving NibMor out of a shared commercial kitchen. "We used to make every single bar by hand; now we work with third-party manufacturers, who do that for us in large runs," Terry says. "This allows us, as a small company, to keep our personnel very lean, as we don't have to run our own facility."
Love's basement, which formerly served as NibMor's warehouse, was also replaced by larger and more modern facilities as the company matured. Warehousing is now performed in 3G Warehouse in Long Island, giving NibMor access to a digital inventory management system that allows it to efficiently track its stock.
Online order fulfillment is performed by online natural product retailer Abe's Market, which links its online order system directly to NibMor's website.
Positive Spirit
Online sales are just a small portion of NibMor's overall business. The company focuses much of its sales efforts on wholesale natural/specialty, conventional grocery and convenience retailers. External sales broker teams – referred to as "Nib-sters" – lead this effort.
NibMor's internal full-time staff is given a great deal of freedom and autonomy to do their jobs.
"We have a tight-knit team that has a lot of fun but also works very hard," Love says. "We believe mistakes are a part of learning; we have made many, but we own it and say 'that's OK, let's figure it out, learn from it and move forward.' We genuinely care about our team, and they all know it. That knowingness translates into an amazing team that is committed, hard working and smart! They help us drive the success of NibMor every day."
All employees share the same spirit of positivity that has guided Love and Terry from their earliest days. "We don't take 'no' for an answer. It is not a matter of 'can it get done' at NibMor, instead we just ask 'how can it get done' and 'what is the best way to do it,'" Love adds.