When he first hired fashion designer Nicole Miller in 1982, he knew he found someone special. She was one of roughly 170 designers he interviewed when forming the new fashion house. "She refuses to follow," he says. "She's always designing something new and hates the status quo."
A graduate of the Rhode Island School of Design and l' École de la Chambre Syndicale de la Haute Couture Parisienne in Paris, Miller, who is now Konheim's business partner, has become world-renowned for her combining of fine art with couture technique. Konheim proudly adds that Nicole has a crystal ball that often makes her designs years ahead of the trends.
Although the fashion house refuses to follow the status quo, it does adapt to public demand. Nicole Miller, well-known for smart dresses and elegant clothing, is introducing more casual clothing this year. "The era of elegance is supposedly over," Konheim says. "Clothes and fashion are changing. The new emphasis is on fit and comfort. You'll see a lot of stretch material."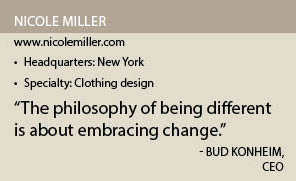 Visual Aesthetics
In addition to casual fashion designs, Nicole Miller is launching a brand new website this fall. Set to launch on Sept. 1, it will be easier to navigate and focus heavily on visual aesthetics. "We're a fashion house," Konheim says. "We're not trying to appeal to the ear, nose or mouth. We're trying to appeal to vision. So you'll see lot of exciting images. It will be more visually aesthetic."
The company's base investment for the new website is roughly $500,000. While it's a relatively large investment, it's a very important one for Nicole Miller. "Internet use has become key in the marketing efforts for everybody," Konheim adds. "We are developing our internet capabilities for information purposes and as a sales tool. It will show people what we are doing, and while it sounds really expensive, one runway show costs us $500,000."
Boutique Exclusive
Famous women from around the world have been attracted to Nicole Miller's designs. Beyonce, Jennifer Anniston, Angelina Jolie and Naomi Campbell have been spotted wearing Nicole Miller designs. To make the designs attainable to women from all walks of life, the fashion house has paired up with a number of specialty retailers.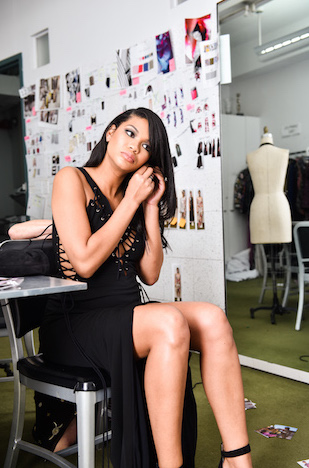 Though various licensing agreements, Nicole Miller collections can be found in a broad base of upscale retailers such as Bed, Bath and Beyond, Neiman Marcus, J.C. Penney and Home Goods and its parent company T.J. Max. However, the designs found at retail stores differ from those that are found at specialty boutiques. About three years ago, Nicole Miller formed a "boutique exclusive" line.
"It took about a year to take off," Konheim says. "Now it's in full force and it's been very successful. This exclusive line is available only to boutiques." How does Nicole Miller define a boutique? "It's a store that has only one location," he adds. "If you have two, you cannot buy it." Nicole Miller fashions are available at roughly 1,000 boutiques throughout the United States.
This line is more expensive and places a high emphasis on quality. "Our quality sells best at specialty boutiques," Konheim says. Boutiques are natural fit for Nicole Miller because customers that value high quality products and don't mind spending more money frequent them. "We don't sell to hangers. We sell to people," he adds. "That's Nicole's magic. When you put on one of her creations, it becomes magic. It's not about the number of dollars you spend. It's about the value you are getting."
For example, one of Nicole Miller's top selling items in the past year has been a leather jacket embroidered with the "evil eye" talisman believed to provide spiritual protection. "It's comfortable, it's visual and it's intellectual," Konheim says. "It's been one of our best selling items for over a year now and it's not slowing down."
The jacket retails for around $1,000 but "we have things for $200 that don't sell as well because they are not as unique," he adds. For more than 30 years, Nicole Miller has been at the forefront of women's fashion and she doesn't appear to be slowing down.