The company has also been investing time and money into building its e-commerce business, increasing its social media presence and plans to launch a new website in the fall. "It will be state-of-the-art," Meynard says. "We're really excited about it, especially with the way our sales have been increasing. I think things are really going to skyrocket from here."
Earth Shoes manufactures close to one million pairs of shoes per month – and that number is likely to increase. The Waltham, Mass.-based company has taken a quantum leap in the past year and is positioning itself for another one. "It's very exciting," Meynard says. "In the past four to five years, we've gone from manufacturing shoes for other people to becoming a brand. Our company is growing in double digits and 2017 was the best year we've had in about 45 years."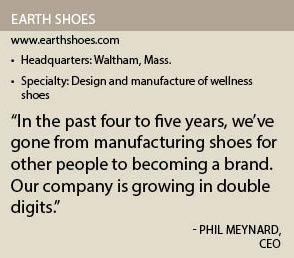 From 2016 to 2017, the company grew by 30 percent and it expects the same growth rate for the 2018-2019 fiscal year, he adds. Aside from Kalso Earth shoes, Earth is known for its Earth Origins line that is available through shoe retailers like DSW Designer Shoe Warehouse and Shoe Carnival. The company also sells to a variety of independent retailers.
However, it will focus more on direct-to-consumer sales, especially through its new website. "As a brand, we are really trying to think like new startup brands that are focused on millenials and direct-to-consumer sales," Meynard says.
Kalso Earth Is Back
It was the original wellness show featuring a negative heel. Instead of having a heavy heel in the rear and thin sole in the front, as is standard with most shoes, Anne Kalso decided to invert the entire operation – shocking the shoe industry of the 1970s. Her shoes have a thick sole and a thin heel. She called it the Earth Shoe since it clung closely to her yoga beliefs and philosophy about the natural stance of man – with heels lower than the toes.
"She was really ahead of her time during that period," Meynard says. "Her belief was that the design of the shoe put you in a constant yoga mountain pose, which is said to improve posture." The Kalso shoe quickly built a niche for itself on college campuses and later picked up a passionate mainstream customer base. Although a few critics questioned the "negative-heel technology," the shoe made lasting footprints in the industry and copycats soon followed.
"There is so much history behind that shoe," Meynard says. "It's our top of the line brand. We get emails all the time telling us how much people love that shoe." That's why Earth is relaunching a line of Kalso shoes.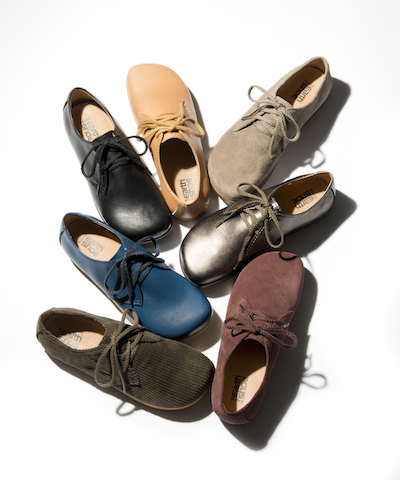 Bridging the gap between vintage and modern styles, the new Kalso shoe will be available in four different negative heel styles that include sandals. The shoes will be available on the company's website in fall of this year. "These shoes will be of higher quality and grade than some of our other brands," Meynard says, adding that they will only be available through direct-to-consumer sales.
The new Kalso shoe will also be outfitted with Earth's soon-to-be-launched Powerpath insole, which also launches in the fall. "This insole mimics the natural way of walking," he says, adding that it compliments Kalso's yoga mountain pose. "Eventually, the Powerpath insole will be in all of our products down the line."
Green Values
Following a path to wellness, the company places a high value on sustainability and prioritizes environmentally-friendly options for design, material, sourcing and manufacturing. "Earth is our brand," Meynard says. "So we are working hard on sustainability. We are constantly heading in that direction and our customers appreciate that, especially the millennials, which are pushing us in that direction as well." Some of Earth's shoes are partially made with recycled materials and natural materials such as cork and rubber.
Although not in production yet, the company is working on biodegradable footwear made entirely of natural materials –including living organisms. "We're always trying to innovate," says Meynard, whose father, Michael Meynard, founded the company in 1970. "That, along with the knowledge we have as shoemakers really keeps us ahead of the competition. We have always been shoemakers at heart."