Activision Blizzard, Inc.
Based in Santa Monica, Calif., Activision Blizzard is the most successful standalone interactive entertainment company in the world, with more than 375 million monthly active users and eight $1 billion franchises. These include Activision's Call of Duty and Destiny and Blizzard Entertainment's World of Warcraft and Overwatch.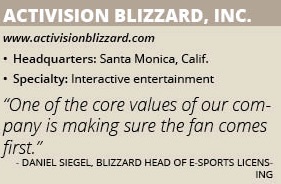 "We're really well positioned with a breadth of properties that allows us to be successful," Blizzard Head of E-sports Licensing Daniel Siegel says. "We have titles like Overwatch and Call of Duty that give us a tremendous platform to work from."
Activision Blizzard has strategic plans for each property, including Overwatch, a team-based shooter game that has 28 characters with different weapons and abilities.
The game has earned more than 40 million players since May 2016. Overwatch has its own major global professional e-sports league with teams in Asia, Europe and North America.
But the players in these leagues are treated no differently than professional athletes, Siegel notes. They are signed to contracts with salaries and benefits, and play for money and trophies, "just like you'd see in the NBA," he says.
Celebrating Fandom
A nearly 20-year veteran of the licensing business, Siegel took his current role at Blizzard in December 2017. He previously served as the vice president of new business development and legal counsel for CMG Worldwide Inc., where he licensed icons such as Marilyn Monroe, James Dean and Babe Ruth.
He also was vice president of licensing at WME-IMG for over 10 years, where he managed licensing partnerships for clients such as ESPN, Wayne Gretzky and Serena Williams. "When the opportunity came to me with the Overwatch League, it opened up the opportunities to take best practices from traditional sports and deliver something truly epic to our gamer community with the great success of Overwatch," Siegel says.
Activision Blizzard, he notes, has a robust franchise around Overwatch that includes a recently announced master toy license with Hasbro, as well as NERF and LEGO Group, and apparel from UNIQLO CO. LTD.
Those will focus on the fictional characters and the world of the game, but Siegel wants licensing for the very real e-sports side.
"We're trying to create things from the Overwatch League perspective that are unique to gamers that celebrate their fandom," he says. "We are the most innovative developer of global entertainment, and we want to mirror that innovation we have with the games with the league."
For example, Siegel is adding new lines of apparel that are specific to the teams and break industry traditions in terms of e-sports. This will give gamers "something that is unique to them," he says.
Fans of Overwatch's Seoul Dynasty and Houston Outlaws teams can buy their jerseys, much like soccer fans have for their favorite teams. "We want to make sure we're taking advantage of all the key markets," Siegel says.
Beyond apparel, he plans to bring in more traditional sports merchandise. "Trading cards are an obvious opportunity," he adds.
These will appeal to Overwatch's audience of young, digital consumers. While the average MLB baseball fan is 60 years old, "Our consumer average age is 24," Siegel says. "We know that is a key age for our important partners and retailers out there. We want to create [licensing] that's appealing to that demographic."
Big Action
Overwatch has the only e-sports league with international competition between countries, Siegel says. Its matches are currently held at the Blizzard Arena in Burbank, Calif., which was once the home of "The Tonight Show" when hosted by Johnny Carson and Jay Leno.
Since then, "We've built it into a state-of-the-art e-sports arena," Siegel says, noting that the facility can seat 600 people who can feel the intense action of the gaming. "It's no different than a football arena; everybody's really into the action."
The level of event coverage is growing as well. ESPN.com recently reported that the Overwatch League formed a multi-year broadcast deal with the ESPN, Disney and ABC family of networks, starting with coverage of the league playoffs of season 1, as well as season 2, which will air next year.
"We're doing some pretty amazing things, even though the league just launched in December," Siegel says, noting that the grand finals will be held at the Barclays Center in Brooklyn, N.Y., on July 27 and 28.
Viewers on Twitch.tv also will view the event, where the winning team will win the Overwatch League trophy and a prize of $1 million. "We're going to create a whole spectacle around it as a cap to our inaugural season," he says.
Fan Focus
Activision Blizzard plans for the second season of Overwatch League play to begin in the first quarter of 2019. Siegel also sees further expansion ahead for the league, with more teams, more coverage and more engaged fans.
"We can appeal to their fandom for their favorite player and their favorite team," Siegel says, noting that the company is dedicated to giving fans what they want.
"One of the core values of our company is making sure the fan comes first," Siegel says. "We have a history of doing things at Blizzard that makes sure the fan feels special. I'm looking forward to taking advantage of all of that."