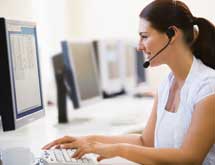 Home shopping networks and infomercials have been the butt of jokes for years, known primarily for low-budget production values and disposable impulse-buy products. However, with annual sales now topping $350 billion and well-known brands increasingly embracing the marketing model, the direct-response marketing industry is having the last laugh.
The industry has matured into one that provides innovative products with a proven channel to consumers, and Wisconsin-based Norman Direct is one of the leading names in the field. Executive Vice President Brian Wargula credits the company's success first and foremost to the high-quality products it helps develop and bring to market, but there are more than a few key advantages that give it an edge in the industry.
The principals behind Norman Direct already had a lot of experience in the direct response industry before they started the company around 2005. The company's roots begin in a warehousing and fulfillment company started by the founders in the 1990s, according to Wargula. In time, they started handling fulfillment and warehousing for customers in the direct-response industry and began building relationships with many of the key players in the segment.
Eventually, Wargula says, inventors were coming to the company with ideas for products that the company would refer to marketers, but soon the founders realized that the relationships they had built with manufacturers, media companies and digital marketers made it possible to go into direct-response marketing themselves.
Today, Norman Direct helps products reach consumers through three distinct verticals. First, the company develops TV marketing in the form of infomercials that sell the product directly to the consumer through a website or telephone.
Depending on the product, Norman Direct also can help market it through popular home shopping networks such as QVC, HSN, or ShopNBC. Finally, if the product finds enough success through direct response and/or home shopping networks, Norman Direct can expand it into the retail market through channels such as Walmart, Target, Bed Bath & Beyond, Walgreens and CVS.
Start to Finish
Although the direct-response industry is a multibillion-dollar market, Wargula says there are a relatively small number of players. Norman Direct distinguishes itself from those other players in the industry through its unique origins and the streamlined operations it uses to help its clients.
For example, because of its background as a service company for the direct-response industry, Norman Direct can call upon the strong partnerships it developed with many of its earliest customers to develop successful campaigns for products.
"What really drives us is the fact that we are a ground-up effort," Wargula says.
The company's reliance on its partnerships and the fact that it did not build itself up as a marketer first means that the overall structure of Norman Direct is very lean, without a lot of levels between the customer and the company. With a low overhead, Wargula says, Norman Direct can move faster and more efficiently than many other companies in the arena.
"No question, [our success] comes in our ability to be very quick in decision-making, and in being quick to move and test products," he says.
One recent example of a product that Norman Direct successfully shepherded from concept to product is Mr. Lid, a line of food storage containers with hinged lids. Wargula says that, like most of the products Norman Direct develops, Mr. Lid was created to address a common problem in many households – specifically, the tendency for people to lose the lids to storage containers. "The moment you separate lids from containers, they're going to get lost," he says.
The Mr. Lid concept was created by an injection molding manufacturer located close to Norman Direct's offices. The manufacturer knew it had a strong idea, but didn't have the necessary resources to go about marketing it. Thanks to Norman Direct's industry partnerships, Mr. Lid went from idea to finished product in the span of nine months. Today, Mr. Lid is enjoying national distribution and a run of success on QVC.
"We are extremely proud of the Mr. Lid product," Wargula says.
Higher Profile
Wargula says overcoming the stigma that was attached to the direct-response industry has been a major challenge for Norman Direct and the industry as a whole. Although some people still associate the industry with the "yell and sell" programs that ran on late-night television and the chintzy products they sometimes sold in the 1980s and 1990s, things have definitely changed. Today, you're just as likely to find a big-name brand in direct-response marketing as you are to find new products.
"Through self-regulation, the industry has really changed, but we still have that perception," Wargula says, adding that many well-known household brands have embraced the model, and direct-response marketers have become more vigilant about finding the highest-quality products.
"It's a challenge in the industry we've been working toward fixing, and I think we've seen a big difference in that," he adds.
Norman Direct has played a role in changing that perception, one product at a time, and Wargula says it wouldn't have been possible without the cooperation of its various partners at every stage of the industry. Through their efforts, he explains, direct marketing industry has developed products that are relevant to people's lives and marketed them in a way that is convenient and appealing.
And there's no reason to believe that the old perceptions will return, Wargula says. As long as the company continues to be smart and work with its partners to ensure the best possible results from their direct-response marketing efforts, he says Norman Direct will continue to be on the right track to experience significant growth in the near future.
"I see us continuing to grow the business and develop those partnerships," Wargula says, adding that the company expects the partnerships it has built throughout its history to continue to be a substantial factor in its success moving forward.
"We continue to want to build those partnerships and relationships and communication channels," he says.